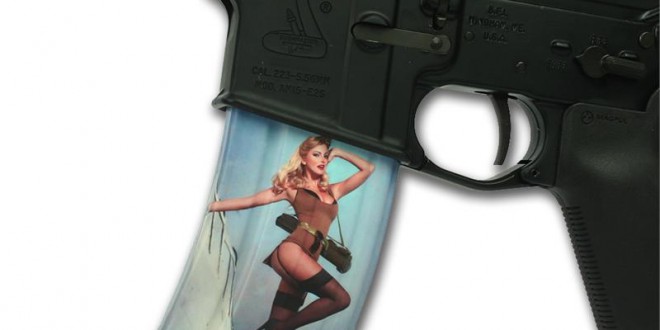 We recently just did an article on A Breon Customs and the polymer infused Pmag's they are doing. However that is not for everyone. Tastes change or maybe you're sitting on a bunch of aluminum GI mags you want to spice up. If that is the case then you may be interested in the latest offerings from US Night Vision.
US Night Vision has developed a vinyl wrap clamshell system that will wrap both Pmag's and USGI mags to add a unique and special look. Check out this full gallery of their product line to see how many styles and choices they offer.
USNV is a USA based company that makes and assembles night vision gear here in the USA. In addition they have started selling some novelty gear like the mag wraps and slaps. Check out what they have to say about the latest addition to their lineup.
Mag Wraps™ come in 3-packs and will fit any 30rd AR-15 Magazine. They are easy to install and offer the ultimate in protection and graphics for your magazines. The wraps stop right at the mag well so there is no interference with the operation of your magazine while in the weapon. 1 package will retrofit 3 Magazines.

Our premium US Made wraps offer superior UV protection, chemical resistance, protection from scuffs and scrapes and are completely waterproof. All Mag Wraps are finished in a non-reflective matte outer coating. They will work with any substrate and leave zero residues when removed. They can be placed over each other if need be for an immediate mission profile change. Our exclusive two-piece wrap design leaves so seams on the crucial sides of the magazine.

Mag Wraps™ Real Patterns, Real Protection.
They are easy to install and work with. You need a bit of patience and a blow dryer to do it right. Check out the instructional video here:
As you can see for the generation that grew up putting stickers on our GI Joe tanks and planes this is easy peasie. I have now gone and done this on 4 of my mags. 2 are Pmags and 2 are aluminum. The finished product is very nice.  I have been getting stopped at the range by curious onlookers who have not seen anything like this and frankly that is a fun experience and opportunity to talk to new people.
On the negative side with wet or bloody hands I can see these wraps being slippery and not working great during stressful mag changes. The issue was more noticeable on the Pmag then the USGI mags. That said I would not use these in a competition or for a self defense or home defense situation. However for a range gun, fun gun, plinking gun or showcase gun these wraps are an excellent choice.
On a positive note even after testing these in and out of our AR-15 we found no issues with wear or tearing. These are far more durable then I would have expected. They feel nice on your hands and look stunning.  The wraps are easy to take off and we found that it was very easy to remove any residue left behind with no permanent damage or gump on your mags. We love the Kryptex and Camo versions and always appreciate seeing work from our friends over at Mil-Spec Monkey
At a price of 19.95 for a 3 pack  the price is very reasonable.
US night vision recently had its ebay items pulled due to the liberal giant deciding to no longer allow any products used on ar-15's to be listed. We decided to do this review after hearing this news. These guys are an American company providing products to American shooters and we want to encourage that as much as possible.  Pick some of these up as a great stocking stuffer or just for fun.
We are running a contest on Facebook with a chance to win a set of these and over $400 worth of other prizes.We encourage you all to check out our page on Facebook and enter now before it is to late.
Buy your Mag Wraps here: http://www.usnightvision.com/Mag-Wraps-vinyl-gun-skin-wrap-AR-15-magazine.aspx
You can also purchase from Tactical SHT here: http://shop.tacticalshit.com/gear/stickers/mag-wraps