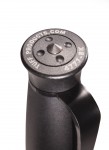 Tactical pens have grown in popularity and are now being made by just about everyone in the accessories markets. They range from massive monstrosities that rival a kubaton all the way down to a disposable version that looks almost useless. That is why it so refreshing to finally find one that is stylish and covert enough for office use, yet feature packed.
The Break Out pen is well named and well built. Aptly named because the features of this pen are designed around removing you or breaking you out of harms way. This exit device comes equipped with a carbide tip, glass breaker, on the end of the pen cap.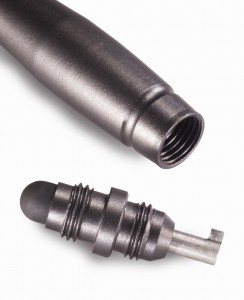 At the other end of the pen is a stylus for touch screen devices. I have tested this with an iPad and iPhone, and it is as good as any other ordinary stylus on the market.
Unscrew the stylus and you find a hidden feature. Inside is a handcuff key that will work on all standard handcuffs. A nice added touch is the handcuff key and stylus are both threaded so either can be set up to be hidden under the cap of the pen.
The Pen accepts Parker refills, which come in a wide array of colors and styles and are incredibly inexpensive. When embedded in the 6061 aluminum machined pen body it makes an efficient stabbing device.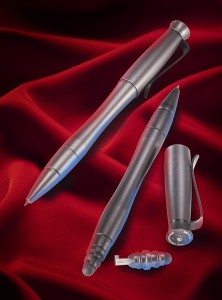 The shape of the pen is visually attractive but ergonomically designed for both of its jobs. As a pen, it is well balanced and comfortable to write with. The thick ends with a skinny middle section allow for a very firm grip when using the pen as a defensive device. Even without the knurling often found on these devices the shape does an excellent job of creating a proper grip surface.
I love this tactical pen as a pen first and foremost. Since SHOT Show, it has been part of my EDC. It has signed contracts, taken meeting notes on both paper and tablets, as well as performed all the duties my disposable pens have done. At a $60 price point, it is the most expensive pen that has ever left my office. However, it is not so expensive that I am scared to lose it like the Monte Blanc my wife gave me years ago.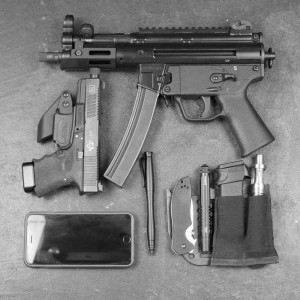 When entering a single mom support zone with some friends at SHOT Show, I was stripped of all my personal protection devices. The 6' 5" bouncer looked at my pen and asked me about it to which I replied, "do I look like MacGyver to you?" Needless to say, I was allowed to enter with it.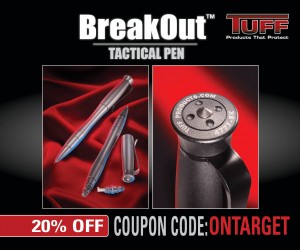 I hope you never need to use a pen to defend your life or escape a dangerous situation. If however you do this is the pen you want to have on you. Lightweight, discreet, efficient and well made this item has earned a place in my EDC.
The TUFF Products Break Out Pen is available online via the TUFF Products website. http://www.tuffproducts.com/ with an MSRP of $59.99. If you use the On Target discount code ONTARGET, you can save 20% on this item or any other item that they sell for a limited time.
Source Article from http://248shooter.com/index.php/tuff-products-break-out-pen-the-tactical-pen-that-works/