A highly weatherproof, hard hitting, lightweight and affordable option for the single-shot hunter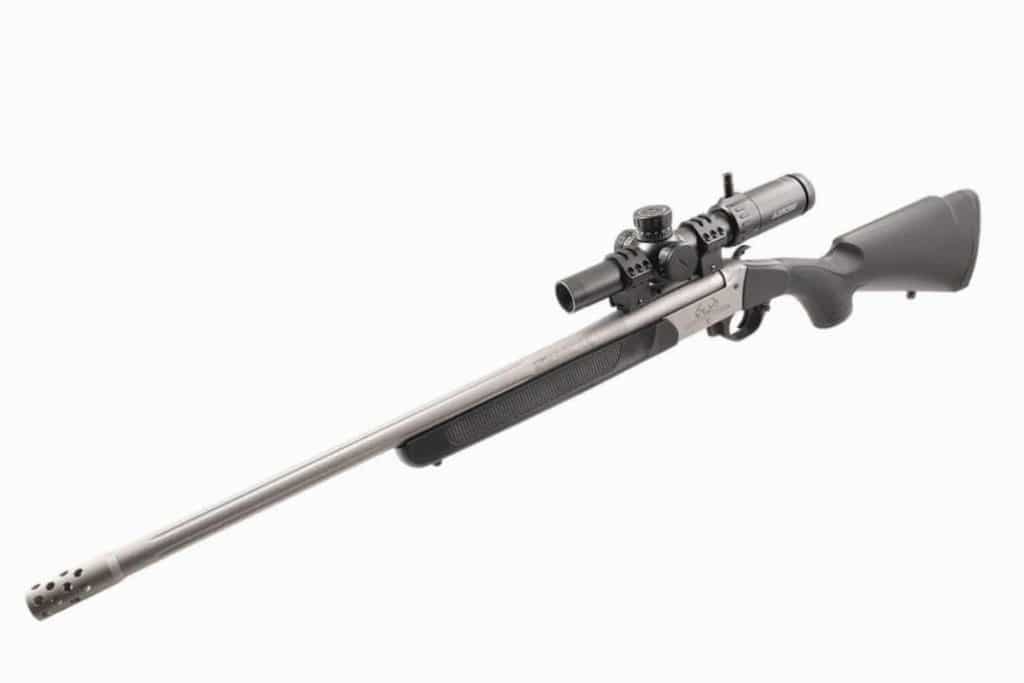 Traditions has been so successful with their G2 single-shot, break-action cartridge rifle that they've just introduced a 16th model in the line—a 22-inch-fluted, 1:20″ twist rate barrel, silver Cerakoted rifle chambered in .45-70 Govt. with a 22-inch fluted barrel with ported, no-nonsense muzzle brake affixed to the barrel (overall barrel length with muzzle brake is 23.50").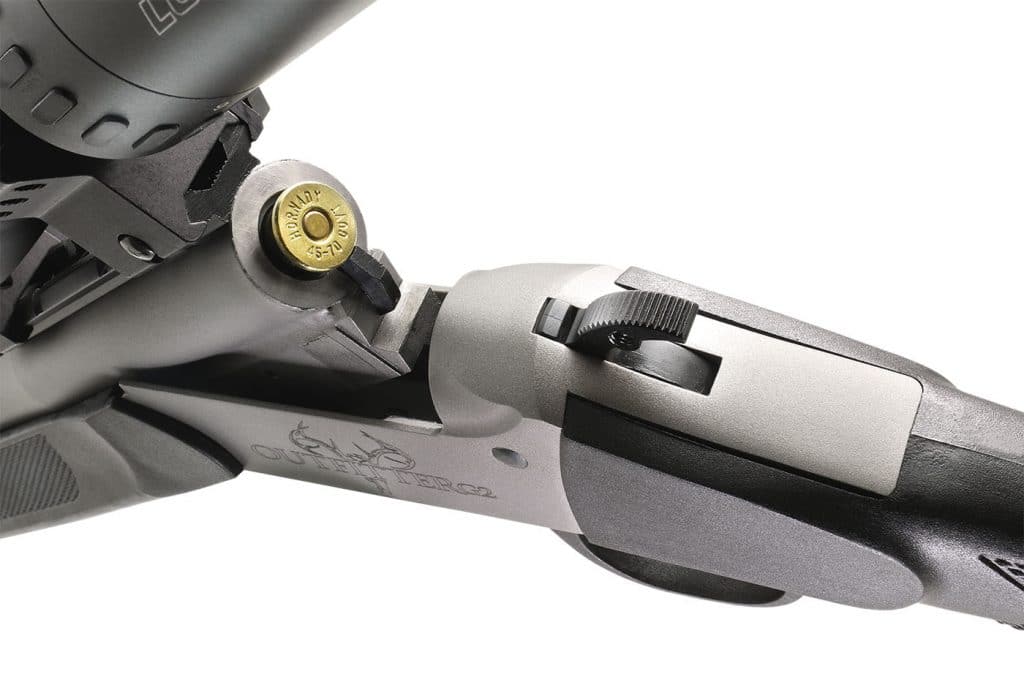 The other 15 models include chamberings in .243 Win., .35 Rem., .45-70 Govt., .44 Mag., .35 Whelen and .357 Mag., with or without black or Realtree Xtra camo furniture and 3-9×40 mm scope packages with rings and bases ( $439 to $586). All models feature a 22-inch fluted barrels, silver Cerakoted barrel and action, polymer trigger guard with integral cross-bolt safety, black (or camo) furniture with deep-molded checkering on the sides of the forearm and the neck of the buttstock, raised Monte Carlo cheek piece, 3/4" soft rubber butt pad and sling swivel studs front and rear.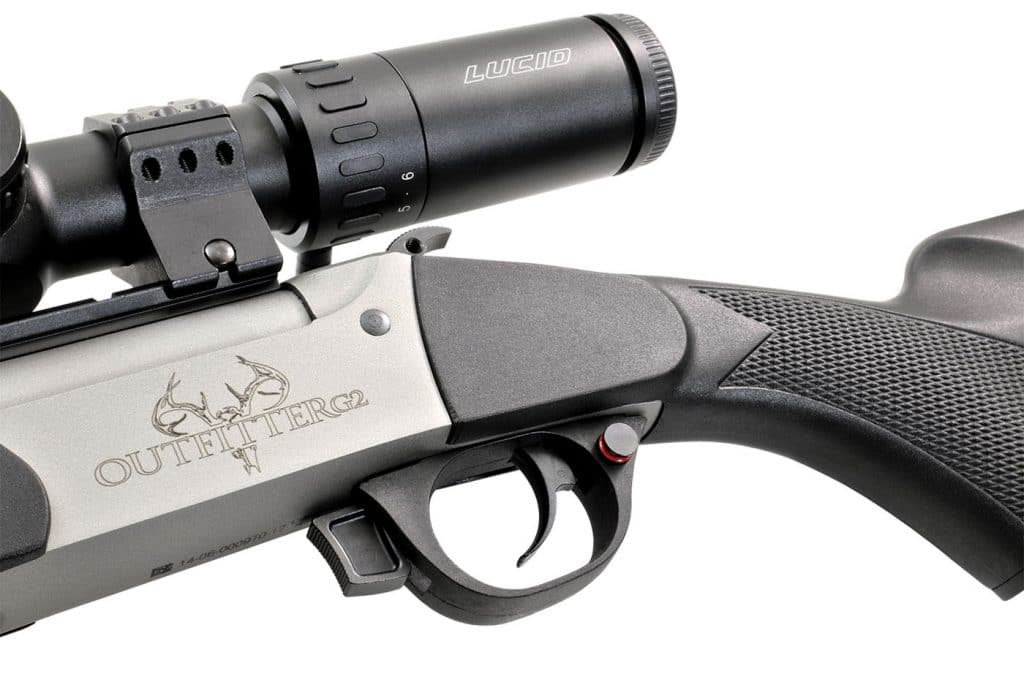 The G2 is a precision rifle, making it the perfect choice for whitetail and large game hunting Accuracy is excellent and ergonomics are among the best. With a 22″ Chromoly fluted barrel, the Outfitter G2 is lightweight, easy to carry, and very accurate. The transfer bar safety and manual trigger block safety make this one of the safest rifles on the market. As with all Traditions G2 rifles, the action can be opened with the safety in the on- or off-safe positions, but the external hammer can only be moved to the cocked position with the safety in the off-safe position. The break-action is opened via a pull-to-the-rear action release located in front of the trigger guard, with the safety on or off, but with the hammer in the uncocked position. A transfer-bar safety is provided to prevent unintended discharges if the hammer is compressed under load unintentionally. The trigger is typical of the Traditions rifles and muzzle loaders we've tested over the years—excellent, with minimal stacking, take-up and over-travel, and a crisp and decisive break and at an average pull weight of less than four pounds. The receivers of then non-scope-equipped G2s are drilled and tapped for scope mounts.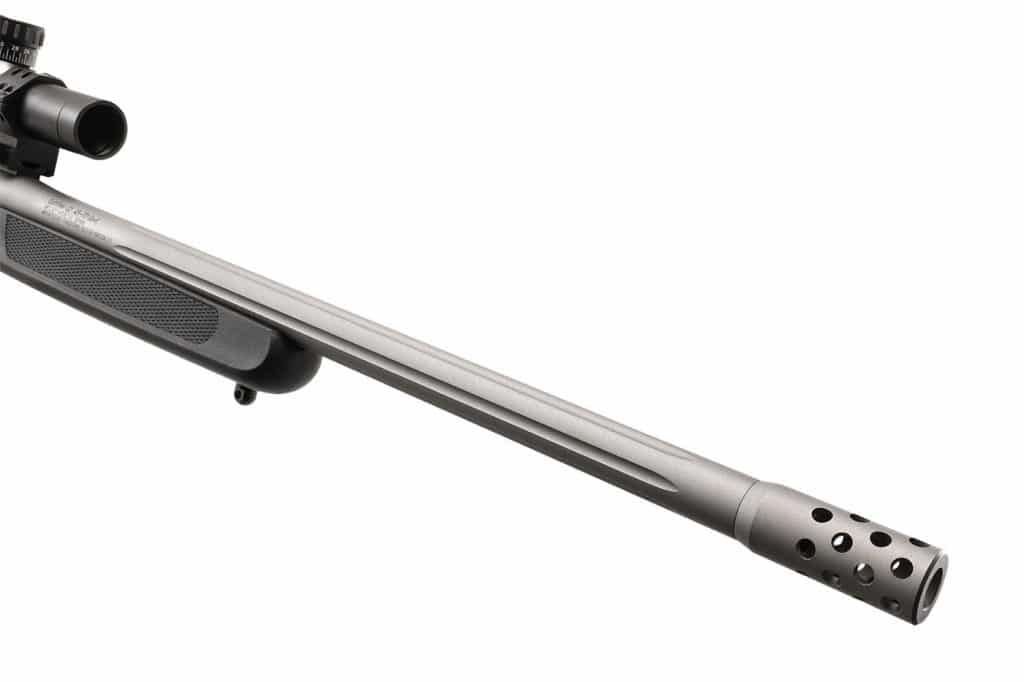 Empty weight of the .45-70 Govt.-chambered G2 is a mere 5.8 lbs. and overall length measures  a handy 39.0 inches. Given the rifle's lack of recoil-taming weight, the addition of the 24-port muzzle brake on this model is appreciated. The .45-70 Govt. cartridge can be the "hammer of hell" in traditional .45-70 rifles without a muzzle brake, especially when shooting full-power .45-70 Govt. loads intended for modern rifles not limited by the reduced pressure requirements of antique .45-70 Springfield rifles or other modern reproductions of that action. The Traditions G2 .45-70 will happily fire any factory production ammunition chambered for any modern .45-70 cartridge. No limitations, with no .45-70 Govt. maximum pressure limitations on Springfield or any other rifle ammunition.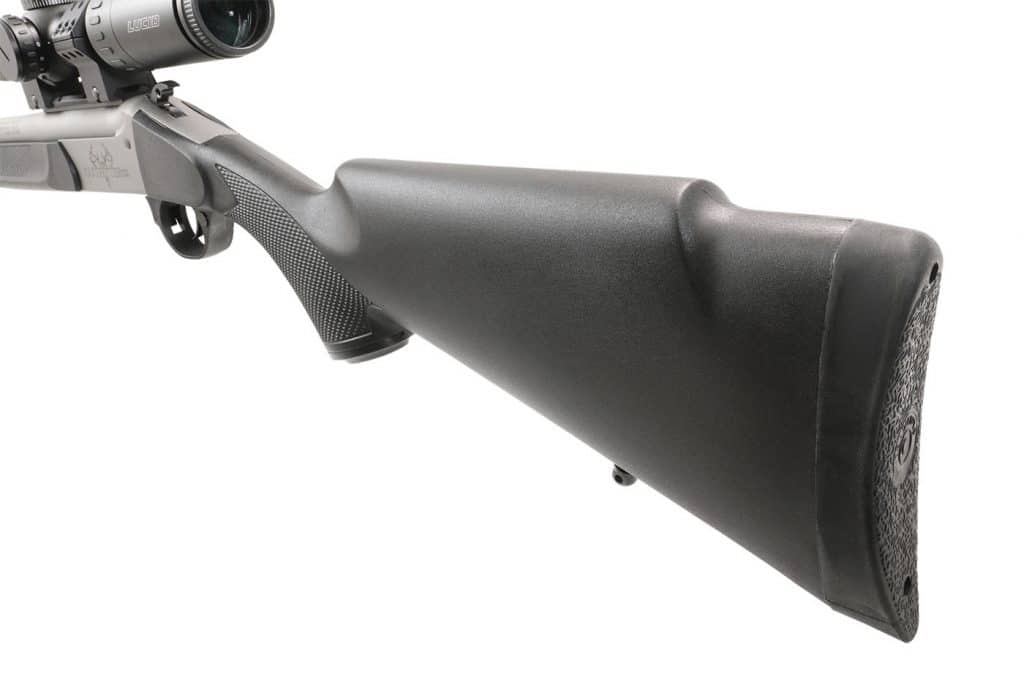 During testing we found that the muzzle brake substantially reduced perceived recoil, even though we didn't have a uncompensated model to compare it with. Using other .45-70 Govt. rifles as a comparison, it was obvious that the break-action Traditions G2 exhibited much less perceived recoil than comparable lever-action .45-70 Govt. rifles. There is no question that the G2's muzzle brake really works as advertised. The MSRP on the gun itself is $439, a bargain if you're a dedicated, single-shot hunter looking for a serious single-shot rifle in a "kill anything" caliber.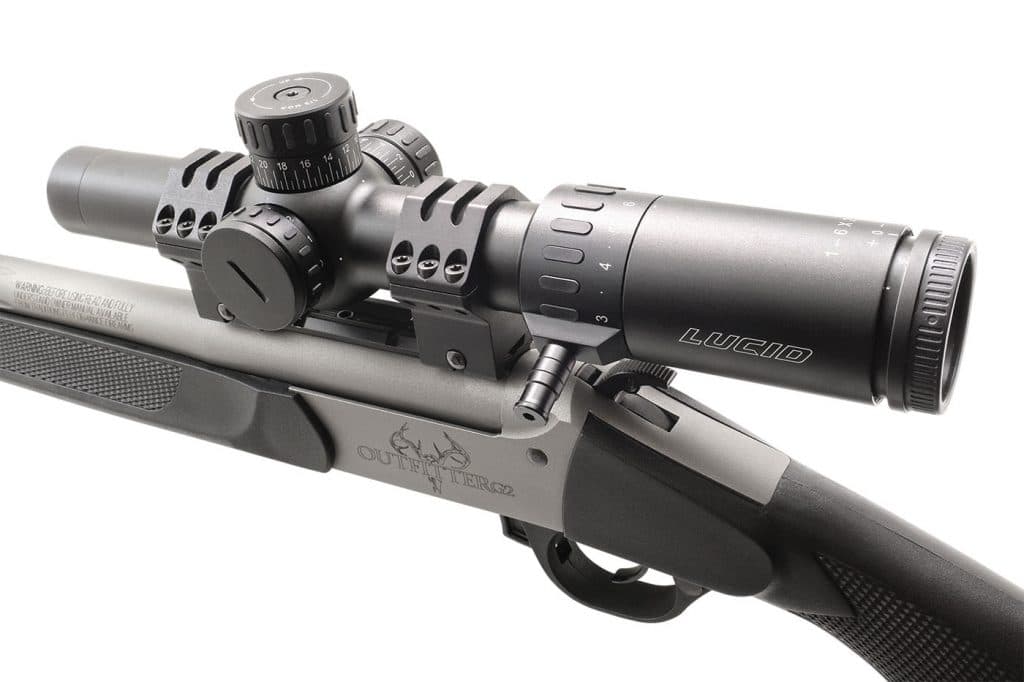 We tested the Traditions G2 .45-70 at 100 yards from the bench using three loads; Remington's 405-gr. Core-Lokt SP (1,330 f.p.s. and 1,591 ft. lbs. of energy), Winchester's 300-gr. Super-X JHP (1,880 f.p.s. and 2,355 ft. lbs. of energy) and Hornady's 325-gr. LEVERevolution FTX (2,050 f.p.s. and 3,032 ft. lbs. of energy). Since we'd be employing this rifle for its close-quarters, brush-busting capabilities in the tight woods of New Hampshire, we wanted a fast, low-power-variable optic that was as affordable as the rifle itself, and was up for the task of .45-70-level recoil energy. A near-perfect fit for our requirements was the Lucid 1-6x24mm L7 optic, carrying an MSRP of $449 (mylucidgear.com). Marketed as a defense/competition riflescope for rifles like an AR-15, those same tough and fast attributes also lend themselves extremely well to a hunting environment.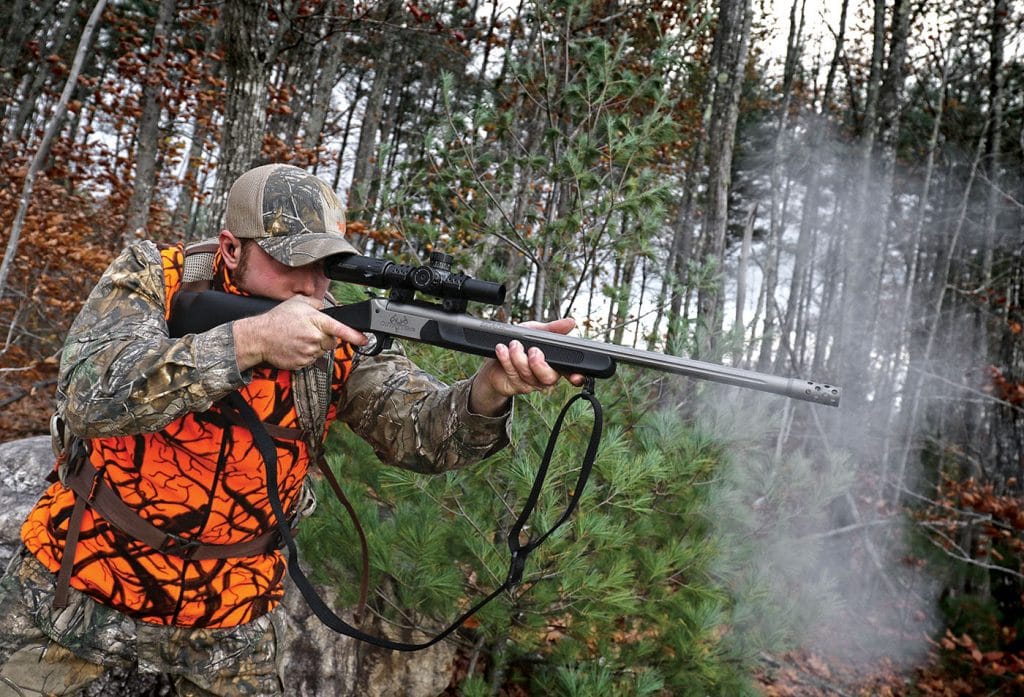 Setting up shop at the 100-yard line to test the downrange precision of the Outfitter G2 netted favorable results. Helped by the excellent trigger and lack of flinch-inducing recoil, printing 1-M.O.A. (about 1-inch) three-shot groups proved possible with all ammunition tested. The star of the day, however, was Hornady's stout 325-gr. LEVERevolution load, printing an impressive tightest group of 0.72-inches. When there's only time for one shot, we'd have no reservations about this rifle's ability to put the bullet where the crosshairs intersect. Reliability of our Outfitter G2 was spotless, with no failures to fire or extract observed. 100% reliability is what you expect in a hunting rifle (especially a single-shot one), and the G2 Outfitter performed as expected.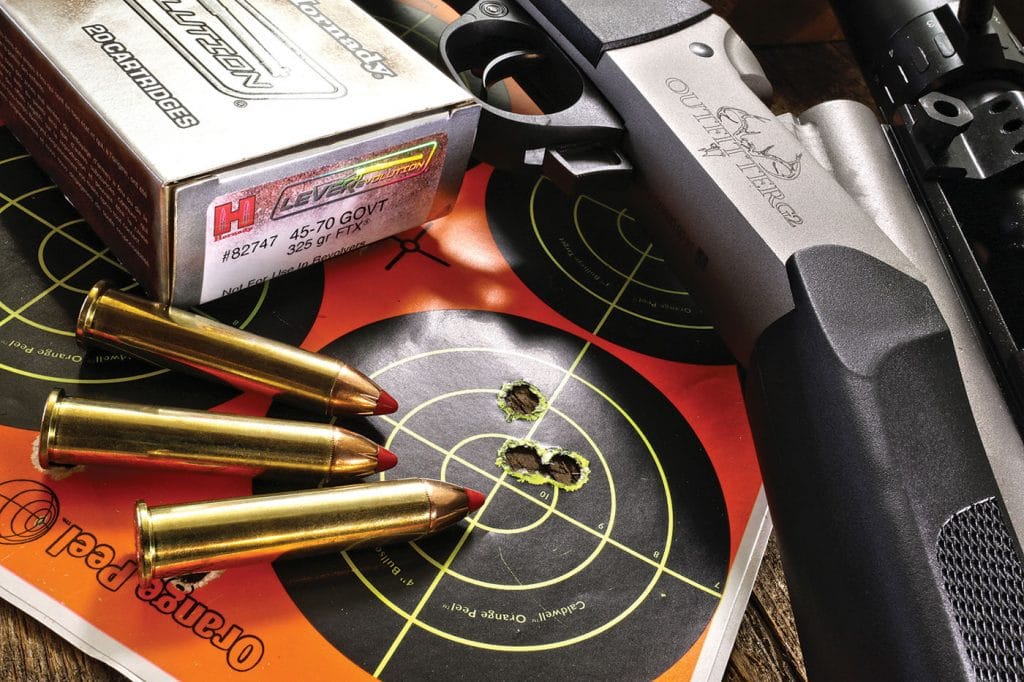 Bottom line, the Traditions G2 Outfitter is a top quality, extremely reliable, highly weather-proof single-shot rifle with excellent ergonomics and a WAY above average factory trigger. See it at your firearms retailer, or for more information contact Traditions Performance Firearms, Dept. OT; Tel.: (860) 388-4656; Web: www.traditionsfirearms.com
Source Article from http://ontargetmagazine.com/2017/12/traditions-outfitter-g2-45-70-single-shot-rifle/