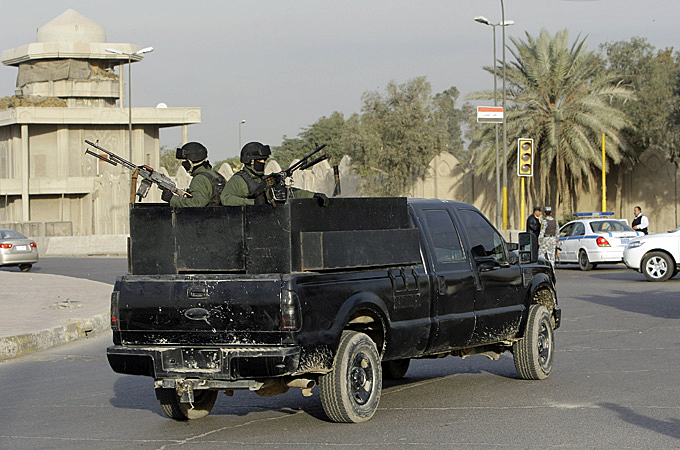 The number of armed conflicts each year is increasing. Each of them is different, but they  all have a common thing, that all war "chief" or army commanders in addition to the regular army want to strengthen their ranks with soldiers who know how to fight, and that are also well paid.
The new phenomenon that appeared with the wars in the late 20th and early 21st century are a mercenary organization, and they are  precisely those rings that stand between a political or military leader and his destiny.
With more than 625,000 employees, G4S security organization is the second largest private employer in the world just behind the famous Wal-Mart. Some operations of this company are oriented to banks, prisons and airport security, but G4S also plays an important role in crisis zones around the world. G4S workers are responsible to provide almost one-third of all non-military convoys in Iraq, and in various combinations this group is present in more than 125 countries around the world including some of the most dangerous parts of Africa and Latin America, where it deals with the issue of security.
In the second place, with more than 1,200 employees worldwide, is located organization Unity Resources, which is Australian owned, and increased its presence in Iraq when an Australian army retreated. This private military company is best known for guarding the Australian embassy in Belgrade. Out of Iraq, this company helped and guarded polling stations during parliamentary elections in Lebanon and provided the evacuation of private oil companies during the crisis in Bahrain. The company operates throughout Africa, Central and South America, Asia, and Europe.
In third place is Erinys, a company that is responsible for protecting the majority of Iraq's vital oil assets, and recently won two contracts in the Republic of Congo, for keeping and maintaining order in the largest iron ore mines and oil and gas projects.
DynCorp, headquartered in Virginia, is one of eight private military companies that  State Department chose to remain in Iraq when US forces withdrew. Members of DynCorp fought against Colombian rebels and drug dealers in Peru. It is a large group with more than 10,000 employees, which has annual revenue of about $ 3.4 billion. DynCorp is also active throughout Africa, Eastern Europe, and Latin America.
Another, of eight mercenary companies that will replace the official US forces in Iraq, is Triple Canopy, which has an army of about 1,800 soldiers in the country – mainly from Uganda and Peru – and contracts worth up to $ 1.5 billion. This company also  have  contracts in other parts of the world: in Haiti, where they guard the US embassy and in Israel, where agents provide personal protective services to the US State Department.
Aegis Defense Services has about 5,000 troops who are working with the UN, the US, and the oil companies. This private "military contractor 'is probably best known for recordings that have appeared in 2005 and which showed its members shooting at Iraqi civilians.
Defion International employs thousands of fighters from developing countries, and in some cases these agents are paid with only $ 1,000 per month, which caused international anger – especially for jobs related to some governments.
Academy, formerly known as Blackwater, owns and operates one of the most advanced private and military training units in the world. Academi likely reduced the number of its members after a number of illegal shootings and other controversies that have angered the Iraqi government and threaten the important contracts. Out of Middle East, Academy was engaged to guard the streets of New Orleans after Katrina hurricane and to protect the missile defense system in Japan.
Source Article from http://www.special-ops.org/12740/top-8-these-are-the-most-powerful-mercenaries-in-the-world.html