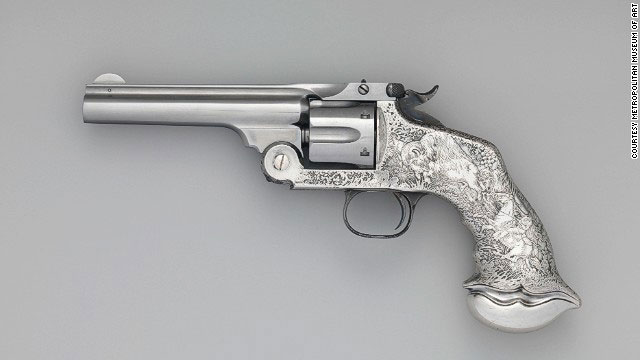 "So far as we know, the guns never killed anybody," said Pierre Terjanian, the head of the Arms and Armor department at the Metropolitan Museum of Art in New York, where the seven-gun collection of six-shooters are housed.
But the guns, which are intricately etched silver with precious stones, were never designed to kill.
"They were produced to symbolize the potency of American manufacturing and craftsmanship, and were created using techniques that nobody else could equal," Ternanian said.
After producing decorative presentation swords for American officers in the Civil War and Mexican-American War, the world-famous Tiffany & Co set their sights on firearms in the 1880s, turning the Smith & Wesson six-shooters into unique works of art. Altogether, Tiffany & Co made about 50 firearms before the project was brought to a halt in 1911 after New York enacted gun control laws.
Nonetheless, Terjanian added, "These are very important objects. They showed that objects may have a function, but their symbolic meaning can be greater."
Source Article from http://www.guns.com/2014/11/14/tiffany-co-revolvers-offer-plenty-of-history-lots-of-bling-7-photos/