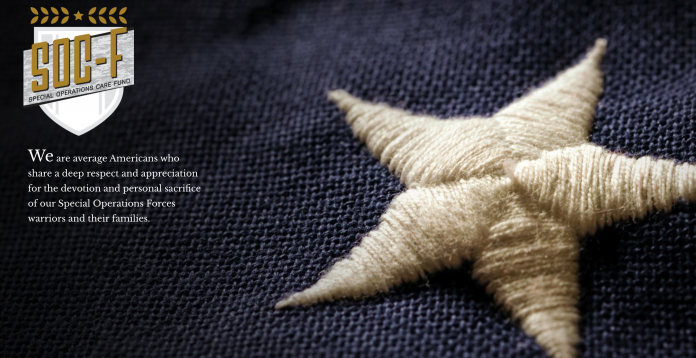 We created SOC-F in 2013 for one purpose: to make a positive and meaningful difference in the lives of SOF families who have given so much for our country and our freedom. We do this by raising money for one incredibly worthwhile purpose: to provide medical, financial, and other support to SOF members and their families in ways that are often not met through other sources–what we call the "gaps." – Special Operations Care – Fund
For those unaware in the veteran space, SOC-F is an awesome organization dedicated to helping our warriors with the problems that arise here. Working for the government, especially in defense, should be a fairly low stress thing. Minus the fighting and possibly dying parts that is.
What I mean, as a veteran myself, is the more mundane items of life. Getting paid on time, getting coverage for doctors visits, getting all the regular details of the day-to-day should not be stressing the lives of our armed forces and especially special forces communities. They should be focusing on the fight because the details are sorted. We know, all of us who have served know, that reality is far from that ideal. The Military drops the ball on the daily, often badly, and that leaves someone to cover down.
SOC-F covers down.
SOC-F is there to help the families while their warrior get on with the whole business of war. Prepping for, deploying to, and returning from are all part of the efforts SOC-F looks to cover on. As a charity, they are powered by donation.
We were going to head their this weekend for the auction, unfortunately scheduling has made this impossible. But we will still be participating in the auction and I am here to encourage all of you to do so as well.
What can you win?
KAC Bring Back Gun USASOC
This one of a kind Knights Armament 7.62 x 51 rifle is the rifle that was carried by Army Special Mission Unit Operator, Lou Goodman, in both Afghanistan and Iraq.
A unique program was established between the Army and Knight's, where the operators could buy back the guns they used overseas. Lou is donating his personal gun.
It has served much justice to the enemies of decency and liberty.
Donated By Louis Goodman / USASOC Commando
Steve Penley Original Painting
Blanton's Complete Collection
The Blanton's Complete Collection. Each of the Blanton's Horse Tops
***Items must be picked up at the SOC-F Event or in GA. Shipping Alcohol is not permitted due to ATF and State Alcohol laws.***
Donated By Brian Prevatt
And you can also donate directly.
Check it out. Items are live for preview and some are open for bidding. There are about 100 items up for bid. Rifles, art, a Porsche with dinner, tour, and driving experience, build every Q gun at Q HQ.
Or just give. Get on it!