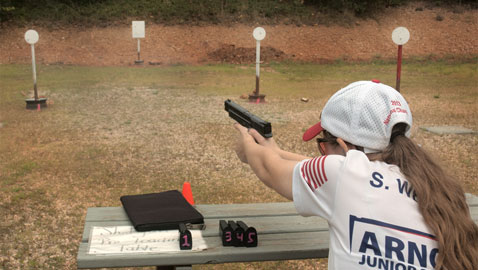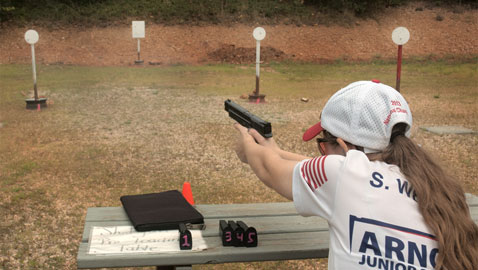 For the past few years, Gun Culture 2.0 has been the driving force behind the growth of firearms ownership in the United States, and a big part of that new culture is practical shooting. USPSA, IDPA and other shooting disciplines are more popular than ever before, and getting new shooters into practical shooting is essential to the long-term growth of those sports.
The Scholastic Pistol Program (or SPP for short) is a relatively new offshoot of the Scholastic Shooting Sports Federation that offers youths from ages 12 and older the chance to learn practical shooting in a safe environment that's both fun and educational. The SPP was created to form a funnel for younger shooters into the other shooting sports and offers younger shooters features such as steel targets that offer instant feedback on hits and courses of fire that are challenging and yet easy to learn.
To accommodate the needs of younger shooters and to encourage learning, an SPP stage is set up and ran lightly differently than the stages in other shooting sports. In USPSA, coaching a shooter is a penalty, but in the SPP, each team has a shooting coach who is accompanies the shooter to the line and offers them tips as the stage is in progress, and for safety's sake, there is a special area behind the stage where only the shooter, coach and match staff may go while the stage is being shot.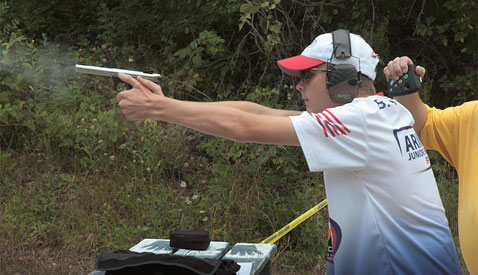 The SPP hosts a variety of regional events around the country, and I stopped by their inaugural Missouri State Championship match, held at the Central Ozark Practical Shooting range earlier this month. Around 30 young shooters from 6 teams participated in the match, and unlike other shooting sports, which tend to be populated only by the people actually shooting the match, parents, grandparents and all manner of family friends turned out to watch the kids shoot.
Mike Seevers is the head coach for the Arnold Junior Shooters team, which had 13 shooters and 6 coaches at the match. Mike took a few moments to talk with me about the successes of his team and the sport as a whole.
"Young shooters get a lot of self-confidence out of this sport, where they may have not had it in the past", Mike said. "We took a number of the podium spots at the National Championships in Sparta, Illinois, in July, and we're hoping to continue that success next year and see the sport grow as well."
While Mike's team was large and successful, Doug Ratermann from Clinton, Illinois is the head coach of a smaller team of six shooters who were attending their first-ever match together.
"I volunteered for two days at the National Championships in Sparta as a way to find something for the kids to shoot", Mike said. "Our team got together the week before this match today for our first practice. There's more and more colleges that are offering scholarships for their shooting teams, and we'd love to see some of our kids go to college based on their success in this sport. If nothing else, this will give the kids a sport they can enjoy for the rest of their life. They're not going to playing football when they're 50, but they can still shoot this sport."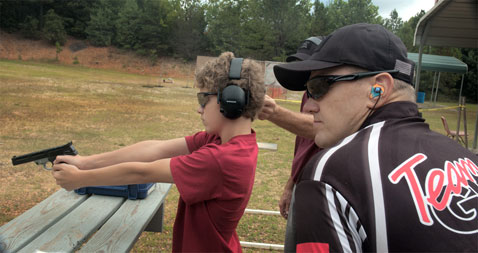 Ed Fitzgerald of Glock USA was also on-hand to help coach the newer shooters and to show support for the SPP. "Glock is actively supporting many of the shooting sports, but what we like about the Scholastic Pistol Program is the satisfaction of helping the youth get involved in the shooting sports", Ed said. "We're seeing the kids who shoot Glocks in this competition tell their friends about how much the match is to shoot and how much fun it is to shoot it with a Glock."
Scott Moore, the Director of the SPP, sees an exciting future for the sport. "What makes Scholastic Pistol different from most of the shooting sports is that it's a team event. We have teams with their own colors and uniforms and the families of shooters come out to cheer on their kids. At some of the larger matches, we'll even see tailgating parties. It's a sport that the entire family can enjoy. We had over 300 shooters at the National Championships on 39 teams from 15 states", Scott said. "We had teams from Washington state to Florida, and from Massachusetts down to Texas, and they shot over a quarter million rounds of 9mm and .22LR ammo during that match."
SPP offers two different divisions, Rimfire and Centerfire. Shooters can start out in Rimfire, but must "graduate" to Centerfire after two years of competition. Startup costs for a team are very low: The targets are identical to what's used in The Steel Challenge, and it's not uncommon to see a team share one pistol between all the shooters on their squad.
Ben Kokotovich of the Arnold Junior Shooters team is one of the best shooters in the sport, and he enjoys talking with his friends about what he does at a match. "I've been doing this for about two years, and shooting since I was six. It's a really fun sport, and my friends who only shoot pistols in video games think what I'm doing here is pretty awesome."
If practical shooting is going to continue to thrive and grow upon its success, it will need a steady stream of younger shooters to join the ranks of the IDPA, USPSA and 3 Gun, and the Scholastic Pistol Program, along with the NSSF Rimfire Challenge and similar sports, are training the shooters of tomorrow, today. If you're like me and have a young person in your life who's interested in the shooting sports, the SPP might be the perfect way to get you both out to the range.
About The Author: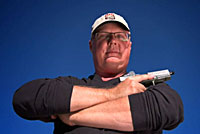 Kevin Creighton runs the website and blogs for Osage County Guns. He is a competitor in USPSA, IDPA and 3 gun and has written articles on the new realities of gun ownership for MisfiresAndLightStrikes.com, ShootingIllustrated.com, Teamgunblogger.com and KFYI-AM radio. You can follow him on Twitter at @osagecountyguns.
Via:: The Scholastic Pistol Program