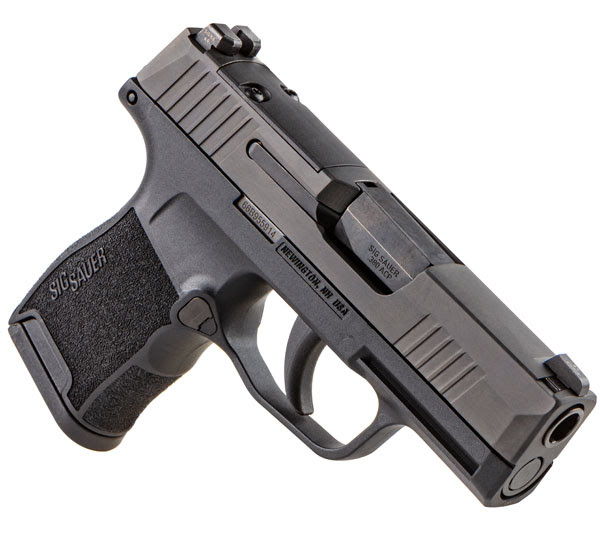 One of the most popular high capacity micros is now available in the more gentle recoil .380 ACP. While 9mm is considered the standard for defensive firearms, data continues to show that putting bullets where they need to be put out of concealed pistol is your make or break factor. If the 9mm in the small frame of the P365 jumped and bucked too much for a user but the frame itself was comfortable, there's a well established additional option.
.380 ACP, also called 9mm Kurz or 9mm Short, cuts 2mm of case length and some projectile mass off of the standard 9×19. It was a favored European police pistol round in the 1920's and 30's and maintained a strong following into the 21st century when it came to chambering concealment pistols.
It fell a out of favor when 9mm micros got big and it has always cost a little more, but the benefits of the lighter recoiling cartridge in small frames remains. The S&W .380EZ is extremely popular and I suspect the P365 in .380 is going to have its own comfortable niche because, more than anything, it will be a comfortable firearm to shoot and carry.
NEWINGTON, N.H., (February 17, 2022) – SIG SAUER is pleased to bring a new caliber to the award winning P365 series of pistols.  The long awaited P365 chambered in 380 is finally here – creating a new, softer shooting experience for an easier handling micro-compact option for everyday carry.
"The SIG SAUER P365 is the most popular concealed carry pistol on the market today.  We have shipped millions of these pistols and until now it has only been available in one caliber," said Tom Taylor, Chief Marketing Officer and Executive Vice President, Commercial Sales, SIG SAUER, Inc.  "The P365-380 uses the same grip module and fire control unit as the legacy P365 with a lightened slide, a 380 barrel, and a lighter recoil spring making it easier to rack for an overall exceptionally smooth handling experience.  This pistol was designed for everyone but is an ideal option for shooters with smaller hands, as well as those who find the manipulation and recoil management of larger caliber pistols challenging."
The SIG SAUER P365-380 is a striker fired pistol chambered in 380 with a 10+1 capacity.  This micro-compact pistol features a modular polymer grip module, optic-ready stainless-steel slide with Nitron finish, a curved striker trigger, and dovetail SIGLITE night sights.  The P365-380 is also available with a manual safety and ships with (2) ten-round magazines.
P365-380:
Caliber: 380 AUTO
Overall length: 5.8 inches
Overall height: 4.2 inches
Overall width: 1.0 inches (1.1 inches w/manual safety)
Barrel length: 3.1 inches
Sight Radius: 4.9 inches
Weight (w/magazine): 15.7 oz.
The SIG SAUER P365-380 is now shipping and available at retailers.  To learn more about the P365-380 or watch the product video with Phil Strader, Director, Product Management visit 
sigsauer.com
.