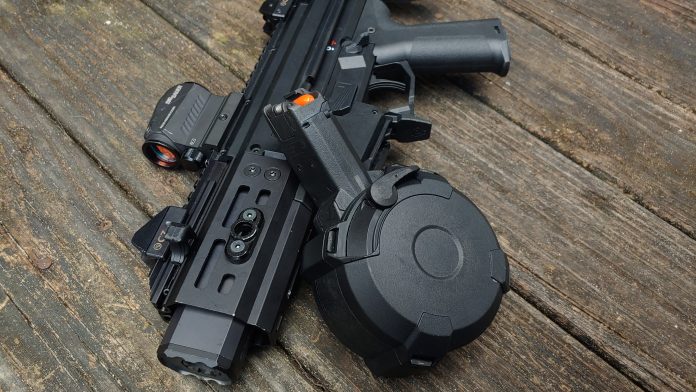 Drums, fun to beat, fun to shoot with, and made perfect by Magpul. Or as close to perfect as drums can be. Magpul did a fantastic job with the olde D-60 for 5.56 rifles and has slowly eeked out new and better drums for a variety of weapons. Currently, we have the 5.56 oriented D-60, the 7.62 NATO D-50, and now two 9mm D-50 drums. One made for Glock platforms, and the other made for the Scorpion series of pistols and PCCs from CZ. Today I've got the Scorpion D-50 EV9 drum on hand and have been dispensing lead in 50 round strings for a few weeks now.
The Magpul Drums
Before Magpul made the D-60, drums for modern firearms had a somewhat checkered past. When I say checkered, I'm politely saying most were absolute crap. There is a reason why no major military force adopted a drum as a serious use tool. They often failed. They were expensive and difficult to maintain.
Magpul made their drums reliable, easy to maintain, and, well, only somewhat expensive. Admittedly they often cost 100 bucks or close to it, but compared to other drums in the past, and they are relatively affordable. Plenty of people will say they can purchase five PMAGs for the cost of a single drum, and I can't argue with them.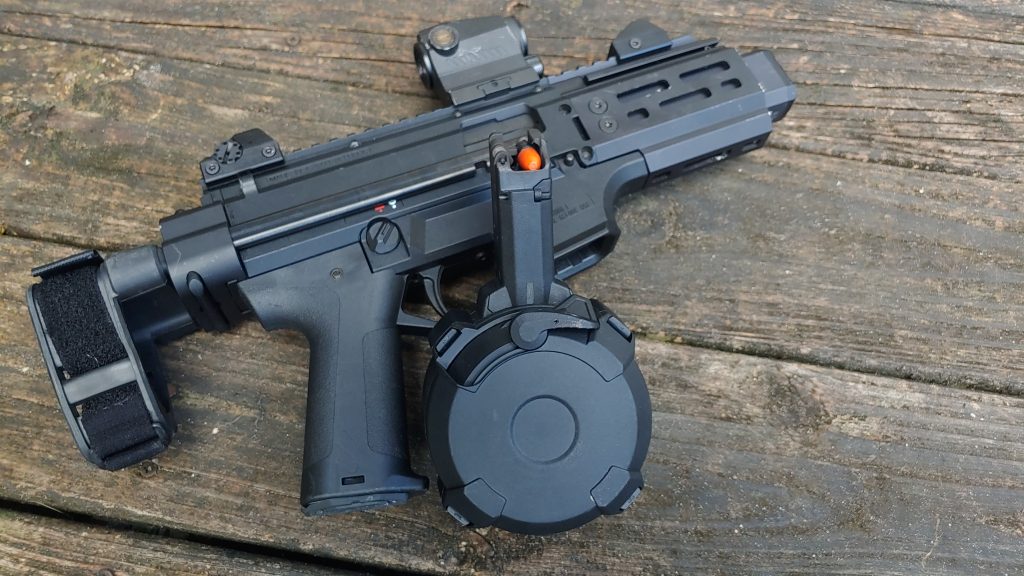 What I can argue is that drums are just cool. Something about anti-gun people hating them makes me love them a fair bit more. Plus, I have a romantic vision of the old Thompson in my mind, and the Scorpion D-50 EV9 gives me cyberpunk Tommy gun vibes. As long as it works, I can justify the price.
Does the Scorpion D-50 EV9 Work?
Heckin' yeah, it does, my man/lady. It follows the same construction pattern as the rifle variants. This included the loading lever, false cartridge follower, and general layout. It's made from the same polymer composite as the Gen M3 PMAGs, so it's the tougher polymer. We get the dot matrix, a small window to monitor capacity and the quick take-down construction.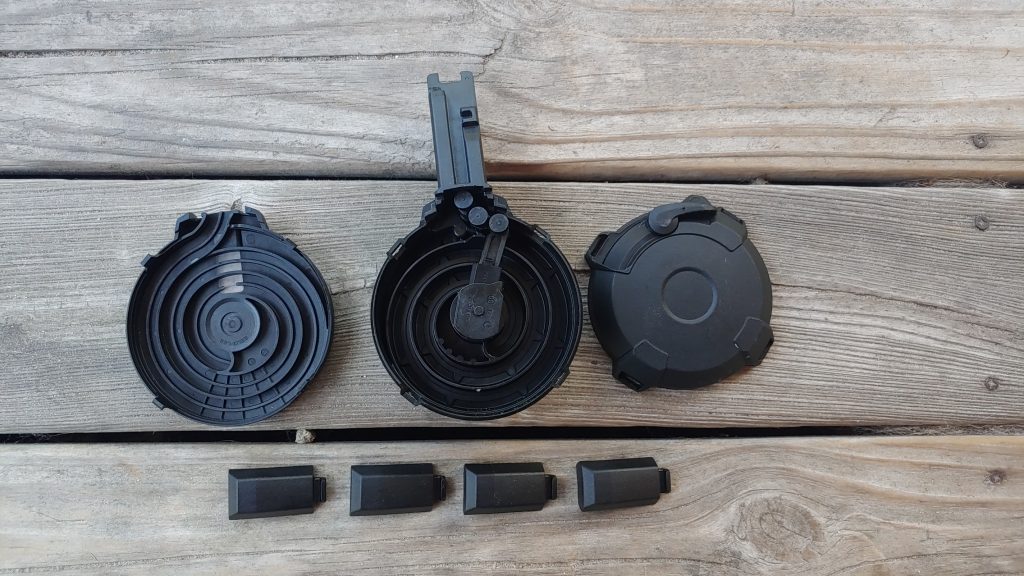 Loading the D-50 EV9 is much easier than loading the rifle caliber variants, mostly due to its size. You can fit it in your hand and work the lever without feeling like an extra hand would help. It takes a fair amount of time to load, and you'll work that lever enough to make your thumbs nice and strong.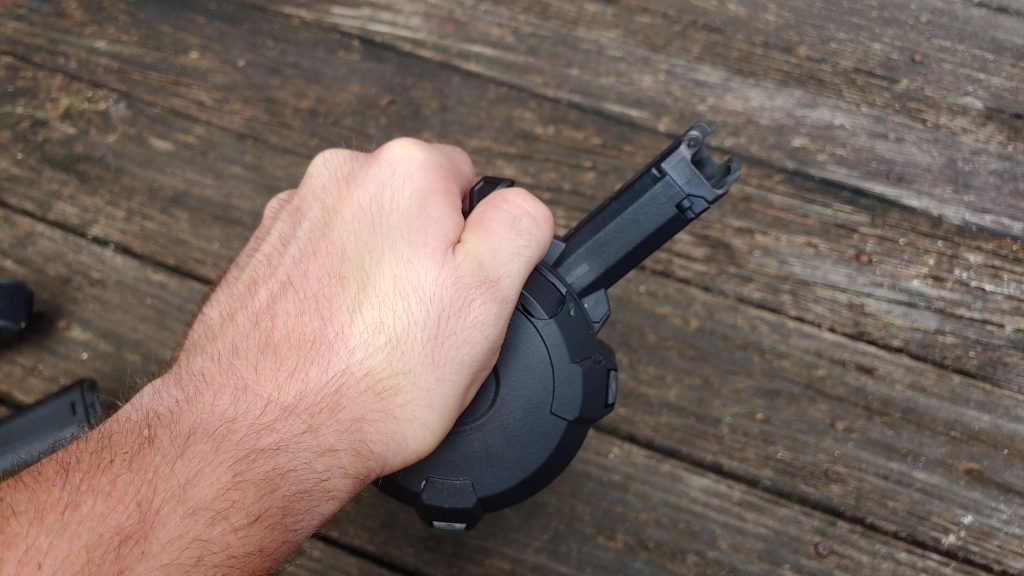 Once loaded, you'll be excited to rock and roll. You'll also get a trigger finger workout because the Scorpion's notoriously heavy trigger now gets to pop off 50 times prior to a reload. Magpul could advertise this as a full-hand workout if they wanted. I've loaded and unloaded this thing what feels like a dozen times now. In reality, I've put eight full 50 round loads through the gun, with a variety of partial loads to test various ammunition types.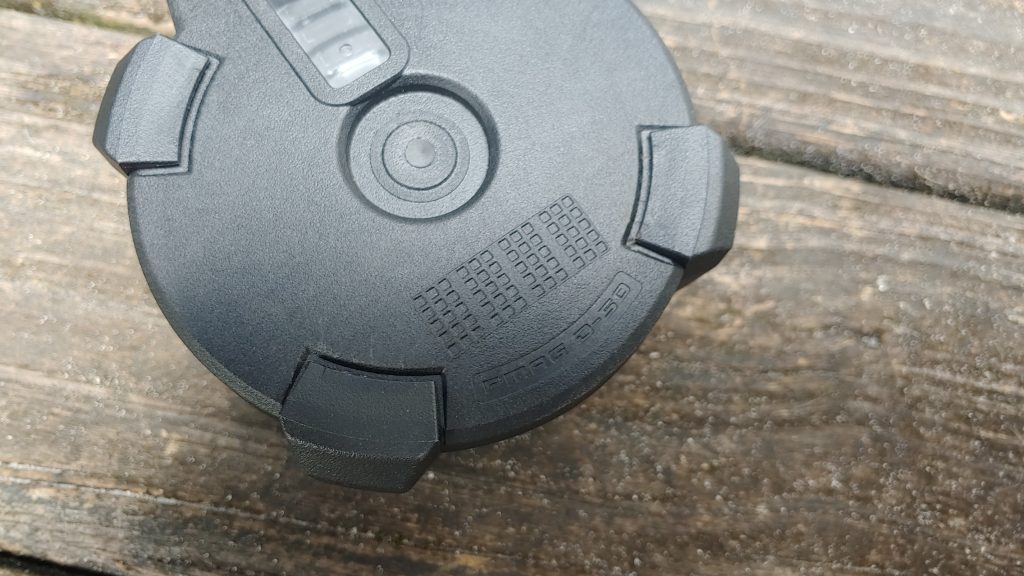 In that testing, the only failure I got was from the worst steel-cased ammo on the market, the Winchester Forged garbage. It's super dry, and it leaves my hand filthy when I loaded in the 30 rounds I had left of it. Other than that, not a single issue with standard brass FMJs, Tula steel, and jacketed hollowpoints.
How The D-50 EV9 Handles
Lots of 9mm in a big drum makes for a heavy gun. The pistol variants of the Scorpion become very off-balanced when loaded down with 50 rounds of 9mm in a drum. The light and short Scorpion pistol can be easily handled with a single hand but easily relative to the style of the gun. Once you add a drum, that becomes a bit more difficult and plenty heavy.
It is interesting going from the drum to something like the 20 round magazine. The heavy 50 round drum takes some muzzle rise out of the weapon.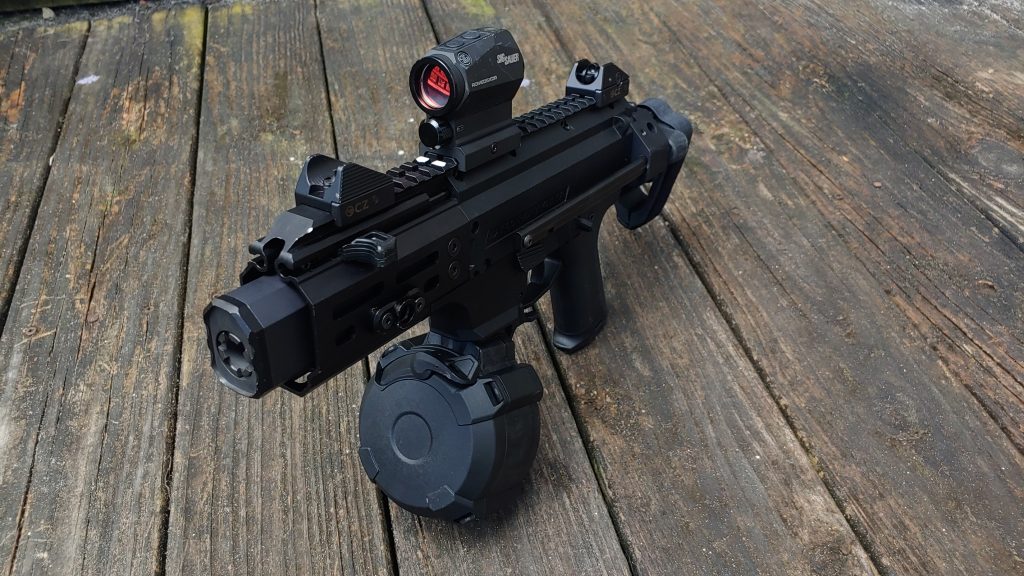 Reloading it a little slower. The drum doesn't just drop free, and it's tougher to get a grip on the drum and mag release at the same time. I'm making it sound worse than it is, but my point is that reloading a box magazine is more intuitive.
Also, on the Scorpion Micro, you lose the ability to really grip the magwell. The shorter gun has less to grab, but you'll figure it out. Predictably, the D-50 EV9 in the bullpup variant is a bit of a mess. It presses against your forearm and feels awkward. The combination is still plenty useable but still quite awkward.
Lots of Little Bangs
Using a PCC for home defense sets you up with a capable weapon that is a compromise ballistically. Pistol rounds are still pistol rounds and often don't provide great one-stop shots. With that in mind having more rounds is better than fewer rounds. The Scorpion D-50 EV9 gives you more rounds. Reloads aren't a big problem with 50 rounds in your gun. The D-50 EV9 can be left loaded and is always ready when you are.