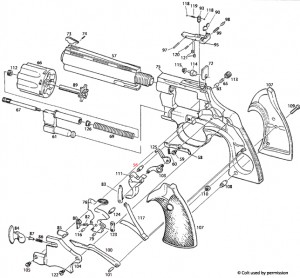 Colt Defense investors have been on edge as of late. Last month the company went down to the wire, shoring up funds to avoid default and last week warned that it likely won't have enough cash to pay bondholders in May.
While the company has identified a handful of problems such as challenges with liquidity and slow government contracts, for many Colt fans the answer is clear as day: make new guns.
And that sentiment rings true — something Colt's chief executive officer, Dennis Veilleux, has acknowledged.
"We deserve a black eye on that one," he said during a conference call last week with investors.
In its third quarter, Colt spent $1.3 million on research and development. The price is down $0.4 million, or 27.1 percent, compared to the same time the year before.
For the past nine months Colt spent $3.9 million on research and development, down from $4 million for the first nine months of 2013. But that small change is a result in Colt acquiring New Colt, a separate consumer-based entity that shares the brand name, and the price of research and development increased due to additional research staff and efforts.
In the years prior, Colt spent at least half a million dollars more annually on innovation. In 2012, Colt invested $4.7 million, down $0.8 million compared to 2011 when it spent $5.6 million, and in 2010 it spent $4.5 million.
During the swing year, 2011, cost increased due to opening a Canadian facility and investing in a NATO project.
Unfortunately for Colt fans, research and development is not high on the company's current list of priorities.
"It's a real balancing act right now with the current liquidity situation," Veilleux said about the company's issues and developing new products.
Moving forward, the company identified goals for the near future like optimizing performance to reduce cost, managing inventory levels, securing and fulfilling current government contracts, and restructuring overall debt. But once current objectives are met, which its CEO believes they will be, Colt will shift gears.
"As we get through this stabilization phase and work our way into the growth phase, the only way we're gonna grow is through innovation and broadening through diversification," Veilleux said.
Source Article from http://www.guns.com/2014/12/09/colts-ceo-the-only-way-were-gonna-grow-is-through-innovation/