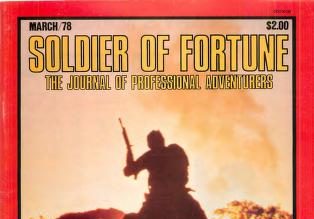 Soldier of Fortune is one of the most controversial magazines ever to exist. First published in 1975, the magazine was founded by Robert K. Brown, a Green Beret officer with Vietnam experience. It billed itself as the Journal of Professional Adventurers and lived up to the name. Famously, the magazine is a bit nutty. I browsed through a few decades worth of issues and have put together the five craziest things you can find in Soldier of Fortune magazine. 
The Soldier of Fortune Articles Underwater Knife Fighting 
Soldier of Fortune precluded a lot of the rather silly 'operator' skills we see taught today. Don't get me wrong, there are lots of good people out there teaching good stuff, but there is crap too. Soldier of Fortune had good articles by people like Ken Hackathorn, but alongside that, we have articles on subjects like "Underwater Knife Fighting."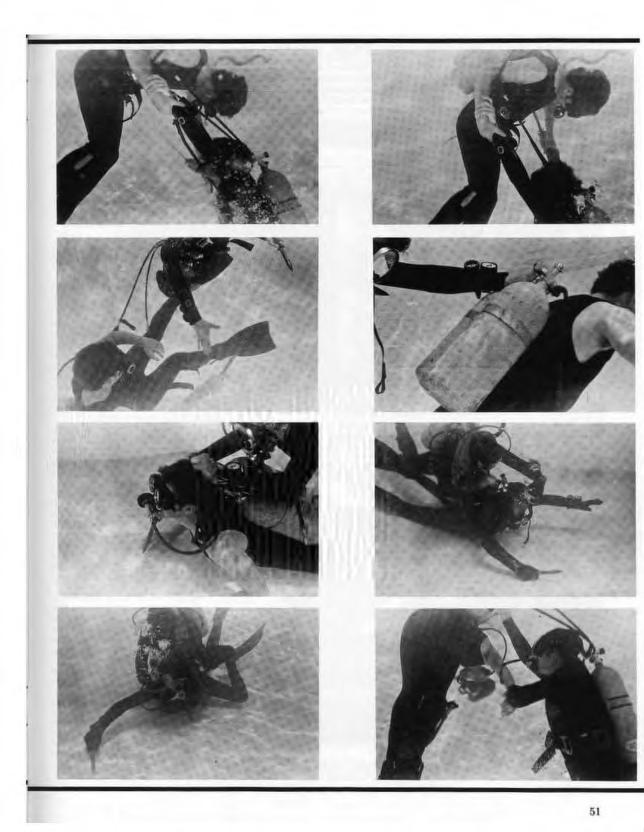 Yep, we get several pages on Underwater Knife Fighting, including pictures of two divers duking it out. The divers are both Special Forces bubbas. Reportedly the rumor is the Green Berets humored the writer and came up with 'several' techniques. Apparently, they had a good laugh about it after the writer departed. 
That's not the only article that presents a fascinating set of skills for the average reader. Remember, this is the Journal of Professional Adventurers, and surely this is who the magazine was aimed at. Not just kids like me fascinated by the magazine.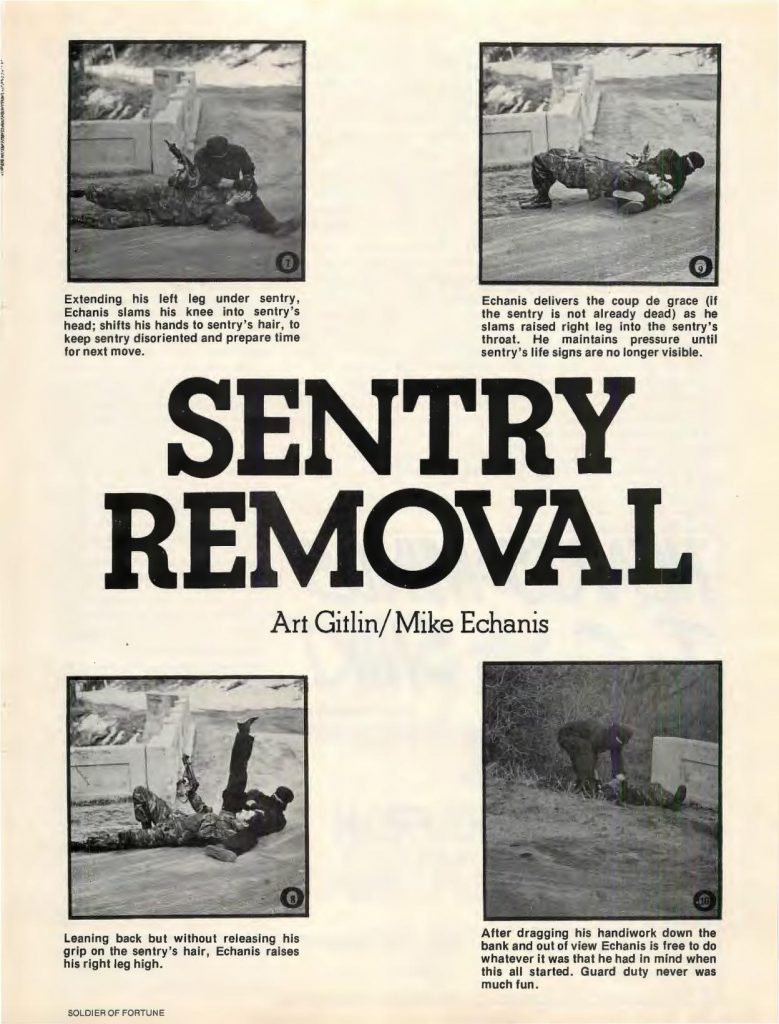 We also had "Sentry Removal," in which a man in Ninja Pajamas shows us in detailed photos how to take a sentry down. The article goes as far as showing how to kill the Sentry with a lying-down ninja kick. 
The Guns 
Soldier of Fortune wasn't a dedicated gun magazine, but they had the occasional article on new firearms. They wrote expansively on the Galil back in 1975, and we can't forget guns like the 44 Magnum Sniper system being covered.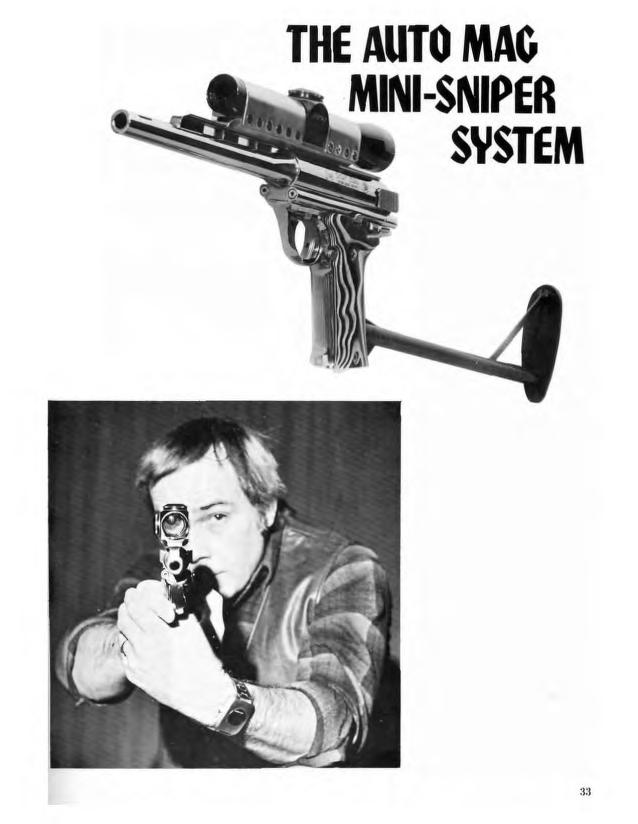 My personal favorite firearm featured in Soldier of Fortune was the Sidewinder SMG. This bicep braced SMG utilizes a magazine well that can be rotated 360 degrees. It can be used with one hand, and as such, they most certainly dual-wielded full auto SMGs in the issue. 
Also, in 1979 they got their hands on a C.Z. 75 and led into the article with the comment:
"Sooner or later, someone had to be the one to do it. My only regret is that someone had to be a communist. I mean, frankly, it is somewhat embarrassing to me to admit that the best conventionally designed pistol was designed and is being marketed by the Czechs."  
Along the way, there are plenty of mentions of 45 ACP and stopping power and inherent weakness of the 9mm round. It's fuddlore at its finest. 
The Classifieds – For Mercenaries 
In 1989 the free trade-hating Governments of the United Nations made it illegal to be a mercenary. Before that, as long as you didn't betray your own country, being a real mercenary overseas wasn't hard. If you wanted to find work or offer your talents, you went to the back pages of Soldier of Fortune. Looking at these now, it's fascinating to see the demand for fighting men.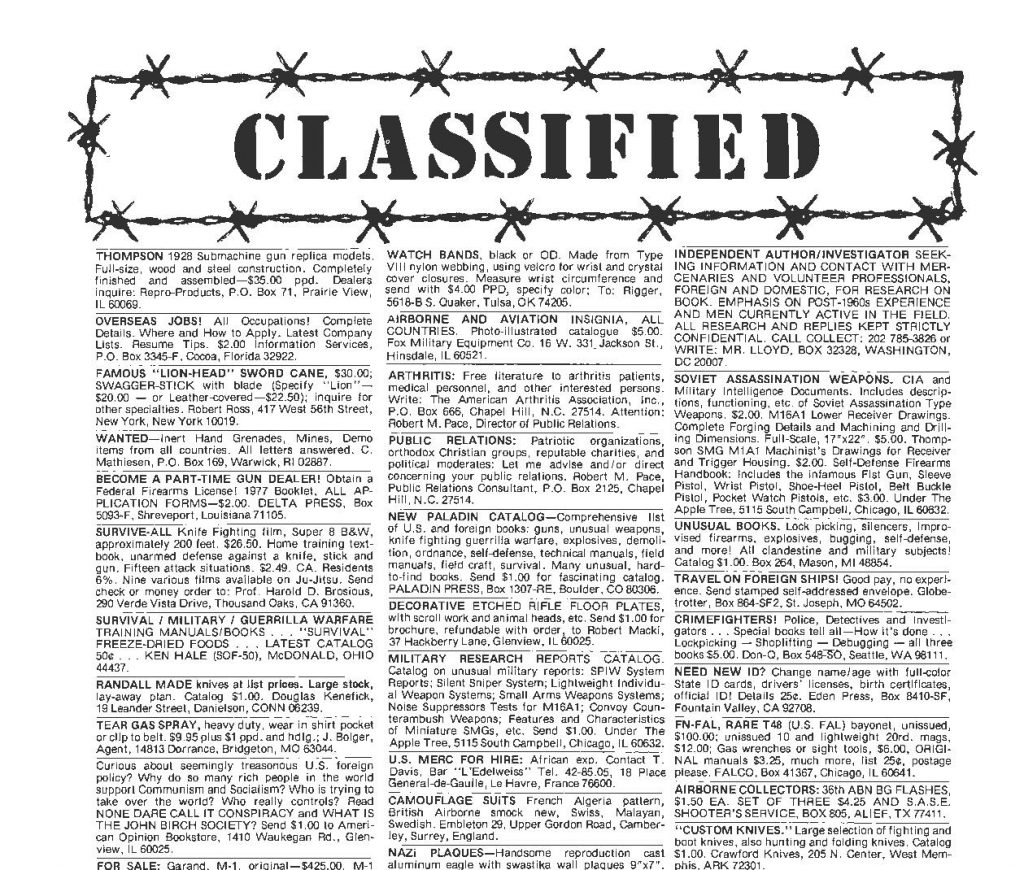 Soldier of Fortune famously listed jobs for those looking for all sorts of work. Heck, they got sued over a few times when hitmen were hired from the Soldier of Fortune classifieds. Beyond the hitmen and mercenaries, we have guns for sale, recipes for explosives, and P.I.s looking for work. 
It's a free for all with everything from typesetting offers to catalogs. 
The Ads
Ever want Ninja Training Gear? If so, then Soldier of Fortune had you covered back in the day. The ad promises ninja uniforms that include a black jacket with a hidden shuriken pocket, black pants, two arm guards, and a headband!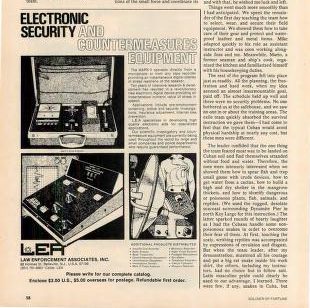 Soldier of Fortune ads are as entertaining as the magazine itself. Seriously flip through the magazine and just pay attention to what you see.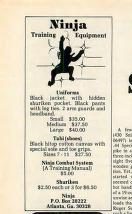 You can see multiple ads for nunchakus, "Hardcore" Action t-shirts, and even what appears to be a lie detector for your everyday operations. For 30 bucks, you can get an eavesdropper stopper to figure out if your line is tapped. 
Man, the late 70s and early 80s were a heckuva fun time! I'm a little bummed I missed out on all this fun. You could buy knives, early Tasers, blowguns, and of course, books on the Hitler-UFO connection. 
Actual Fascinating Journalism 
The Soldier of Fortune crew has sets of brass balls. These guys went where other correspondents were afraid to go. They went to Cambodia, Zimbabwe, and even Afghanistan during the Afghan-Russian war. They were the first to get their hands on the new Russian 5.45 round as well as the AK-74. 
From Afghanistan, they connected with Freedom Fighters, Arms Dealers, and more to get their hands on an AK 74 and fire it.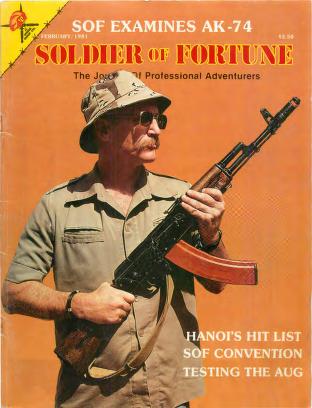 Reading the story is fascinating, and the fact they were able to go to a war-torn country, find a sample of the AK74 before anyone else had seen it, and then shoot it speaks of their ability to be journalists. 
When your crew is made up of hard-ass Vietnam vets with special ops experience, your curiosity tends to turn into reality in the worst places in the world. There is some insane stuff in Soldier of Fortune that's worth grinning over, but there is some serious journalism worth reading. Certainly, no modern outlet does the same amount of reporting as Soldier of Fortune. 
Professional Adventurers 
As a kid, I loved SoF magazine. My generation's version was all about the Global War on Terror, and it undoubtedly propelled me to the Marine Corps. I read about Fallujah and Kabul, about firefights and ambushes, about snipers and SEALs. The magazine holds a special place in my heart, and it certainly holds a special place in history.