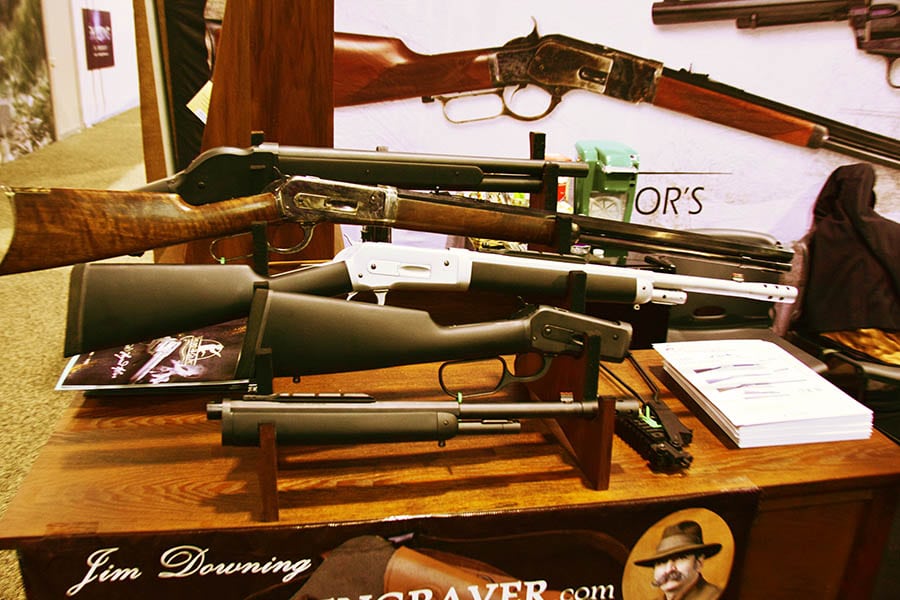 Takedown rifles have always proven popular with hunting and hiking enthusiasts alike. But thanks to Ruger's 10/22 takedown rifle, the market has expanded to target shooters in search of a more portable, compact weapon. Taylor and Company, a firearms maker specializing in turn of the century reproductions like Winchester and Henry-style rifles, has tapped into this vein with their new  lever-action .45-70 takedown rifle.
Based on the Winchester repeating rifle famous for the role it played in settling the American West, the .45-70 takedown is available in several configurations including a scout model. The scout version features an all-stainless steel finish, black polymer furniture and a forward scope rail. More traditional models are also available including a heavy octagonal-barreled, case-hardened rifle that foregoes the Williams peep sight of the scout model in favor of a more traditional buckhorn irons.
These new rifles follow in the footsteps of their Alaskan takedown models except in the more formidable .45-70 cartridge reknown for its use in Sharps rifles of the early twentieth century. Modern loadings of the big bore round are suitable for harvesting any game in North America. No retail price or release date was dicusssed, but Guns.com will continue to monitor this story and have an in-depth full review in the near future.
Check out our coverage of SHOT and stay tuned for more throughout the week.
Source Article from http://www.guns.com/2015/01/22/taylor-and-co-release-45-70-takedown-scout-rifle/