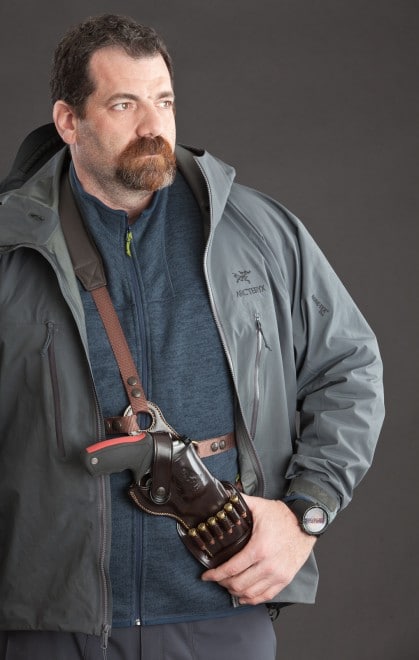 By Oleg Volk
Colt Walker, introduced in 1847, was the first revolver of military significance. Sometimes called a "cavalry 4-pounder", it was a large .44 caliber percussion revolver with loaded weight actually approaching five pounds. It held six 140-grain round balls and achieved velocities of 800 to 1200 feet per second, depending on how much the user wanted to push his luck with heavy loads. Thanks to its heft, the revolver actually had modest felt recoil and could be safely fired one-handed — provided the user was strong enough to aim something as heavy as a modern AR15 pistol.
Colt Walker, 1847 model. Photo from Wikipedia.
As the metallurgy and the powders improved, the guns got lighter and more powerful. The famous S&W29 of Dirty Harry was half an inch shorter, a pound lighter and tossed a bullet almost twice as heavy at 1500fps. Firing it with two hands for recoil control was prudent. More recently, 44 Magnum revolvers made of lightweight allows created arms that killed on the muzzle end and maimed on the other end, with painful recoil discouraging regular practice. Taurus Raging Bull was designed counter to that trend.
M444 is a large revolver. An ounce short of four pounds, it sports an 8.375″ ported barrel with full underlug, and a big squishy grip. The size puts it halfway between conventional belt guns and the horse saddle pistols of old, making cross-draw holsters like Galco Kodiak a good carry option.
Galco Kodiak holds the gun and six extra rounds.
For size reference, the person pictured above is 6 foot 5 inches tall, and has the build of something that eats cave bears for breakfast. M444 is just another side arm to him.
The fit and finish on Raging Bull are excellent, and it deserves good leather.
The revolver holds six shots. While swing-out cylinder makes reloading quick, it takes both hands to disengage the twin latches, one under the thunb and the other forward of the cylinder.
Solid lockup is achieved, among other factors, by the extra cylinder latch.