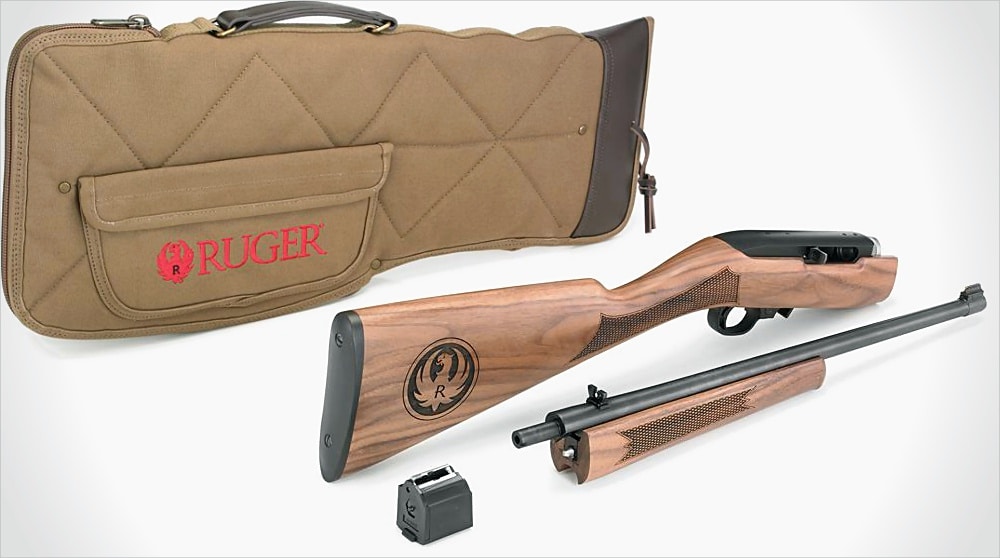 Talo has just announced a special Classic VI 50th Anniversary-edition Ruger 10/22 Takedown rifle. Patterned off the new 10/22 Takedown design, this celebratory rifle sports hardwood furniture instead of the standard polymer stock and forend.
This limited-edition Classic VI 50th Anniversary 10/22 Takedown is similar to existing Takedown models as far as specifications go and sports a standard barrel and 10-round rotary magazine. The main differences are a newly designed stock and forend with deep checkering and the Ruger logo dyed black to contrast the natural wood grain finish.
The barrel and receiver also have a satin black finish with standard 10/22 sights.
Lastly, the Classic VI 50th Anniversary 10/22 Takedown comes in a limited-edition carrying case. Unlike the tactical-style case that comes with standard Takedown models, the 50th Anniversary model comes with a traditional hunting rifle-style padded case.
The case is brown on brown with a diamond stitch pattern and a bright red Ruger logo on the side with an accessory pouch.
Ruger and Talo haven't listed the rifle on their websites just yet, but prices are expected to be in-line with existing Takedown models with a small premium for the special edition models.
Source Article from http://www.guns.com/2014/10/07/talo-announces-classic-vi-50th-anniversary-1022-takedown/