This is part II of the take away lessons from Blade Show 2014. Part I can be found here. It was an exciting show, even for those of us that didn't attend. The internet and Instagram provided unrivaled access and even folks at the show were telling me that they found out about stuff going on via Instagram.
Lionsteel Will Release a Lightsaber Next Year
They made the first production integral. It also had the innovative Rotoblock overtravel stop. They then upped the ante with another integral with the TiSpine. Then they released a lockback integral with a bearing pivot (the TM-1). Innovative is the hallmark of a Lionsteel product. This Blade Show they doubled down yet again and produced the Hi Jinx for CRKT, which won Overall Blade of the Year. They showed off their technical prowess with the release of the world's first 3D printed titanium knife handle in the appropriately named Ti Dust.
Images courtesy of Lionsteel
In just four years Lionsteel has pushed the bar for what is possible in a production knife impossibly high. Its not an exaggeration to say that Lionsteel, in that period, has been more innovative in its engineering than the rest of the knife world combined. Only ZT seems to be making an effort to keep pace. Everyone else seems to have conceded the point and recognized that Lionsteel does things with high tech machines that are impossible for everyone else. Don't be surprised if they have the world's first functional lightsaber at the show next year.
Spyderco ALWAYS Has Something Up Their Sleeve
Golden's design prowess seems to have dimmed. Their showing at SHOT Show 2014 was underwhelming–a lot of variants and me too designs. The most exciting product was the Spyderco Dice, a shrunken version of the excellent, but by the numbers, Domino. The showing from the previous year was equally underwhelming. There were a few handle variants for the Chaparral and the Balance, but nothing really amazing and new.
Blade 2014 (and more pointedly IWA a few months yearly) showed off a bumper crop of new Spyderco designs. Some, like the Slycz Bowie, were solid designs while others, like the Schempp Bowie were innovations on old forms. The new stuff had all of the hallmarks of great Spyderco line ups in the past–weird, solid, unique, and functional knives. They also upped the ante on collabs, announcing the long rumored Burch collab and a pair of good solid designs from Pete Carey, including the knife that most caught my eye (and won Import Knife of the Year at Blade 2014), the Spyderco Rubicon.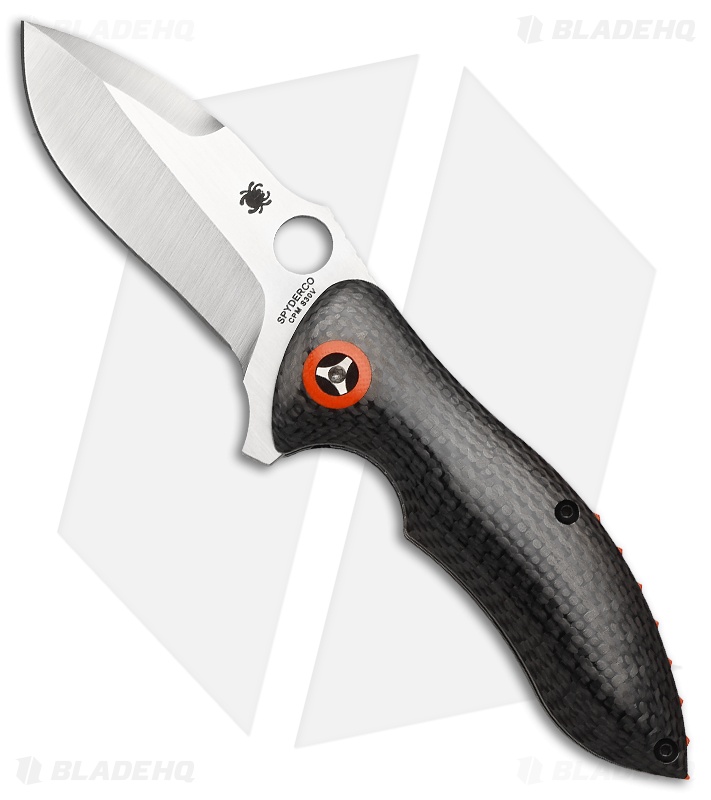 Image courtesy of Blade HQ
The striking combination of a convex carbon fiber handles and the orange G10 elements screams quality and it happens to be a flipper. Home run. Never count Spyderco out, ever. And their recent showings prove why–no one does knife design better than the Golden Boys (Sal, Eric, Ed, et. al).
Busse Knows How to Stoke the Fires and Honor Heroes
If there is anyone that has a rock star persona in the knife world its Jerry Busse. Busse comes to Blade with a positively enormous, castle-like booth. He has drawings and giveaways that generate crowds of screaming fans that look like something from news footage of the Beatles arriving in America. And this year he released a knife that grabbed more attention than any other fixed blade at the show.
The Axe Hammer is a special Busse release designed to commemorate the life of Matthew Axelson, a Navy SEAL that died in 2005 in Afghanistan. The knife itself is awesome–an elegant design with a great handle and simple drop point blade. That would be enough to cause a stir, but when you learn about the man the knife memorializes, you understand why it created such a stir.
Axelson was part of SEAL Team 10. He and three other men were ordered to capture a Taliban leader hiding in the Hindu Kush mountain pass, a location that has been a dangerous chokepoint for thousands of year. Axelson died defending his teammates, but only after taking shots to the head, to the chest, and a direct hit from a RPG. Rock star, indeed. And kudos to Busse for reminding us just how amazing our military men and women are everyday.
You Should Always Bring Your Rabbit's Foot to a Knife Show
With the surge of interest in custom knives, makers have had to figure out ever more complex methods to sell their knives fairly. First come, first serve would mean that every custom knife would be gone about eleven minutes into the show. To prevent that from happening, most makers have a lottery for the opportunity to buy a knife. You fill out a card, give it to them, and then wait for the drawing. If you win, they notify you, usually by text, and you have a certain period of time to pick out a knife from the maker that you want to purchase.
It may seem silly that all you win is the opportunity to purchase a knife, but remember you get the knife at "table cost", that is, the direct from the maker price, which can be as much as a third the cost of the knife on the secondary market.
This year even some production companies had to resort to lotteries. Dan, of BladeReviews.com, and podcast cohost, won a lottery and picked up the ZT0454 at MSRP. $500 may seem like a lot, but with only ten in the wild and eBay prices well north of $1000, it was a bargain. So if you plan on going to a big show, bring your rabbit's foot. Or Dan. He wins a drawing every year.
Instagram is Awesome
Following the feeds of various knife knuts on Instagram is great. Many of the folks that did YouTube videos have migrated over to Instagram due to its easy to load format and its "quick hit" appeal. Following Knife Thursday's feed was great, as was Justin Laffer's feed, and more than a few makers let you see what the show was like from their perspective. Andrew Demko, inventor of the Tri-Ad lock, had a particularly awesome IG feed from the show.
It's especially cool to see folks' Blade Show scores. And when those folks are knife makers you realize that even luminaries like Brad Southard and the aforementioned Demko are still knife knuts at heart. Demko snagged a Loveless Drop Point Hunter.
It was an amazing show with lots of cool knives. I wish I could go. Maybe one year I will take my son.
Via: All Outdoor
Category: Gear, Knives