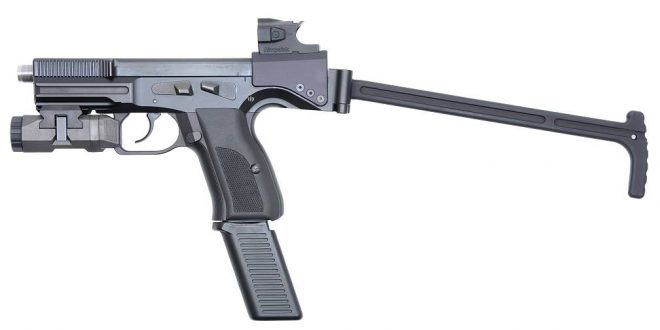 Thanks to the Bron i Aamunicja Facebook page we are all getting a sneak peak at the new Aimpoint pistol mounted optic.
You will notice a very clearly marked Aimpoint on the left-hand picture of this new service pistol. The design looks fantastic, and we are all very excited to get our hands on it.
The gun also appears to have a:
Inforce light system, one of our personal favorites.
Extended magazines
Folding stock
Threaded barrel
Suppressor
chambered in 9×19
It is interesting the optic appears to be mounted to the frame and not the slide. This is often preferred to increase the life span of these optics. The reduction in force by not being thrown back and slammed forward with each round reduces wear and tear on the optic.
No doubt this new gun looks very space age. What do you think of the new B&T weapon system and its accessories? We will be releasing more on this as more information surfaces.