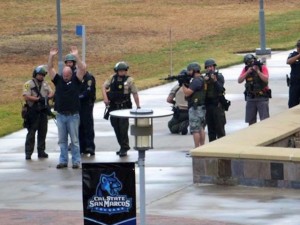 By Chris Eger
California State University San Marcos faculty member and umbrella owner Bill Craig surrendering to a police response team with an apparent cargo-short load out. (Photo: ABC 10)
A SWAT team on the campus of California State University San Marcos surrounded a staff member equipped with protective rain gear this week.
The incident, which occurred early Wednesday morning, was prompted by a call to the San Diego County Sheriff's office of a bald white male, wearing a black shirt and jeans and walking across campus carrying a rifle. This resulted in a shelter-in place order for some 400 staff and students going through orientation before the start of the fall session. Rapidly, facility and classmates banded together to barricade doors with tables and chairs, expecting the worst.
The situation resolved itself after 30 minutes when an umbrella-bearing teacher figured out he matched the description of the alleged gunman and surrendered to law enforcement.
"Earlier this morning there was a report to University Police of a possible gunman at CSUSM," read a statement released Wednesday afternoon by the college. "The campus was immediately placed on lock down. Police performed a security sweep and determined that the suspect was not armed, but was a staff member carrying a large umbrella and carry bag. We are grateful for the quick response by our police officers to the perceived threat and to our campus community for their cooperation during the brief state of emergency."
CSUSM has some 10,276 enrolled students and uses an Emergency Notification System that students and faculty can register for to receive alerts through phone lines, texts, and emails. In the event of an active-shooter event in which those on campus are advised to shelter-in-place, procedures include locking and barricading doors and entrances, closing blinds, turning off lights and hiding.
The staff member involved in Wednesday's incident, identified by ABC 10 as Bill Craig, has been with the school for 17 years. After realizing he fit the description of the suspect, saying it fit him "to a tee" he turned himself over to police.
"I guess you always think that when someone's pointing a gun at you, you're really going to freak out but I think I was just more focused on doing exactly what the officer said," Craig said of his experience.
Craig later joked about the incident on his social media account, posting a meme that read, "I don't always bring an umbrella to work, but when I do, I get cuffed."
The post SWAT team responds to college staff member carrying umbrella (VIDEO) appeared first on Guns.com.
Via:: SWAT team responds to college staff member carrying umbrella (VIDEO)