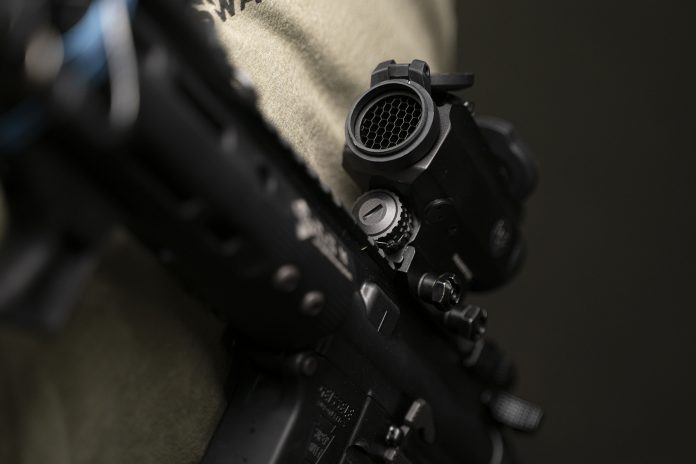 Swampfox Optics announces the Blade 1x prism scope, dedicated to law enforcement patrol rifle and home defense applications using the AR-15 and featuring the Bullet Rise Compensating reticle, providing 5, 10, and 15 yard holds calculated to account for the optic's height over bore.
The Need
In 2019 we got a lot of emails and calls from small agencies and individual officers asking what Swampfox made that was "duty grade" and would hold up to law enforcement conditions. It became very clear that there is a need for a tough, basic sub-$400 1x prism dedicated to law enforcement use. Blade is our answer to that need, and we think it just happens to be an excellent choice for those using the AR-15 in a home defense role as well.
The Optic
Because Blade features a glass etched reticle and a fast focus ocular, it is ideal for shooters with astigmatism or other issues that cause problems when working with red dots. Blade includes everything you need right in the box—the 1913 MIL STD Picatinny mount is built into the scope body and houses a single CR123a battery inside. Honeycomb anti-reflection device and high quality flip caps are included.  Windage and elevation caps are tethered to the scope body to help prevent accidental loss. Eye box and eye relief are excellent, as you would expect in 1x25mm. When the ocular is set correctly for your eyes, a crisp sight picture is instantaneous with both eyes open.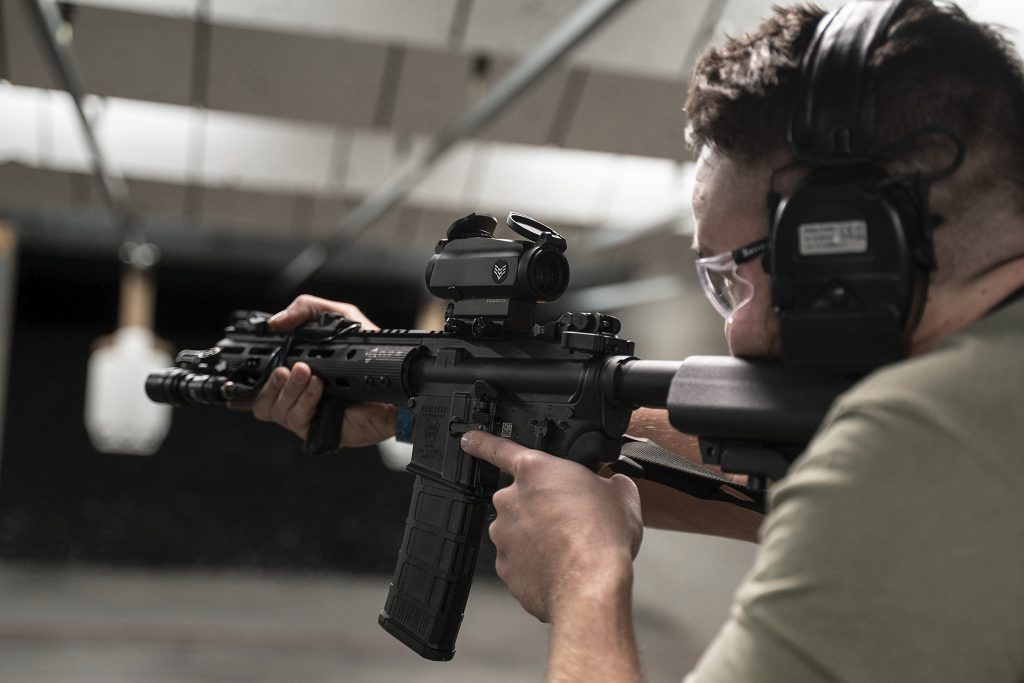 The Illuminated Reticle
It is our opinion that a BDC reticle in a 1x optic is not realistic for law enforcement and home defense engagement distances. In American law enforcement, 75 yards is generally considered a "sniper's shot." Officers are not taking legally justified shots at 300 or 400 yards with 1x optics, their engagements are happening at "in your face" distances where the biggest accuracy issue is accounting for the mechanical offset of the optic's centerline height over bore. Because Blade's mount is built in, this centerline height is consistent on any AR-15 with a "flat top" style receiver, and it has been mathematically accounted for in our reticle design. We call it BRC because at 5, 10, or 15 yards the bullet "rises" to meet the shooter's view through the optic. If you need the quickest shot possible, just center the reticle's ring around the target and let fly. If you need extra precision up close and you have an estimation of the distance, you don't have to guess and float your reticle somewhere over the top of your target. Select the closest hold and you've gone a long way to eliminating that nasty close quarters accuracy problem.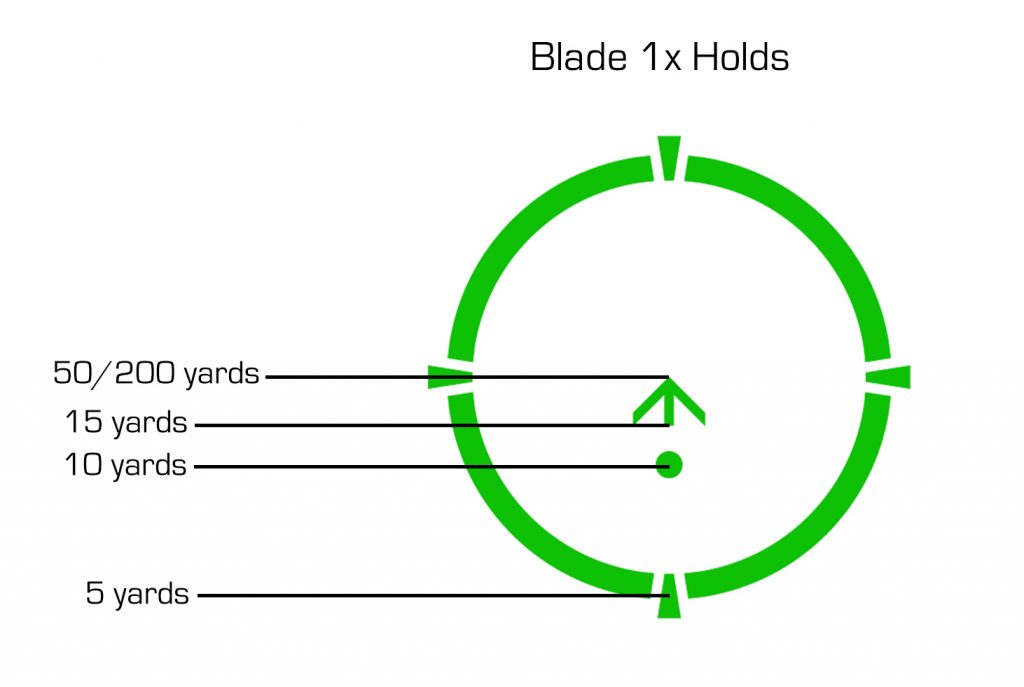 Blade is available in red or green illuminated variants, with ten settings from NV compatible to daylight bright. Because the reticle is etched into the glass it appears in black when illumination is off, or when the illumination is overwhelmed by use of a high-lumen white light in close quarters. Unlike a red dot, Blade's reticle never "washes out" in a bright white target area. Flashing a weapon light on and off simply changes your perception of the reticle from illuminated to black instead of losing the sight picture.

For the home defense role, Blade includes Shake 'N Wake motion sensing illumination. Put your AR in the safe with the reticle set to your favorite brightness setting, and 225 seconds later it will shut off and draw no power until it senses movement again. Officers using Blade in patrol vehicles will want to manually shut off illumination using the top mounted push button controls.
The Price
Our goal with the Blade project was to keep pricing under $400 at MSRP and, if possible, under $300 for those budget minded officers. We are very happy to set MSRP at only $289 with no corners cut on quality and toughness. Expect "street price" to be under $250, and LEO pricing well under that. Like all our products, Blade is covered by our 50,000 Round Guarantee. (And no, we aren't seriously going to ask for your round count. We'll take care of you if something goes belly up down the road). You can check out all the full specs and details at www.swampfoxoptics.com. –Swampfox Mike