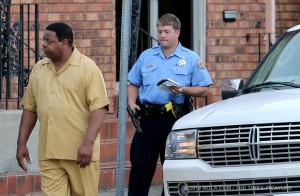 W.L.T. Littleton, left, was a former police officer with the New Orleans Police Department. (Photo: Nola.com)
One man is behind bars and another remains in critical condition after being shot in the head by a Baptist preacher during an attempted burglary at a New Orleans church Wednesday evening.
Police responded to a report of shots fired at the Greater Morning Star Baptist Church around 5 p.m., local media reported. Details of the incident are a bit scarce, but friends and family who gathered at the scene identified the one who fired the shots as Pastor W.L.T. Littleton.
The two suspects allegedly came onto the church property to commit a burglary. However, Littleton, who is a former police officer, was armed and chased them away, firing a total of eight shots at some point .
When police arrived they located a bullet-pierced pickup truck – possibly belonging to the suspects – with the back window glass shattered a few blocks away. One suspect was found with a gunshot wound to the head and was taken to a local hospital where he remains in critical but stable condition.
Officers also found the second suspect, identified as 34-year-old Joseph Cross, who was arrested and charged with copper theft.
Littleton was questioned by authorities but released. Investigators also removed Littleton's handgun from his Lincoln Navigator.
Micquell Dillon, who lives a few doors down from the church, said she heard the gunshots while sitting on the porch with her young son and other family members.
"I ran inside with my baby," Dillon said, adding she saw the pickup truck speed off, followed by Littleton in his Navigator.
Friends and family said Littleton acted in self-defense, but details of the incident aren't known at this time.
Family and church members comforted each other as police tape wrapped around the outside of the church. (Photo: Nola.com)
Church members and neighborhood residents spoke highly of Littleton and said he would always help anyone in need. Littleton's niece, Tiecha Keiffer, said he would provide transportation for those needing it, pay utility bills, attend court hearings or anything else he could do for those who asked for help, both church members and non-church members alike.
"He gives so much … so much," said Littleton's wife, while standing outside the church immediately following the incident.
"If the robbery suspects would have asked him for money … he would have given it to them," Keiffer wrote in an email to Nola.com. "That's just the kind of man he is."
The post Suspected burglar shot in the head by New Orleans preacher, former cop appeared first on Guns.com.
Via:: Suspected burglar shot in the head by New Orleans preacher, former cop