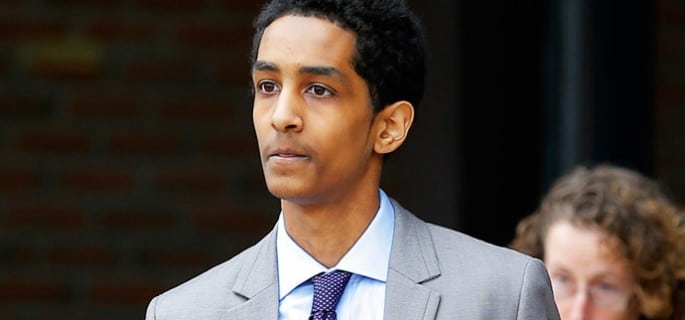 A friend of alleged Boston Marathon bomber Dzhokhar Tsarnaev was found guilty in federal court Tuesday of lying to investigators in a terrorism investigation.
The Boston Globe reported shortly after 10 a.m. local time Tuesday morning that Robel Phillipos, 21, had just been convicted by jury on two counts related to lying to investigators. According to the paper, each count carries a maximum sentence of eight years in prison.
Prosecutors alleged that Phillipos acted untruthfully when he was interviewed by investigators two separate times in late April 2013 in the midst of the federal probe pertaining to the bombing that killed three people and left more than 200 injured. Dzhokhar Tsarnaev, 21, will soon be tried for his alleged role in the event; his brother, Tamerlan, is accused of masterminding the plot, but died during a shootout with the police days after the bombing.
According to the Globe, Phillipos landed in hot water with the authorities over the statements he made on April 20 and April 25 when he was confronted by investigators and asked about an alleged visit with friends to Dzhokhar Tsarnaev's dorm room on April 18 — three days after the bombing, and shortly after the FBI named the brothers as suspects.
"Prosecutors said Phillipos looked on as the friends removed a backpack allegedly holding some of Tsarnaev's things, including fireworks, after the Marathon bombings," Eric Levenson reported for the Globe. "They argued that Phillipos originally told investigators a different version of events, but then admitted to lying in a signed confession during his fifth interview with investigators."
Defense attorneys claimed that Phillipos was unsure of what was alleged to occur in the Tsarnaev dorm room because he had smoked marijuana extensively that day.
"This is a case about a kid high out of his mind, saying, 'I don't remember,'" Phillipos' lawyer, Derege S. Demissie, said early on in the case. "They're not saying he destroyed evidence. They're not saying he touched evidence. He committed no crime."
Phillipos is expected to be sentenced on January 29, 2015, according to the Boston Herald
Source Article from http://www.special-ops.org/suspected-boston-marathon-bombers-friend-found-guilty/