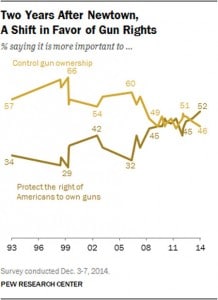 In results released Wednesday, a new poll conducted by the Pew Research Center shows a significant shift in support for gun rights among the American public.
The survey gathered opinions of over 1,500 people via phone. Participants were all over the age of 18 and from all 50 states, with the margin of error at less than three percent. It was the first poll conducted by Pew since shortly after the Sandy Hook shooting and the first Pew poll in 20 years that gun rights have out-favored gun control.
According to the most current survey, 52 percent of participants believe it's more important to protect gun rights of the American people, compared with 46 percent who said controlling ownership is more important. Support of gun rights increased by seven points and gun control support decreased by five points from a Pew poll in January 2013.
The number of women supporting gun rights has jumped by five percent, while ten percent more black Americans now favor gun rights over gun control compared with the 2013 survey.
However, according to Ladd Everitt, a spokesman for the Coalition to Stop Gun Violence, it is likely not so much that more Americans actually favor gun rights over gun control as it is the specific wording used by Pew during the survey skewed the answers.
"The notion of having 'rights' is certainly going to be more appealing than the notion of being 'controlled,' no matter what topic you are asking respondents about," Everitt said in an email to The Washington Times. "We'd be curious to see how the polling would look if Pew Research asked respondents if they believed they had 'a right to be free from gun violence in their communities through the enactment of sensible gun legislation.'"
But other recent polls, with different wording, have found similar results. An October 2013 Gallup survey showed that support of gun control was waning – a trend which has apparently continued over the last year.
In addition, the Pew poll found that the number of Americans who believe owning a gun protects people from becoming victims far outweighs the number who feel gun ownership puts others at risk. A Gallup poll conducted last month showed a similar sentiment, with 63 percent of Americans now believing a gun in the home actually makes it safer, not more dangerous.
Nonetheless, it's a growing trend that makes the Brady Campaign to Prevent Gun Violence "deeply troubled." The group recently released a report claiming that a gun in the home is a significant risk factor for homicide, suicide and unintentional shootings.
Source Article from http://www.guns.com/2014/12/11/survey-more-americans-favor-gun-rights-over-gun-control-support-from-women-minorities-increasing/