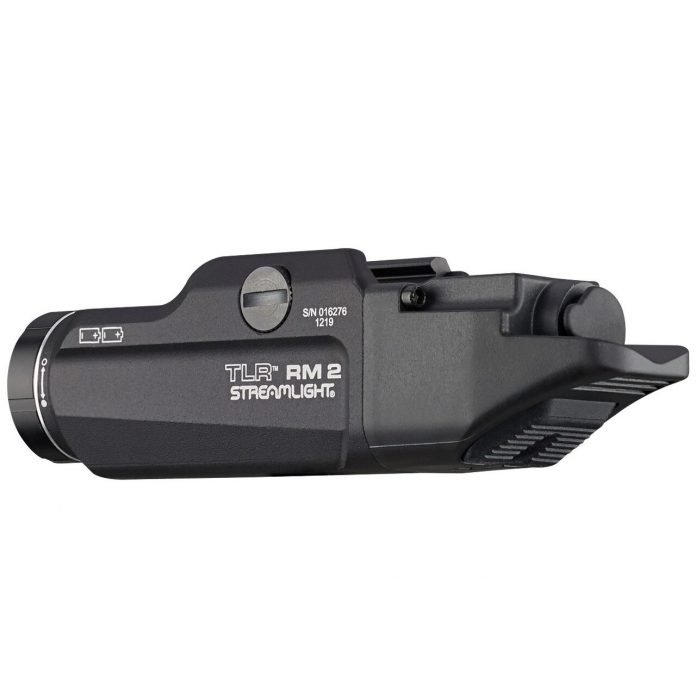 EAGLEVILLE, PA, January 21, 2020 – Streamlight® Inc., a leading provider of high-performance lighting and weapon light/laser sighting devices, introduced the low-profile TLRTM RM 1 and TLRTM RM 2 tactical lighting systems for long guns. Packaged as a system, each rail mounted light features independently operating push-button and remote pressure switches; the kit provides everything users need to mount to long guns. Also available in light-only models, the TLR RM 1 delivers 500 lumens and the TLR RM 2 delivers 1,000 lumens.

"The sheer power and beam range of these new models, along with their solid peripheral coverage and switch options, provide the security of knowing you'll always have light in tactical and other applications," said Streamlight President and Chief Executive Officer Ray Sharrah. "The light-only models offer another option to users."

The new rail mount systems include an ergonomically friendly, multi-function tail switch, along with a remote switch input option. The remote switch is designed to exit the weapon at a 90º angle, improving wire routing while preserving rail space. 

The TLR RM 1 and TLR RM 2 are designed to quickly and securely attach to any long gun with a MIL Standard 1913 Rail, without the need for hands in front of the muzzle. The lights offer highly accurate sight repeatability when remounting. Each light includes a key kit to securely fit the light onto a broad array of weapons. 

The lights each feature the latest in power LED technology, and include a custom TIR optic that produces a concentrated beam with optimum peripheral illumination. The TLR RM 1 offers 500 lumens, 5,000 candela and a beam distance of 140 meters; the TLR RM 2 provides 1,000 lumens and 10,000 candela with a 200-meter beam distance. The lights also include a selectable strobe feature.

The TLR RM 1 includes one (1) 3 volt CR123A lithium battery, measures 3.2 inches in length and weighs 2.74 ounces. The TLR RM 2 includes two (2) 3-volt CR123A lithium batteries, is 4.55 inches long and weighs 4.55 ounces. Both models are 1.18 inches wide and 1.27 inches high. Both feature 1.5 hours of continuous run time and three hours on strobe. 

The new lights are made from 6000 series machined aircraft aluminum with a Type II Mil-Spec anodized finish. The switch housing is made from impact- and chemical-resistant, high-impact engineered polymer. The lens is constructed from high temperature, shock mounted, AR coated, and impact-resistant Borofloat® glass.

Both lights are IPX7 rated for waterproof operation to 1 meter for 30 minutes and have been extensively live fire tested.

Available in black, the TLR RM 1 and TLR RM 2 Lighting Systems have MSRPs of $255.00 and $270.00, respectively. The TLR RM 1 and TLR RM 2 Light-Only models have MSRPs of $210.00 and $225.00 respectively.  Each comes with Streamlight's Limited Lifetime Warranty. 

About Streamlight

Based in Eagleville, PA, Streamlight, Inc. has more than 45 years of experience making tough, durable, long-lasting flashlights designed to serve the specialized needs of professionals and consumers alike. Since 1973, the company has designed, manufactured and marketed high-performance flashlights, and today offers a broad array of lights, lanterns, weapon light/laser sighting devices, and scene lighting solutions for professional law enforcement, military, firefighting, industrial, automotive, and outdoor applications. Streamlight is an ISO 9001:2015 certified company. For additional information, please call 800-523-7488, visit streamlight.com or connect with us on 
facebook.com/streamlight; twitter.com/Streamlight; instagram.com/streamlightinc; https://www.linkedin.com/company/streamlight-inc./; and youtube.com/streamlighttv.