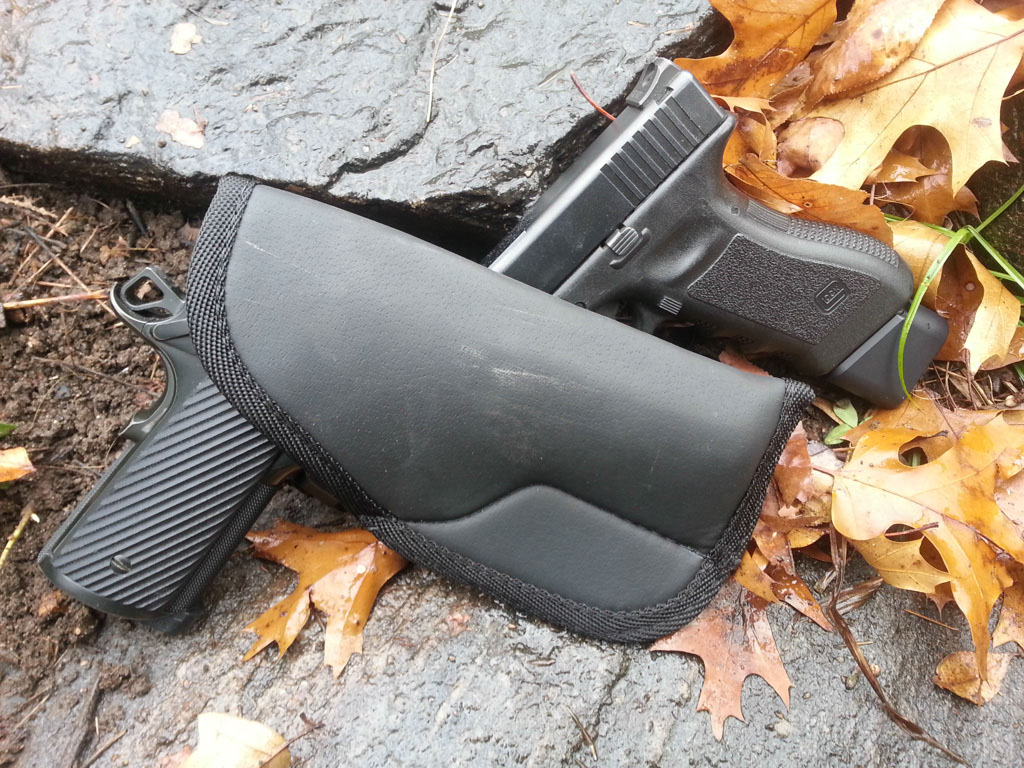 With all the talk about Kydex holsters and war belts going around the interwebz in this day and age. People forget about a fair number of concealed carry practitioners. Some folks like the simpler things in life. Not wanting to have $100 wrapped up in Kydex and another $65 in a good gun belt is very understandable.
Enter the Sticky Holsters; it doesn't get any simpler than this folks. This is a holster that is a pocket sewn into the shape of your firearm; that's it. Now, it is made of a sticky compound that keeps everything where you put it and is also very comfortable against the skin.
Editors note: It is sticky but only to fabric. The material is not a gooey or adhesive that will leave residue on your clothing.
The inside of the holster is a quality Cordura material. The sticky holsters come in a lot of different configurations including ankle rigs, pocket rigs and even a "Guard-Her Belt" thigh holster for the tactical lady in your life, or you fellas that rock the Tacti-kilt. I'm not here to judge just writing a review.
I received a test platform for large frame pistols the package reads Full-size semi-autos 4-5 " bbl. FN, HK, M&P, Sig, Springfield, Glock 21 and 37. I'll tell you that for me in my everyday role this particular holster is a non-starter. It does hold my Loaded Glock 34 comfortably in my waist band however there is no way to secure this holster to my person, and there is no way to re-holster one handed. However being the resourceful guy that I am I found a place that it works great. I like many of you am a bag whore, and I carry a bag every day loaded with all of my manly accoutrements. This large holster fits in my bag very well. And keeps my 34 upright and prevents anything from getting into the trigger guard. In this configuration, it allows me to draw my firearm from my EDC bag, and the holster stays put.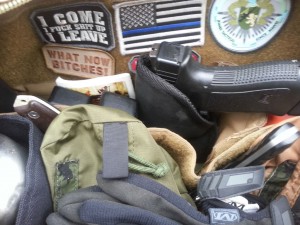 For me where the Sticky Holster Brand shines is in their pocket holsters. I've been carrying a Smith and Wesson 340PD since 2004 in my front left pocket, and I have tried a bunch of rigs. The sticky pocket rig works great for this. I'm able to draw my backup gun without worrying about the holster coming out as well. The material used and the thickness of the holster breaks up the outline of the pistol in my pocket, and it just looks like I have a wallet there.
PROS:
The holster is well constructed
The material is comfortable against the skin
The interior of the holster is non-marring to the finish
The pocket holster stays where you want it when you draw
Low cost.
CONS
The holster has no way of securing it to your person
The holster has no retention other than the friction of your belt
-There is no way of easily holstering the weapon.
As far as the holster goes I see a few uses for the larger size sticky holster. The first being in a bag, the other being if you're just running out to grab some milk from your local stop and rob convince store. It's easy to just put your weapon in the Sticky Holster tuck it in your waistband and run out of the house. For me the real winner here is the pocket holster for your back up guns, it is a comfortable way to carry a second gun on you person discreetly.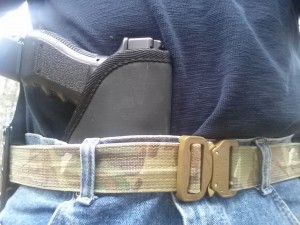 ---
Editors Note:

While JR tested and ran the full sized holster I was testing the pocket holster version. As I am an everyday citizen and do not have the same regulations that govern a police officer my experience was a bit different.  The Sig Sauer P938 (reviewed here P938 Review) is my secondary weapon. Either carried as a backup gun or as a deep cover gun when full sized weapons will not conceal properly. The P938 in the Sticky holster was worn in 2 ways. As an appendix carry rig and as a pocket gun. In both situations the holster performed admirably. While in most situations the Krounds appendix carry rig we reviewed offered a better way to secure the weapon as well as re-holster it the Sticky holster did not require a belt like the Kydex Krounds making it easier to stow and go (as indicated in the article by JR).

When used to conceal in a pocket it offered big advantages over my Galco pocket  holster. The biggest being in the deep pockets of slacks the Galco holster can flip causing the gun to be in an non optimal position for presentation. The Sticky Holster brand holster on the other hand secured the weapon in my pocket nicely with little to no movement.

While there are many options in the holster market Sticky Holsters has made a name for themselves in the ease of use market for the concealed carry conscious person. As either a backup holster, bag holster or grab and go low drag fast access holster it hits the right points. It's a holster we feel is worth a try. Check them out at http://stickyholsters.com/ 

backup holster edc holster IWB Holster pocket holster sticky holsters 2014-12-26
Source Article from http://248shooter.com/index.php/sticky-holsters-review/