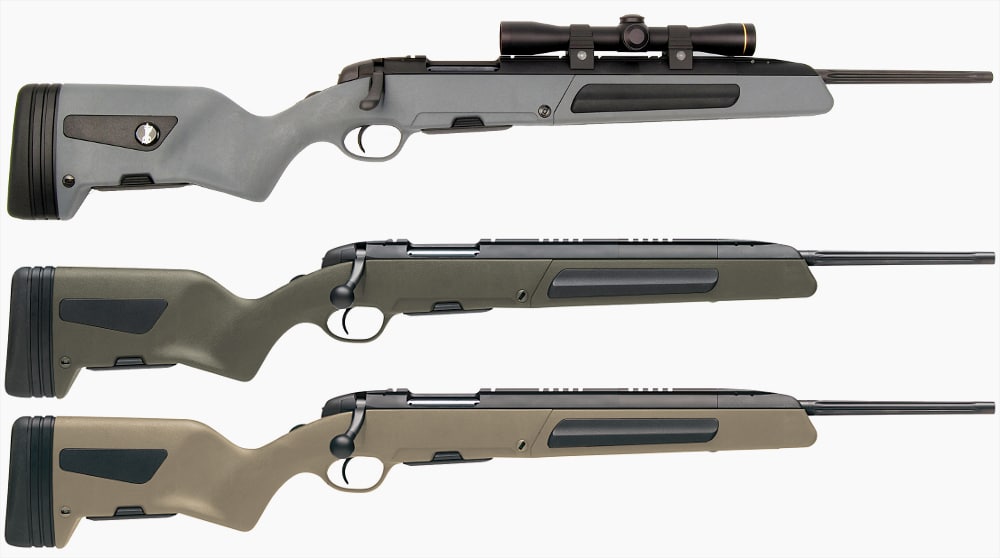 Steyr Arms is giving the Scout rifle a new look with an expanded color scheme that includes black, olive drab green, "Mud" brown and of course, grey. Mud is Steyr's brand of flat dark earth.
But the best news may be the new pricing scheme that lowers the Scout rifle's MSRP to just $1,699. And to celebrate its 150th anniversary, Steyr is knocking another $200 off the sticker through the end of the year, bringing to final price of the Scout down to $1,499. It's not a rebate, it's just a temporary low price across the board.
The Scout is a storied bolt-action rifle developed in collaboration with gun industry legend Col. Jeff Cooper designed to be a flexible general-purpose rifle for fighting and hunting.
Chambered for .308 Winchester, with its 20-inch cold hammer-forged, fluted barrel the Scout hits hard enough for most North American game and is plenty accurate for a field gun.
Several features define the Scout Rifle and the Steyr Scout is the quintessential model. It has a magazine cutoff to allow shooters to load the chamber manually, a backup magazine in the buttstock and folding backup aperture, or "ghost ring" iron sights.
Of course what dominates the Scout Rifle design is the forward-set scope rail. The Scout was originally designed for use with a fixed, low-power long eye-relief riflescope ahead of the ejector port.
This gives the shooter the benefit of some magnification without obstructing the field of view for the sake of situational awareness, a benefit to military scouts and game stalkers alike.
The Steyr Scout also has traditional scope rails for shooters who want to mount a scope up close as you would on any other rifle.
It is a fairly lightweight rifle at 6.6 pounds, another core characteristic of the Scout Rifle. That includes the bipod which is integrated into the forend. The stock has no fewer than five sling points for a wide option of sling styles and methods.
Purists will want to use a Ching Sling, which was Cooper's preferred method of slinging a rifle.
Thanks to these new prices it's never been easier to get a Steyr Scout. And with these colors it's possible to get one to suit your specific shooting needs. But to get that extra $200 you'll have to move fast before the promotion ends.
For more information about these and other great Steyr firearms head over to the company's website.
Source Article from http://www.guns.com/2014/11/21/steyr-scout-has-new-lower-price-temporarily-and-three-colors/