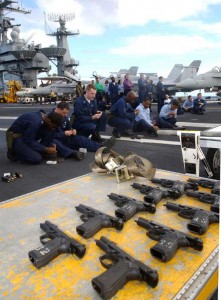 As part of an overall reform to Ohio's concealed carry guidelines, lawmakers have amended a pending gun bill to allow active duty military in the state to carry without a permit.
The measure was added Wednesday to a bill winding its way through the Senate Civil Justice Committee. Besides allowing service members to carry, the legislation expands gun rights significantly by trimming training requirements and allowing non-Ohio residents who work in the state to apply for a permit.
"Ohioans and those who travel in Ohio take their second amendment rights very seriously," said the bill's sponsor, State Sen. Joe Uecker (R–Miami Township) in a statement earlier this year. "This legislation will help protect those constitutional rights in a clear way, while also ensuring proper checks are in place to keep Ohioans safe."
Uecker's bill, S.B. 338, will reduce the state's current 12 hour training requirement to eight and allow those who have completed Ohio Peace Officer Training to forgo the mandated hours altogether. The lawmaker explains that the exemption for permitting on military personnel is due to recent concerns that Islamic State militants may target known service members.
On Sunday, the Department of Homeland Security and FBI issued a warning to urge those in the military to sanitize their personal social media in an effort to help avoid possible attacks by terrorists.
"The FBI and DHS recommend that current and former members of the military review their online social media accounts for any information that might serve to attract the attention of ISIL [ISIS] and its supporters," read the joint intelligence bulletin.
In October a series of terrorist attacks on Canadian Forces that cumulated in the assassination of a soldier on guard duty at the national war memorial in Ottawa.
Following the incidents, the Canadian military asked its members to shed their uniforms in the interest of safety while not on duty
S.B. 338, which has seen some opposition from community groups is set for a vote in committee this week.
Source Article from http://www.guns.com/2014/12/04/state-moves-to-exempt-active-military-from-concealed-carry-requirements/