The 1911 is no doubt "America's Gun" and recently I stumbled upon an older video Jeff Gurwitch made and shared. He chronicles the use of 1911 pistols by Special Forces soldiers during the GWOT (Global War On Terror) era. I was very intrigued at the concept of carrying .45 Auto relics in modern combat spaces, but he made a great video and we're lucky to be able to learn from a primary source. As a 1911 lover, there is nothing I can say that hasn't already been said about these guns.
Today, in 2023 (the 1911's adoption anniversary as well by the US Army), we are all in on the 9mm cartridge and we use it for everything: defense, duty, training, competition and recreation. The first emotion that this video evoked was amusement at the reminder that it wasn't that long ago when serious American shooters still had a different outlook on pistol calibers and their terminal effectiveness. Today, it can be easy to chuckle and brush off old-fashioned concerns, but these didn't spawn out of thin air either. The old ways came from hard-learned lessons paid for in blood from the past. No matter what, guys are always trying to make best with what they have and they know.
Reaching For Ol' Reliable
From the video, we learn that right after the 9-11 Terror attacks, elements inside of the Special Forces community made arrangements to get a supply of USGI M1911-A1 pistols. Twenty years ago, thought leaders, tactical shooters and competitors at the highest levels of the American shooting establishment still had a preference for 1911s and the .45 Auto cartridge. 1911 pistols were seen as the expert's choice, and there was already a long history of established 1911 use in the American Military. 20 years ago, strong biases were still held against the Beretta 92 with their TDA triggers and its 9mm Luger cartridge. Special Forces soldiers much preferred to carry the expert's gun with the single-action trigger that was carried cocked and locked instead. Gurwitch describes the pile of guns they received: a trove of USGI 1945 made Remington-Rand M1911-A1s that looked exactly the way they did the day the Second World War ended. All of these guns had been rebuilt with new "old" stock USGI parts to ensure they were in working condition, but again, these guns looked like they were getting ready to re-take Italy from the Nazis in 1943. These 1911 pistols being made to the A1 spec, still had the dinky little sights, diminutive safeties, short-triggers and their curved mainspring housings. Fortunately, these guns were issued with modern 8-round magazines instead of the original 7-round USGI magazines. Modern magazines were provisioned by Wilson Combat or Chip McCormick (these are still decent 1911s magazines today, btw).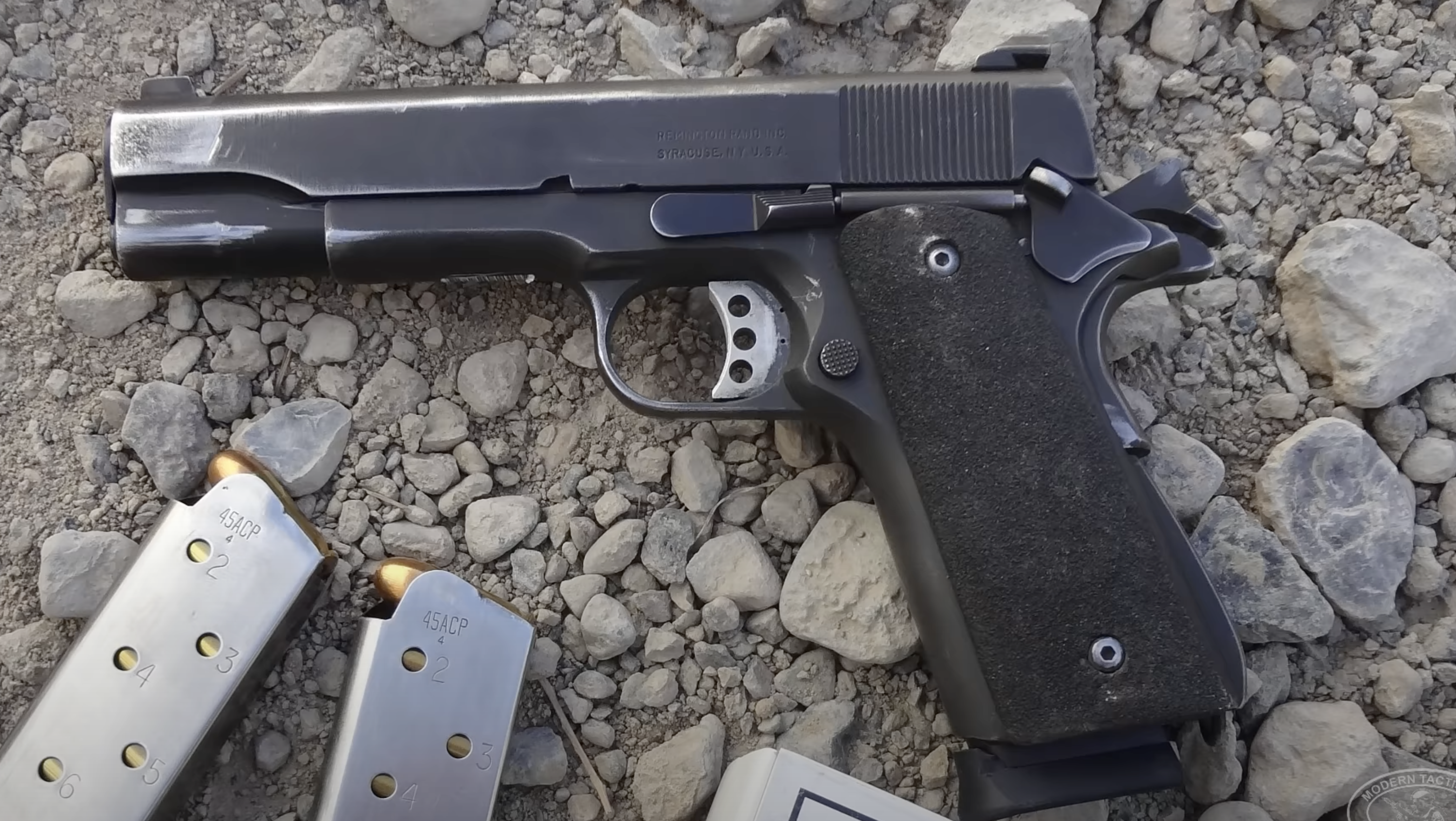 Still Doing Work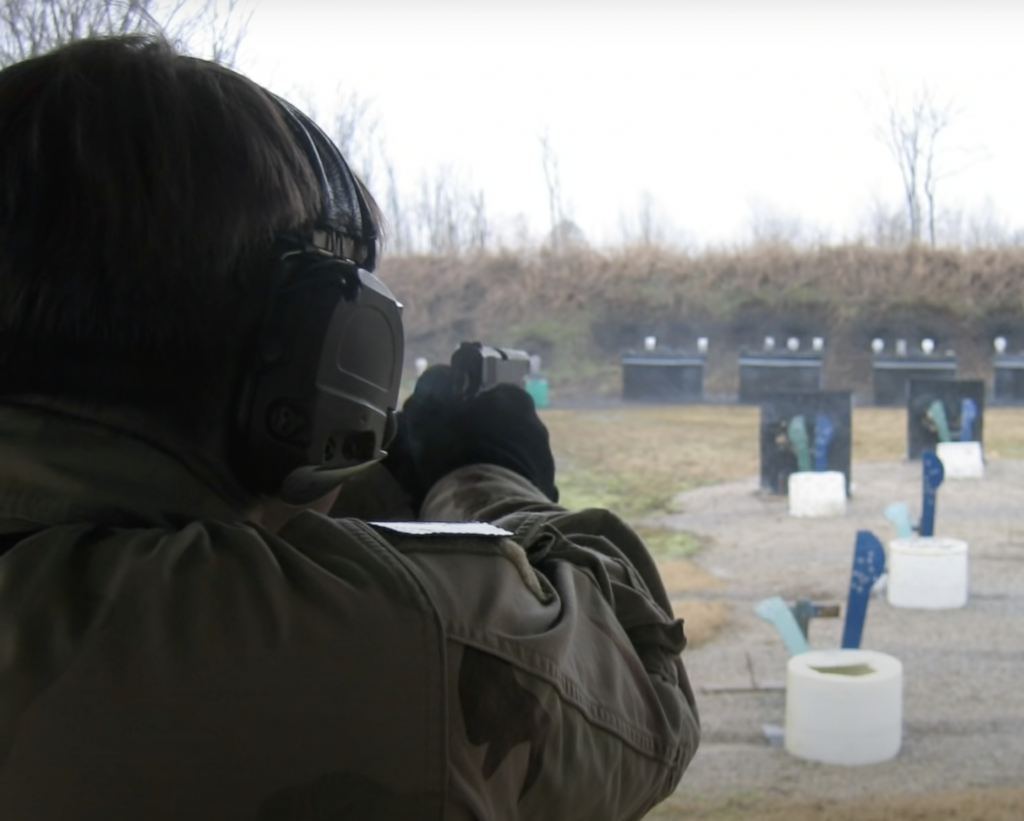 Besides rebuilding the warhorses back to their specs and securing a stash fresh magazines and ammunition, Special Forces soldiers spent time putting in work and training with these guns prior to their deployments at Mid South Institute. Gurwitch said that each man got to fire approximately 3000 rounds of .45 Auto while also weeding out the problem pistols from their pile of old Remington Rands and leaving those behind. Special Forces soldiers typically neutralize enemy personnel with their rifles more than they use pistols. I am guessing that this meant that having to go to war with M1911-A1 pistols wasn't such a big hindrance. In spite of any action these pistols saw, their enemy KIA numbers were not at all that high. These guns truly were their sidearms, after all. Besides, shooting at Mid South provided ample time to build skill. Gurwitch elaborates that the vetted pistols that passed the high round counts during the training work-up proved to be very reliable overseas. Traditionally, military grade 1911 pistols were always built on the looser side with some play and rattle between the frame and slide. These looser tolerances resulted in better reliability against the harsh dusty and sandy conditions of the Middle East. The video explains more detail about the holsters, rigs and support gear the Special Forces used to carry these pistols. Over time, he explained, one could find subtle upgrades and modifications amongst this fleet of old fighting pistols. It was small items like extended slide stop levers and safeties, more modern stocks and longer trigger shoes (things that come standard in today's 1911s) naturally made their way into these guns.
Retirement: After 100 Years
No matter how wonderful 1911s are, no matter how great their triggers are, or no matter how they make their carriers' chest swell with pride, the 1911 pistol has a capacity issue. Gurwitch explains how this capacity challenge really became inconvenient with evolving combat and shooting tactics. The pistol's frame was designed over one century ago and was done so to accommodate a single stack magazine–it would be a few more years before the first viable staggered column magazine designs showed up. Furthermore, the .45 Auto cartridge is relatively large and also heavy, so the simple logistics of moving it around whether through a supply chain or on your person just makes it less convenient. This is why the use of the 1911 pistol only lasted ultimately lasted a few years before the Green Berets basically replaced them with 9mm Glock 19s. It is hard to argue against a simpler and more reliable sidearm that holds nearly twice as many rounds and is lighter to carry.
Rest assured though, that the 1911 will never die. If the current popularity of 2011 pistols serves as a barometer, the American shooter is still trying to have their cake and eat it too.