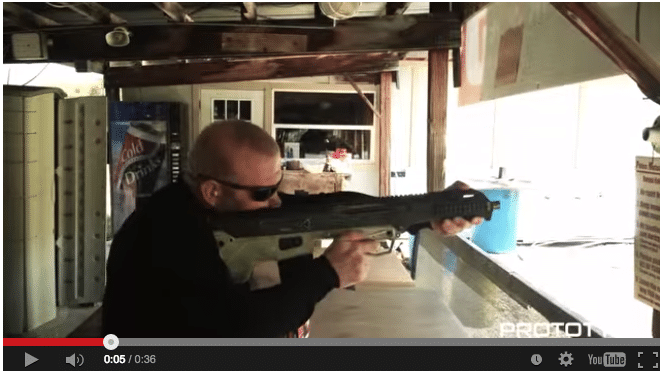 Desert Tech, maker of long-range bullpup bolt-action rifles, announced earlier this year a modular, multi-caliber semi-automatic bullup rifle in the works. From the looks of it, it's made serious progress developing a prototype chambered for .308 Winchester.
In a market where bullpups are already pretty extraordinary, the Modular Dynamic Rifle is no ordinary bullpup. It's built with a barrel assembly system that can be swapped out in the field for fast caliber conversions and barrel length changes.
Like many tactical rifles the MDR is chambered for 5.56 NATO/.223 Remington by default, but Desert Tech has always had other calibers in mind, including 7.62 NATO/.308 Winchester, as well as other popular cartridges like 7.62x39mm, 300 AAC Blackout and 6.8mm Remington SPC.
Being long-range specialists Desert Tech is open to other calibers as well, including 6.5mm cartridges like 6.5mm Grendel and 6.5mm Creedmoor, although its primary goal is getting the bullpup on the market in the first place.
No matter what cartridges Desert Tech introduces the MDR with, it's guaranteed to be in high demand. The MDR is not like other bullpups or even other traditional rifles.
The MDR is ambidextrous with a reversible, non-reciprocating charging handle and ambidextrous selector levers and magazine release buttons. Even though it's a bullpup the magazine release is right in front of the trigger guard, where it's easy to access without having to alter your manual of arms.
In the above video, keen-eyed viewers may notice the charging handle reciprocating. This is due to the early stage of development with the .308 parts. Production bullpups will have working non-reciprocating charging handles. The prototype is also missing a front sight block — this is just a function test.
Ejection happens on the right side of the rifle, but thanks to a well thought-out ejection system, the spent cases shoot out forwards, ensuring that they won't be an issue for left-handed shooters. The ejection system is potentially reversible, and if there is enough of a market for Desert Tech, they may develop a dedicated left-side ejection system.
For a better understanding of the ejector system, check out our previous article on the Desert Tech MDR.
Adding to the lefty-friendly design is of course a precision barrel assembly. Desert Tech prides itself for its precision hardware and the MDR is no different.
Every barrel assembly includes a free-floating gas block and gas tube as well as an integrated front sight assembly. This means that every barrel has its own front sight and the rifle doesn't need to be sighted in after every barrel change.
Desert Tech also designed the trigger system to be light for accuracy's sake. While most bullpups have long, spongy and heavy triggers, re-production MDRs have two-stage triggers that break at just 2.5 pounds, which is unheard of for a factory bullpup rifle. Production models are expected to have a 4-pound two-stage trigger that can be user-adjusted down to 2.5 pounds.
We're happy that Desert Tech is showing off this teaser of its future MDR system because we can't wait to get behind one ourselves. The MDR may just be the queen of bullpups when it hits the market, if what we see here today is even half as good as the final product.
For more updates on this and other Desert Tech rifles, check out its Facebook page and YouTube channel. You can also sign up for updates on the Desert Tech website.
Source Article from http://www.guns.com/2014/10/23/sneak-peek-of-desert-tech-prototype-308-mdr-bullpup-video/