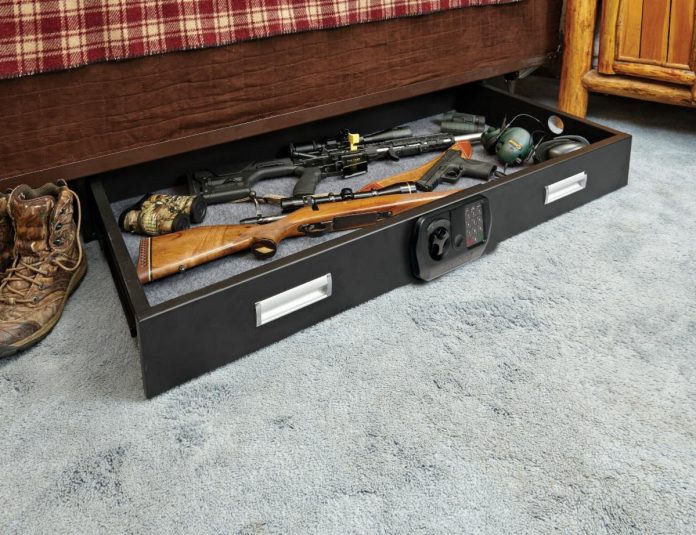 Grand Island, NE (Nov. 2, 2021) – Some homeowners prefer a shotgun or carbine for a home defense weapon. These long guns provide extra peace of mind at night but also require bigger storage containers than pistols. SnapSafe offers the solution. Under Bed Safes keep larger firearms, ammunition and other valuables secure, allowing quick and convenient slide-out access when needed. 
Three sizes of SnapSafe Under Bed Safes offer the right-sized secure storage and feature a slide-out draw for easy access to the safe's contents. All models have a slim profile for mounting below a bed's frame. Large and XXL models are wide enough to hold most defense shotguns and carbine rifles. The medium safe is best suited to pistols or other valuables like jewelry, documents, data backup hard drives and extra ammunition. 
The digital lock, on all Under Bed Safes, uses a user-programmable three-to-eight-digit access code. Safes open with a push-button keypad or key backup. The ability to set multiple safes with the same code means there's only one number to remember; this feature ensures quick access in a stressful situation!  
Under Bed Safes' pry-resistant door and heavy-duty 14-gauge steel construction blocks unauthorized users. For added security and to prevent safe theft, all Under Bed Safes come pre-drilled for permanent installation or anchored with a rugged cable – opening the possibility of mounting an Under Bed Safes inside a vehicle.  
Under Bed Safe Features:
Available in three sizes: medium, large, XXL 
Slide-out drawer accommodates firearms, jewelry, documents, and more
Digital lock with key backup can be programmed with a 3 to 8 digit access code
Pry-resistant door keeps children and unauthorized users from gaining access
14-gauge steel construction, with pre-drilled holes for permanent installation
Robust 5-foot cable provides added security when anchored to a stationary object
Under Bed Safe Specifications:
Under Bed Safe: Medium
Exterior: 26″W x 5″H x 20″D
Weight: 51 lbs
MSRP: $481.99
Under Bed Safe: Large
Exterior: 40″W x 6″H x 22″D
Weight: 105 lbs
MSRP: $596.99
Under Bed Safe: XXL
Exterior: 48″W x 7"H x 24"D
Weight: 150 lbs
MSRP: $665.99