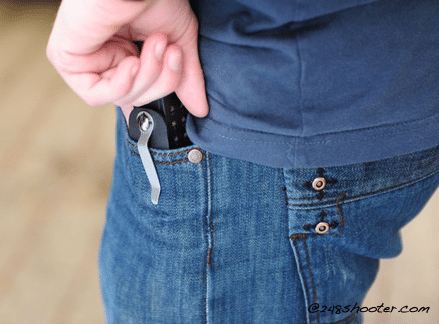 SnagMag is a new product that will make your spare mags easily accessible while hiding them in plane sight. Designed to make your magazine look like a pocket knife clipped to your pocket Snagmag is the perfect way to keep reloads readily accessible and out of sight.
Created by a husband and wife team and run as a family business this patent pending product has hit the market hard and is growing in popularity quickly.
SnagMag's motto is "There is no such thing as extra ammo" a sentiment that I hope none of my readers will ever need to experience first hand. The fact is that especially with small subcompact guns being used more and more in EDC it becomes imperative to have an extra magazine with you. How you store that magazine becomes an issue for many, resulting in either the mistake of not carrying one, carrying one with everything else in your pocket or the need for another thing to be hooked to your belt.
Numerous NRA, CPL and tactical teachers have tried to drill into me the importance of accessing your gear in a crisis. Remember in a gun fight fractions of a second can make a difference.  OWB holster with a spare magazine in a pouch on my non dominant side would be ideal but in most cases is just not practical. Though I dreamed of being Batman growing up now that I have an office job and kids building a utility belt is out of the question. Due to my job and family life it is vital that I remain in a deep cover state and as such a IWB with a magazine in my pocket has been my go to.
Having a magazine loose in your pocket sucks. It forces you to not put anything else in that pocket and the magazine flops around when you walk around. If I wear jeans forget about me being able to get my hand into the pocket, grab the mag and fish it out in a timely manner. It makes bringing a spare magazine almost useless.
SnagMag however changes the game allowing you to easily conceal a magazine in a very convenient location that is easily accessible and fast to draw. Designed to look like a the clip of a knife, the SnagMag will clip to the lower outer portion of your pants pocket on the non dominant side.
The SnagMag itself is formed from Kydex and creates a pouch for your magazine to slide into. There is a Kydex hook that will grab onto the material of your pants allowing you to slide the magazine free of the pouch. The hook while designed to not damage your clothes does a great job of keeping the clip in place when drawing our the magazine. It is incredibly easy to get a good purchase on the magazine itself and since it is high in the pocket it is  comparable but slightly slower then a typical OWB magazine pouch for reloading speed. However compared to being in cargo pants or a loose pocket, the speed difference in favor of the SnagMag is huge.
We received 2 version to test, one for a Sig Sauer P938 and the other was for a Glock 27.
I can not say enough good things about the version for the P938. As a slim single stack 9mm the Sig P938 magazine fits deeply into the pouch conceals nicely, it is easy to access and very concealable. Looking at the design I can say that a .380, 9, 40 or 45 single stack magazine would work great.  However the pouch will not and does not work with pinky extensions. In my case I have both the standard 6 and extended 7round P938 magazines. The 7 rounder has a larger base to function as a pinky extender and will not fit properly into the pouch.
The Glock is not the same happy tale as the Sig. While we only tested the Glock 27 and 26 magazines it looks like the issues would be across the board or any double stack magazine. Due to the thickness of the magazine the profile looks "off" when wearing it in your pocket. It is noticeably thicker then a knife would be. If your shirt often covers the top of your pocket then these comments won't affect you. I often wear dress pants or khaki's that leave the pockets exposed and as such this is a concern to me. Functionally the SnagMag performed comparably with both types of mags and the only difference was aesthetic.
Like mentioned above the pinky extensions commonly used on the 26 or 27 magazines will not work with this pouch. To counteract this and actually supply operators with more ammunition it is suggested by the manufacturer that an a operator use the larger G19 or 17 magazine. This is a good suggestion and one I would recommend as well.
I will not wear a OWB holster due to my concern over concealment and so my review of the SnagMag when used by a Glock owner may be overly harsh. The truth is even with its large size it is still much more concealable then a belt holster and as such has advantages. If you have a single stack pistol without a pinky extension then there is no reason you should not own one of these. No seriously I mean go buy it right now. Like why are you still reading this go buy it :)
If you have a Glock and can cover your pocket top then go buy it. If you don't care about somebody possibly seeing a mag in your pocket then it would be a good buy as well. If you are trying to deep conceal though you might want to consider a single stack weapon anyway and the thiner single stack mags that come with those guns.
Many gun owners do not carry a spare mag on their hip due to a comfort issue. I can tell you regardless of double stack or single stack you will not notice this pouch. It is light weight out of the way and since it moves with the pants pocket it will not jab you like a belt rig will.
The price is very reasonable at $39.95 and only $1 for shipping. LE and Mil are able to get a 10% discount and the product is made here in the USA. The Kydex is of good quality and the clip does hold tightly to the pants. Overall for most people this is a good tool to add to your EDC.
This is a full list of the currently supported:
1911 – 7 Round Capacity
1911 – 8 Round Capacity
Beretta 92 – 9mm
Beretta Nano 9mm
Colt Mustang Pocketlite – .380
CZ 75 – 9mm/.40
Diamondback DB380 – .380
FNS Full Size – 9mm/.40
FNH FNP 9mm/.40
Glock 17/22 – 9mm/.40
Glock 19/23 – 9mm/.40
Glock 20/21 – 10mm/.45 ACP
Glock 26/27 – 9mm/.40
Glock 30 – .45 ACP
Kahr CW40/PM40 – 6 Round
Kahr CW9/PM9 – 7 Round
Kel Tec PF9 – 9mm
Kel-Tec P-11 – 9mm
Kel-Tec P3AT – .380
Ruger LC9 – 9mm
Ruger LCP – .380
Ruger SR9/SR40 – Compact 9mm/.40
Ruger SR9/SR40 Compact – 9mm/.40
S&W 59 Series
S&W Bodyguard – .380
S&W M&P Compact – 9mm/.40/.357 Sig
S&W M&P Full Size – .45 ACP
S&W M&P Full Size – 9mm/.40/.357 Sig
S&W Shield – 9mm/.40
Sig Sauer P220 – 8 Round Capacity
Sig Sauer P226 – 9mm/.40
Sig Sauer P229 – 9mm/.40/.357 Sig
Sig Sauer P232 – .380
Sig Sauer P238 – .380
Sig Sauer P250 – 9mm
Sig Sauer P290 – 9mm 6 Round Capacity
Sig Sauer P938 – 9mm 6 Round Capacity
Sig Sauer SP2022 – 9mm/.40
Springfield EMP – 9mm
Springfield XD Compact – 9mm/.40
SCCY CPX Series 10 rd – 9mm
Springfield XD Full Size – .45 ACP
Springfield XD Full Size – 9mm/.40
Springfield XDm Compact – 9mm/.40
Springfield XDm Full Size – 9mm/.40
Springfield XDs – .45 ACP
Springfield XDs – 9mm short magazine
Taurus 709 Slim – 9mm
Taurus 809/840 Compact – 9mm/.40
Walther PPK – .380
Snagmag Concealed Magazine Holster