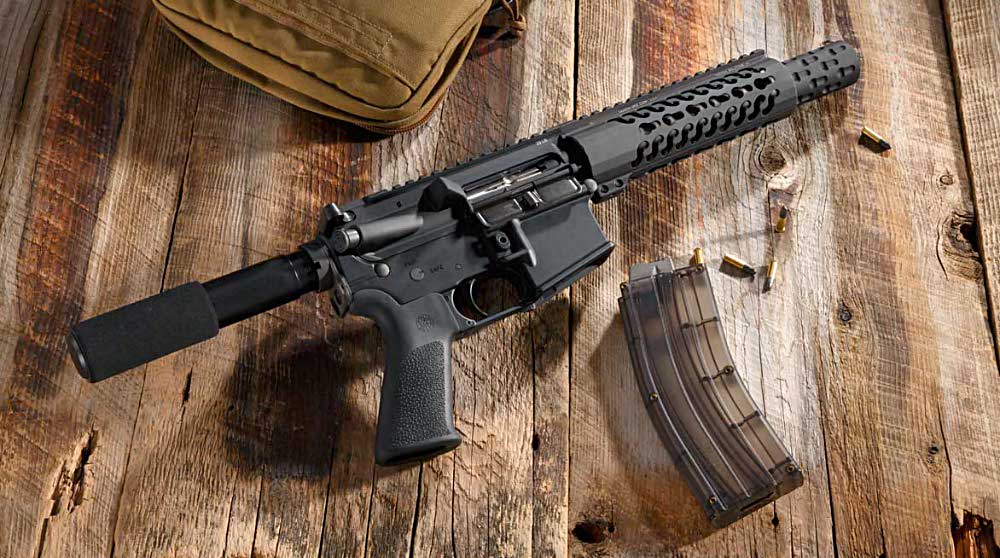 Even though .22 Long Rifle availability isn't where it was prior to the ammo scare, it's clear that the panic is winding down and things are on their way back to normal on the rimfire front. And that's something that these two manufacturers, Rainier Arms and Tactical Solutions, want to change.
Not the price of ammo but the quality of .22 LR firearms — specifically, AR-15-pattern guns. Most .22 ARs are simple, inexpensive plinkers that can have reliability issues, suffer in the accuracy department or demonstrate any other side-effects of being built on the cheap. Some of them aren't even real ARs but other designs shoe-horned into AR-15-style enclosures.
Rainier and TacSol have put together some .22s for the "buy once, cry once" crowd. Typically higher-end .22s are made for competition shooters but these guns are for the tactical market, decked out with premium KeyMod rails and other high-end AR accessories.
The Rainier Arms RUC 22 is an extension of its Rainier Arms Custom rifles, sleek, almost minimalist AR-15 carbines, sporting the same feature set now chambered for the rimfire cartridge, where the all-new Kestrel by TacSol is an AR-15 pistol that departs from their existing product lines.
Most of TacSol's catalog focuses on suppressors and suppressor hosts, but the company has turned its rimfire expertise on a stand-alone product with the Kestrel. While it of course can be suppressed it's ready for range time right out of the box.
Like just about all AR-15 pistols on the market today, the Kestrel is begging for a stabilizing brace or enhanced cheek rest although it is sold with a padded pistol buffer assembly that's good to go.
The Kestrel is built around a 9-inch barrel, which is a real sweet spot for most .22 LR loads, long enough to achieve solid muzzle velocities and short enough to stay nimble and portable. It's the right size to be fun and still be a very utilitarian gun and easy to carry around at 3.9 pounds unloaded.
The barrels are free-floating thanks to the modular Samson Evo rail. The handguard is an updated model with KeyMod points the full length of the three-, six- and nine-o'clock positions.
Every Kestrel comes with a large linear compensator that redirects the muzzle blast forward keeping the bore in-line with the target shot after shot, and they're complete with an ALG Defense QMS single-stage trigger, Hogue over-molded grip and 25-round Black Dog magazine where available.
The Rainier Arms RUC 22 uses all the same components as its 5.56 NATO rifles wherever possible. It's equipped with the RA Raptor charging handle and 15-inch Force KeyMod rail, Mission First Tactical Battlelink minimalist buttstock and Engage pistol grip and it also uses the ALG Defense QMS trigger.
It is a full-size carbine with an ultralight 16-inch threaded barrel that help keep the weight down to just 4.9 pounds dry. With its many quick-detach sling points it's also a rifle that can be carried around all day.
The Kestrel and RUC 22 both run around $1,000, which is considerably less than similarly-configured centerfire AR-15s and a whole lot less than a big chunk of the target and competition .22 market, even if they're priced higher than the average plinker.
Of course, that's the point — plinkers don't have to be cheap and the AR platform is more than capable of delivering a precision .22 LR experience — this is a good time for the high-end .22 LR AR-15. If people are willing to pay a little more for the ammo, why not pay a little more, and get a lot more, for the gun?
The RUC is available in black and concrete finishes while the Kestral is offered as a complete pistol or as a stand-alone upper for shooters who have plenty of lowers already. For more details and info, head over to the Rainier Arms and Tactical Solutions websites.
Source Article from http://www.guns.com/2014/09/22/slick-new-22-lr-ars-from-rainier-tacsol-video/