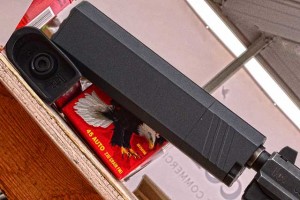 Responding to a military request for a more compact, hearing safe .45 caliber sound suppressor, SilencerCo released "K" variants of their pistol sound suppressors. Where the K suffix is likely an abbreviation of the word kurtz, or short in German. According to SilencerCo CEO, Josh Waldron, these new models are the shortest possible hearing-safe .45 caliber suppressors made.
The military inquiry came as part of the US Army's Modular Handgun System competition. The same contest that recently saw the rejection of Beretta's M9A3 pistol.
SilencerCo had the new compact Osprey available for press to try at the Media Day preceding SHOT Show attached to a HK USP 45, a classic suppressor-host and favorite weapon of special forces worldwide. Despite its diminutive size, the Osprey 45 K coupled with the full-sized 45 caliber HK pistol was not only very quiet but also pleasant to shoot. The can also didn't add as much balance-ruining length as other designs, while still retaining good pointability.
The new iteration of the Osprey tips the scales at eight ounces, while the Octane is slightly heavier at 9.4 ounces; both designs are shortened by two inches. These new designs are further distinguished from their full-sized counterparts by a new dark grey Cerakote finish that reduces glare and visual signature when compared to traditional black anodizing. No price or shipping date have been announced yet.
Source Article from http://www.guns.com/2015/01/20/silencerco-unveils-new-k-variants-of-45-silencers-video/