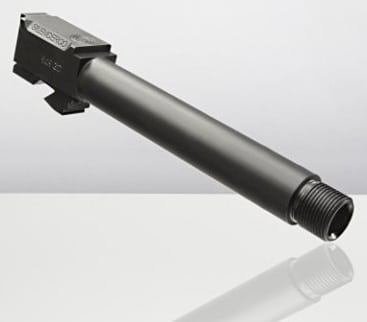 SilencerCo is making it easier to modify Glock handguns to use silencers with an improved selection of extended, threaded barrels for Glock 17, 19 and 21 pistols.
At the attractive price of $220, the barrels are constructed from 416R stainless steel and have a complete nitride finish for added surface hardness, lubricity and corrosion resistance.
While on the surface it seems that SilencerCo is taking a page out of AAC's book by offering barrels for Glocks, the company plans on adding even more barrels to its catalog in the near future.
SilencerCo has pledged to make barrels for Glock 17L, Glock 34, SIG P226, Springfield XD and Smith & Wesson M&P pistols as well.
The 9mm barrels have 1-in-10-inch twists and 1/2×28 threads while the .45 ACP barrels have 1-in-16-inch twists and are threaded for .578×28 muzzle devices. These are obviously a great way to pair pistols with SilencerCo's Osprey and Octane suppressors.
SilencerCo has been steadily expanding its product range to include more than just suppressors, although the company has been busy there, too, having just released an updated, compact Specwar and Saker K models and the triumphant Salvo 12, the first commercially-produced shotgun silencer.
The company has also updated its selection of muzzle devices to include the MAAD mount, an adapter that's the complete opposite of a suppressor, designed to shoot patterns of concussive fireballs, along with a new "lifestyle" line of shirts and outerwear.
SilencerCo also just announced its in-house Harvester series of ammo, starting with a precision subsonic load in 300 AAC Blackout. Not only is it accurate and very predictable in the velocity department, it's also surprisingly affordable, especially for subsonic ammo.
All this is getting announced right before the Shooting Hunting Outdoor Trade Show next January, which is when companies make their biggest announcements, so we can't wait to see what they plan to unveil then.
Source Article from http://www.guns.com/2014/12/11/silencerco-expands-threaded-pistol-barrel-selection-more-for-glocks-video/