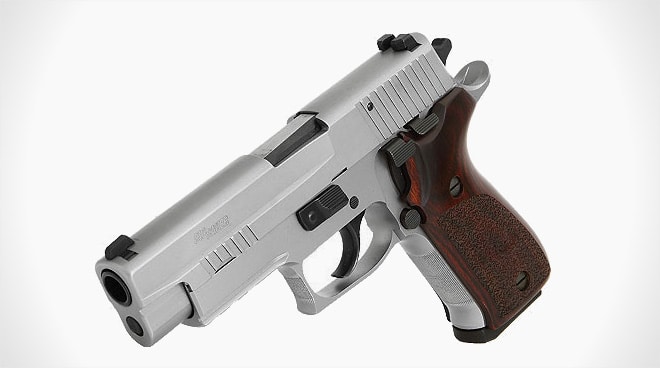 SIG Sauer is delivering on something even some hard-core SIG fans thought would never see the light of day: the original P220 chambered for 10mm Auto. That's not the only good news in the world of SIG pistols as the company is adding subcompact P320s and .45 ACP P320s to their line-up.
The SIG P220 was the first of the "classic" P-series pistols, a single-stack handgun chambered for .45 ACP. The P220 eventually lead to compact single-stack 9mm pistols for service and concealed-carry and double-stack pistols for duty with units and agencies from the most humble to the most elite.
But it has yet to lead to a 10mm pistol, that is, until now. While there have been custom one-offs that have turned out 10mm SIG P220s, nothing has ever been done on this scale. SIG isn't launching just one or two 10mm P220 pistols, they're adding four 10mm P220s to their catalog for this year.
"A 10mm version of the legendary P220 is at the top of the list of 'most requested products' from fans of our products," said Jeff Creamer, SIG director. "We heard the demand, and created a P220 that will make full use of the cartridge's potential."
First up is the Match Elite, a reverse two-tone P220 with an elongated beavertail, matte Nitron slide and a stainless steel frame. It's a standard double-action, single-action pistol with a decocker with black G10 grips and adjustable target sights.
SIG is following it with the Stainless Elite and Elite Nitron P220 10mm pistols, based on their existing Elite models but with single-action only triggers and manual thumb safeties instead of decockers. The Stainless Elite is finished with rosewood grips while the Elite Nitron has machined G10 grips. Both are equipped with night sights.
And lastly, SIG will be introducing the Hunt Ready P220. Another single-action only pistol, the Hunt Ready will have a high beavertail, G10 grips and a Kryptek Highlander camo treatment, but SIG is taking things a step further with a machined slide and factory-installed Romeo1 mini red dot sight.
All have steel frames, full-size 5-inch barrels and 8-round magazines. The 10mm P220s fetch a modest premium over standard .45 ACP models priced at $1,422 for the three Elite models and $1,713 for the Hunt Ready 10mm P220, which includes the red dot sight.
Real-world prices will of course be a couple hundred less across the board, but 10mm fans are cautioned to act fast — these are being made in limited quantities and it could be some time before SIG ever rolls out another batch — if you're interested in one of these you should treat this like the first and last run of factory 10mm P220 pistols, period.
The new models of P320 pistols will be a lot more common and much more affordable. SIG is rolling out a subcompact model, first in 9mm with .40 S&W and .357 to follow, and a compact in .45 ACP. With a compact .45 coming out, we're sure full-size and subcompact .45s are also in the works.
The P320 series is SIG's latest and first striker-fired series of pistols for self-defense and duty. They're modular and can, with a simple parts change, be reconfigured in any size or caliber as necessary.
These pistols will be priced in-line with existing P320 pistols which retail starting just under $600 for models with night sights. The P320 Compact .45 has a 9+1 capacity while the P320 Subcompact has a generous 12+1 capacity in 9mm and holds 10+1 when chambered for .40 S&W and .357 SIG.
It's safe to say that a subcompact .45 ACP is also in the works as SIG has developed a similar model for their P250 series, the P320's predecessor. Other P250 models that may be re-invented as P320 pistols include their .380 ACP pistols for the recoil-sensitive.
Given the modular design of the new P320 pistol, we also expect SIG to bring more conversion kits to the P320 crowd. Right now SIG offers a compact .357 SIG kit for P320s but that's it. For now, SIG is focused on filling out their line-up and getting complete guns into customer hands.
SIG is showing no signs of slowing down this year and we can't wait to see what they'll have up next. The company is working hard to cater to their fans as well as deliver mainstream products for the commercial and law enforcement markets. These new P220 and P320 pistols will serve SIG's customers well. For more news and information visit the SIG Sauer website and Facebook page.
Source Article from http://www.guns.com/2015/01/17/sigs-newest-p220s-in-10mm-and-p320s-in-45-acp/