By: Dave Bahde
Photos by: 2xtreme, Ben Battles, Dave Bahde
---
A ready-to-go package that's about as good as it get for and out-of-the-box, direct-impingement defensive carbine?
After securing the Army contract with the P320 pistol, Sig Sauer has garnered a ton of interest in their pistols. Much of their attention has been placed on the P320 line, including the latest model, the X-5. Given the huge growth in the pistol-caliber carbine and AR-pistol markets their MCX and MPX have been popular as well. All that attention makes it easy to forget they have been making one of the most reliable direct-impingement ARs for years, the M400. Often overshadowed by the 516 and 716 lines the M400 is a simple, well-built and reliable AR offered at a solid price.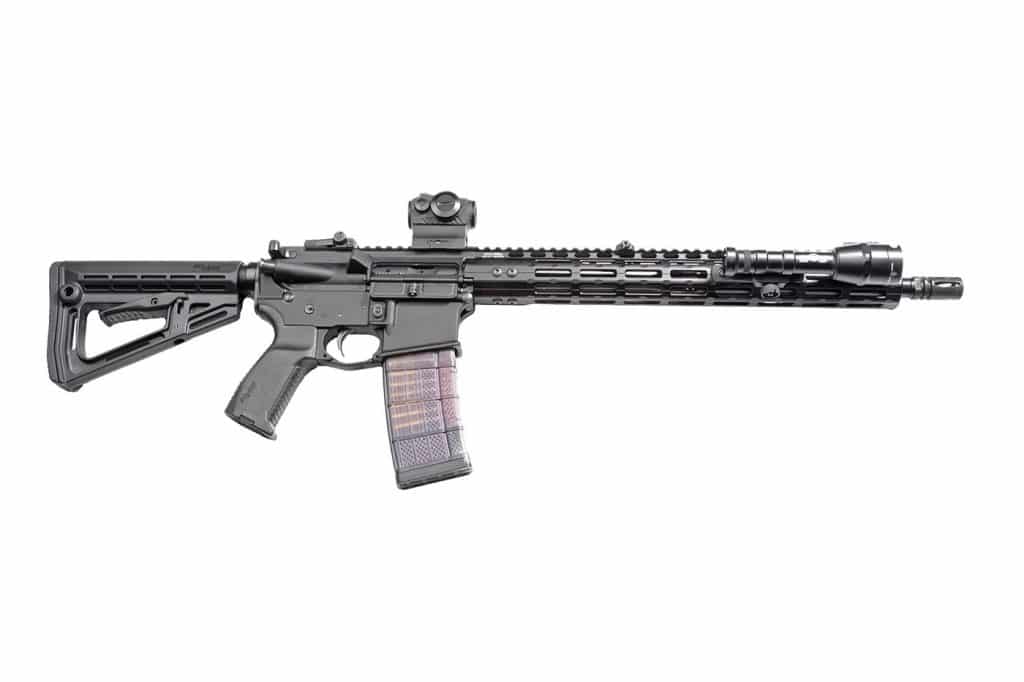 After a couple decades using, purchasing, and selling ARs, the piston system's popularity seems to rise and fall in cycles. At one time the rage, they are fading a bit outside very specific user groups. Unless you are running a suppressed, short barrel they are just not necessarily worth the expense and weight. Much improved over early models, piston rifles can still cost twice that of a solid DI rifle. Many will add as much as a pound to overall weight, along with complexity and proprietary parts. Some of the best piston rifles out there will double your cost, or more. If you need one great, but if not, the tried and true DI AR remains the best choice, and Sig Sauer's new Elite model is an excellent example.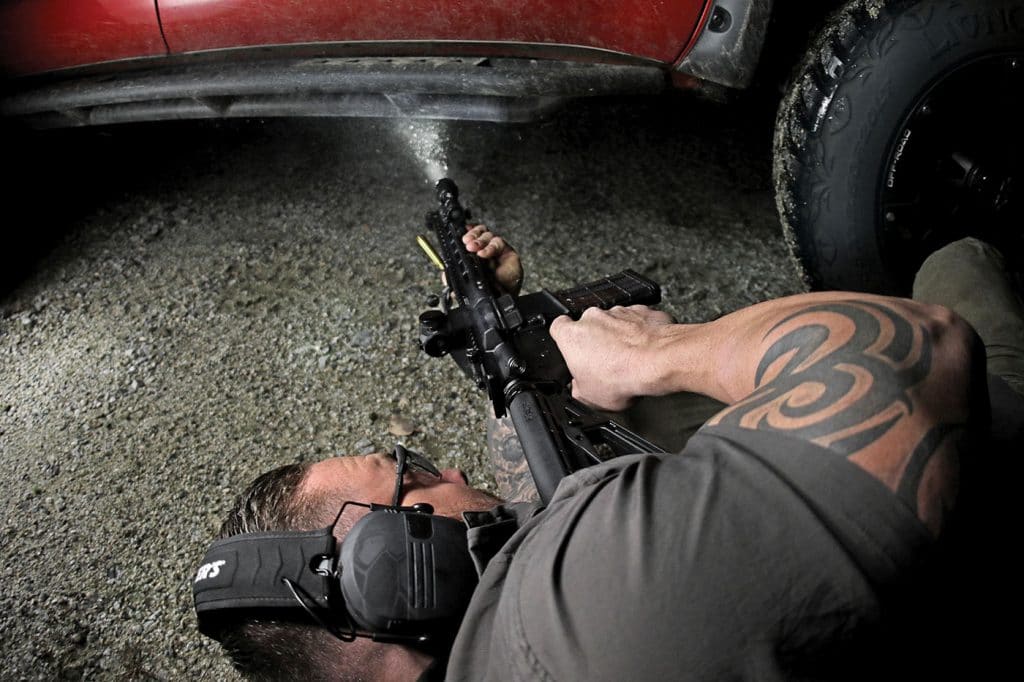 Sig Sauer M400 Elite (with Romeo 5 RDS)
Sig Sauer's M400 is not some designer AR, although it shares many of the characteristics minus the insane price tag. The Elite remains cost effective at $1,200 retail, while providing some of the most desirable features demanded these days. It starts with receivers forged from 7075-T6 Aluminum with a flared magwell. The lower uses their new SIG Enhanced trigger. Single stage, it is void of the creep and crunch found on many factory triggers and sits in an oversized guard. Crisp and clean, our test rifle broke at 6.5 pounds. Safety and bolt release are single sided, bolt release uses an extended ledge to make locking the bolt-carrier group open easier. Sig Sauer's pistol grip is comfortable, properly stippled, and angled more forward than a standard A2. Space for batteries or other tools/oil is accessed by removing the bottom plate. The six position buffer tube holds an ergonomic stock with a nicely curved end plate and several QD points for sling use.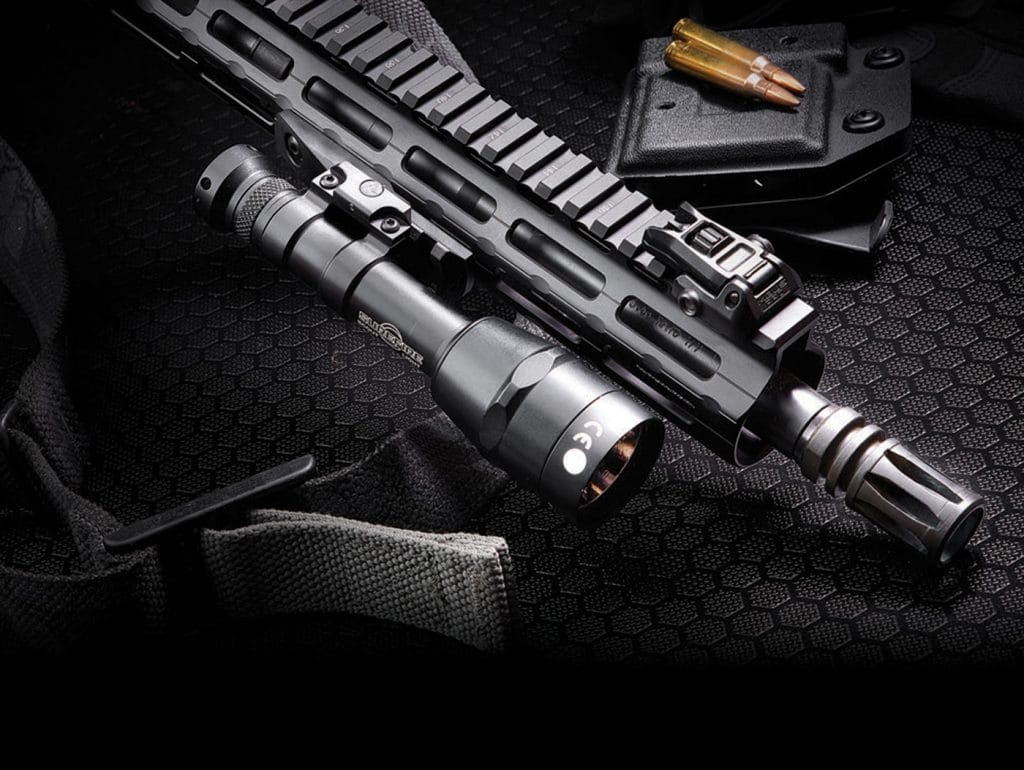 Upper receiver matches the lower nicely and houses an AR-15 style bolt carrier group and A2 charging handle. The barrel is Nitride coated, 16 inches in length, capped with an A2 flash hider and is rifled at a 1:7" twist rate. The gas tube is connected using the SIG Micro-Lite Gas Block. Pinned, it remains strong, but is very small and light weight. Covering the barrel is a free-floated UTG Pro 15" M-LOK equipped handguard. Slim, trim and light it provides for all the rail space you would need without the weight. One 30-round SIG .556 NATO magazine is included.
Our test rifle was sent with the Romeo 5 Red-Dot Sight. Parallax free, it features a 2-MOA red-dot and MOTAC (Motion Activated Illumination). MOTAC allows the Romeo 5 to remain off when not in use, any movement turns it on. It facilitates a 40,000+ hour battery life on a single 2032 battery. Eight settings including two Night Vision Capable are controlled using the touch pads on top of the sight. Battery access is easy, and elevation and wind can be adjusted with a coin or screwdriver, no special tools required. Mount is a standard Picatinny rail, the included mount rail co-witnessed my back-up iron sights.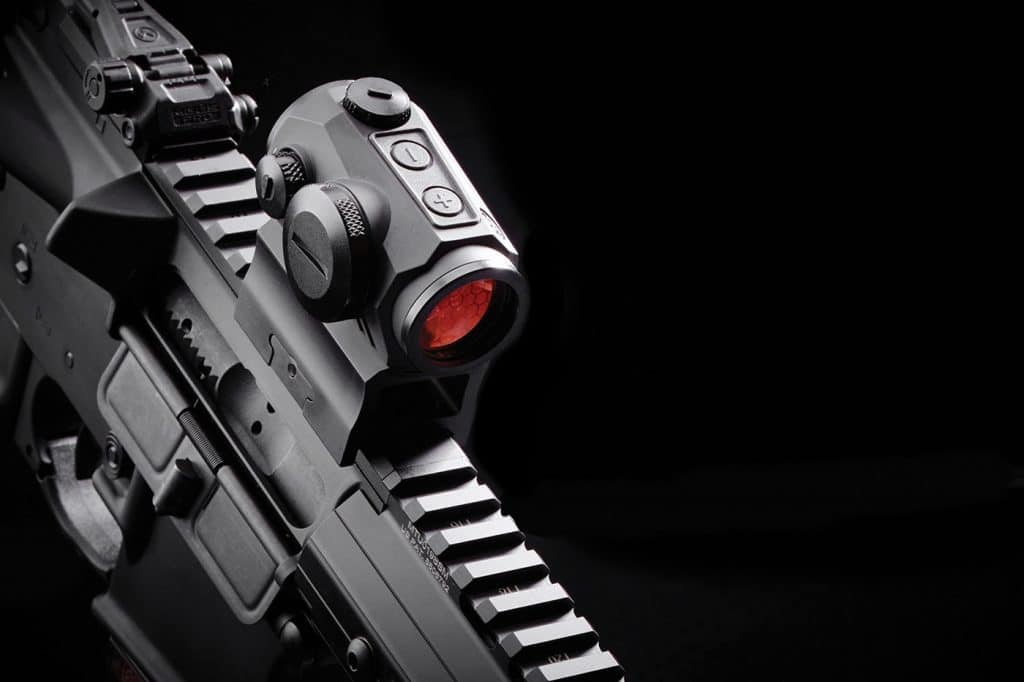 Testing
The only item added for testing was my Surefire M322 Scout light using a Vampire lamp for both white and IR light capability. It is mounted in a LARUE QD Mount using a DS07 switch. Sling use is a bit hampered since it does not come with any rails or a sling QD mount. Most testing was done without a sling. Leupold's Mark 6 using a T3 reticle was used for group testing only, the rest was completed with the Romeo 5 sight.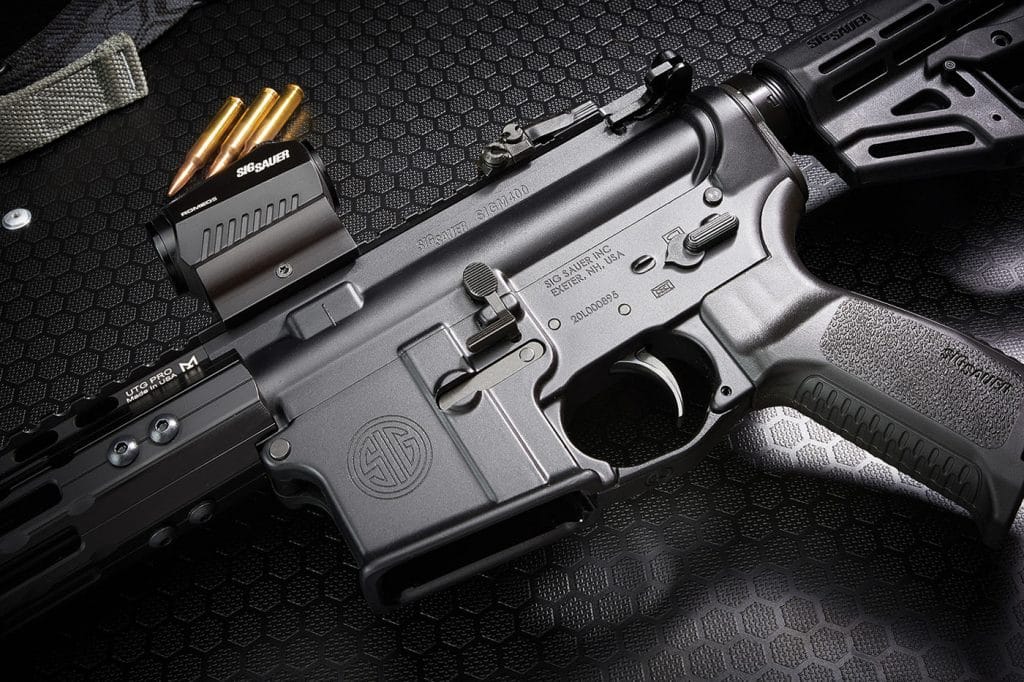 Overall, testing included several drills working in and around various obstacles on the range from different positions. Various magazines were used including BCM, Magpul, Brownells, Lancer and Daniel Defense. All worked flawlessly, inserted easily, and dropped free. Most drills were completed using Prime 55-grain Match Plus and Remington UMC 55-grain FMJ. Over the course of testing there were no failures to extract, eject, or return to battery. The same was true using the heavier bullets for accuracy testing, including a few different 77-grain match loads. I found the Elite to be light, maneuverable and easy to control during transition drills. It facilitated further testing of the Sig Sauer P320 X-5, either from my Raven Concealment holster, or sitting in the front of my plate carrier.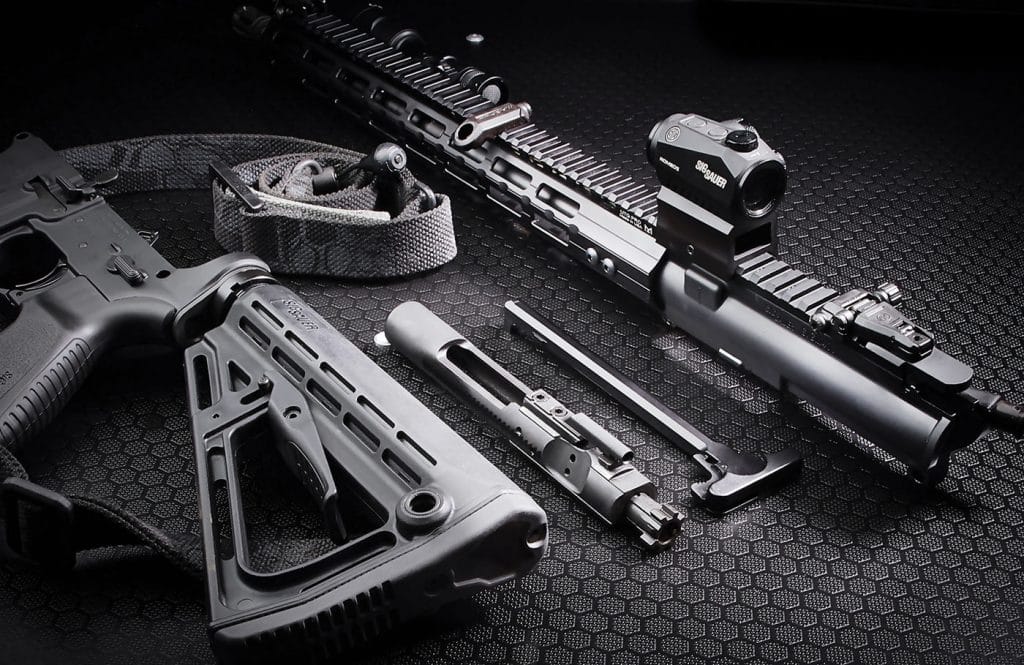 Accuracy was as expected these days, at or around an inch at 100 yards. Using a 1:7 twist barrel facilitates the heavier bullets, and this rifle seemed to like the 62- to 69-grain ammunition the best, although it was no slouch with any of it. Using Federal Gold Medal Match, the best group measured was just under an inch at 100 yards using the hood of my Toyota FJ Cruiser as a rest. Everything else measured in the 1.25" range with only one at 1.5 inches. From a bench or other object never seen outside a square range my guess is it will group tighter, but this is excellent for an AR in this price range.
Red-Dot sights are a mixed blessing for me, at my age the dot is mostly a sparkle, but the Romeo 5 was very clean. The glass is clear and adjustments were easy in the field. Bumping the retail price to $1,359.00 it remains quite affordable.
Final Thoughts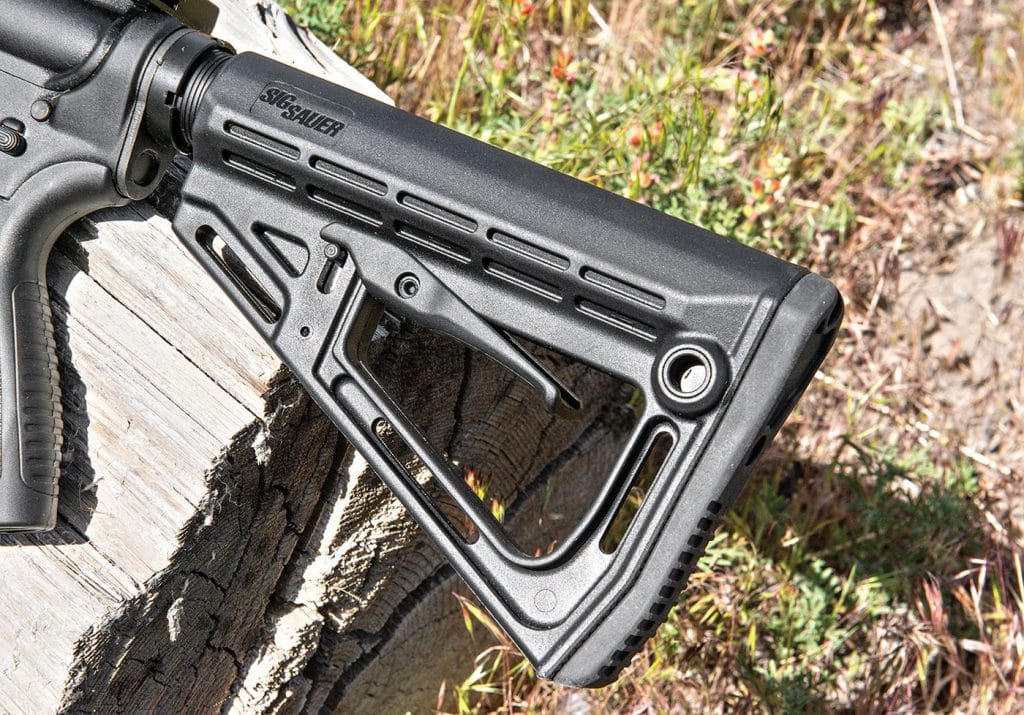 With the exception of no means to attach a sling to the handguard, the M400 Elite is about as good as it gets for an out-of-the-box rifle for self-defense or professional use. Iron sights would be nice, but honestly everyone has their favorites these days, so it makes it tough for manufacturers. For a duty rifle all you need is irons, a light, a sling and some spare magazines, adding the Romeo 5 makes it that much easier. Its not their best RDS, but it's more in the price range of most officers these days, or anyone looking for a self-defense carbine. There are some great RDS these days, many cost so much they are out of most people's reach. Much like the Romeo 1 for handguns this provides an out of the box RDS solution for most conditions that does not break the bank.
Sig Sauer's M400 Elite is a solid and simple AR with most of the features people are looking for these days. Slim hand guard with M-LOK, six position stock, enhanced trigger, and solid construction. It adds another choice to a growing market of enhanced ARs without the big price tag. If you are looking for a solid AR the M400 Elite should be on that list. See it at your gun shop, or for more information contact SIG SAUER, Dept OT; Tel.: (603) 610-3000; Web: www.sigsauer.com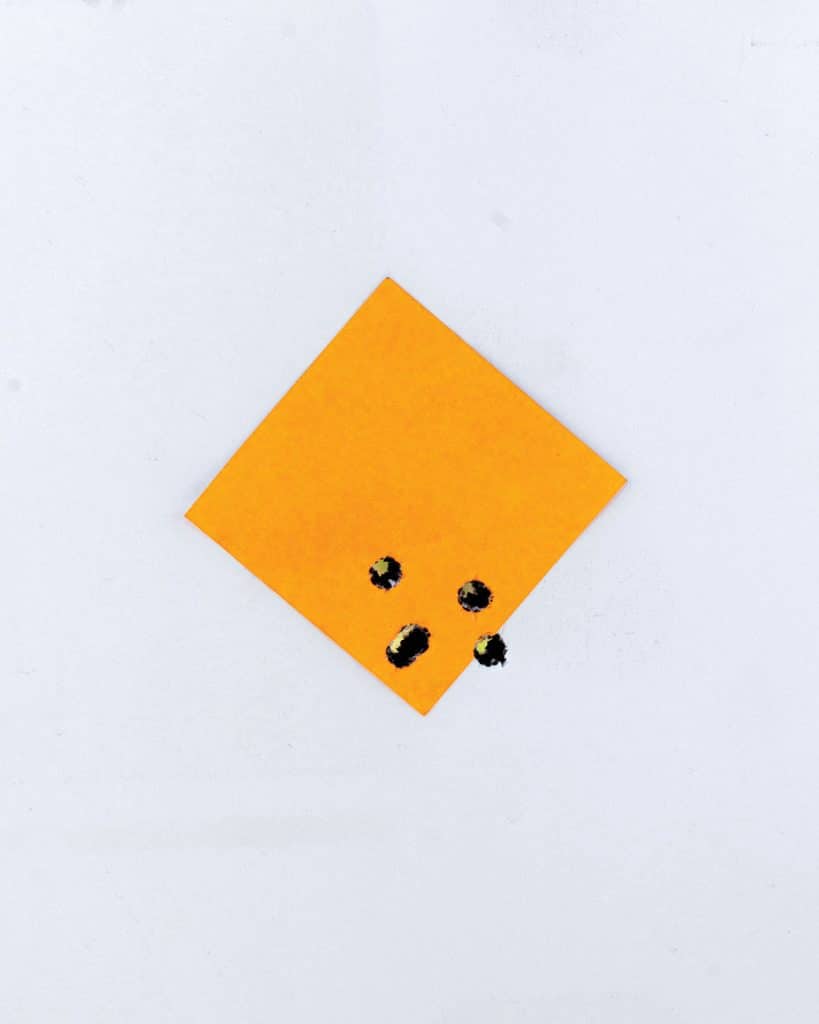 Specifications
Model: Sig Sauer M400 Elite
Caliber: 5.56 NATO
Action: Semi-auto
Operating System: Rotating bolt, Direct Impingement
Magazine Type: M16/AR15 Compatible
Magazine Capacity: 30-rounds
Barrel Length: 16-Inches
Overall Length: 36 Inches
Weight: 6 pounds
Retail: $1,200; $1,395 with Romeo 5 Option
Sig Sauer M400 Elite 5.56 NATO
Ammunition Tested                                   Velocity                             Group Size
Federal 69-Grain Match                                  2,670                                .95 Inches
Prime 55 Grain Match +                                 2,970                                1.25 Inches
Remington 69 Grain Match                             2,650                                1.22 Inches
Hornady 75 Grain SP 5.56 NATO                     2,810                                1.50 Inches
Groups tested from the hood of my truck using a bag as a rest. Best group shown over five (5) shot groups from 100 yards. Velocity measured using a Competition Electronics ProChrono Digital Chronograph.
Source Article from http://ontargetmagazine.com/2017/12/sig-sauer-m400-elite/