Introduced in the latter part of 2015, SIG's Legion series consists of guns from the classic "P-series" line feature a high-tech PVD finish, trigger systems encompassing the brilliant work of master gunsmith and champion shooter Bruce Gray, a re-shaped grip frame at the trigger guard that sets the pistol a tad lower in the shooter's hands, and ergonomic textured grips with a distinctive Chevron that marks its place high on the list of prestige SIGs. The Legion variation, says SIG, is based largely on the input of the most high -speed, low-drag advanced shooters and elite combat soldiers and cops among the many such who go through the excellent SIG Academy. The first such guns were traditional double action: the second wave, tested here, is the single action, cocked-and-locked variation that SIG introduced roughly a decade ago.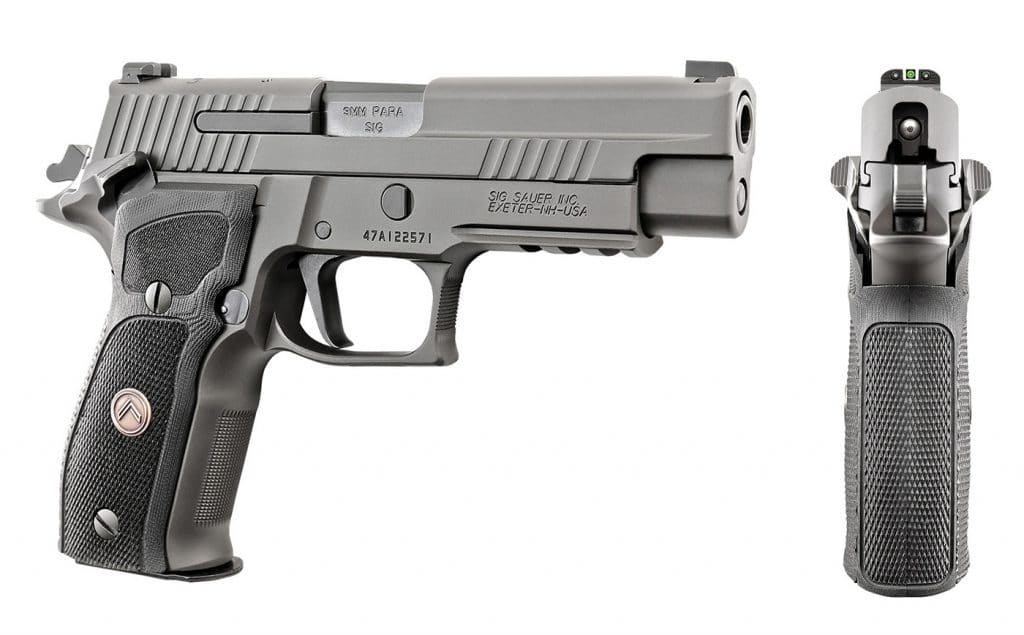 First impressions
True to its roots as a P-series SIG P226, this pistol has a higher bore axis than some others in the same 9mm Luger chambering. Turns out, that's not a big deal.
On the Lyman digital trigger scale, pull weight on the Legion P226 SAO's trigger averaged a very consistent 3 lbs. 4 oz. when measured from the very bottom, or "toe," of this pistol's pivoting trigger. However, unless your fingers are shaped like spider legs, you'll probably press the trigger from its center, which is where most human index fingers fall on most triggers. This gives you less leverage, and requires more "pull." From the center of the trigger, the Legion P226 SAO ran 3 lbs. 12 oz. average.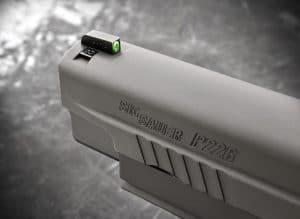 Now, that's worth talking about for a moment. The difference between center and toe finger placement is usually a good bit more than that. The Legion P226 SAO has a flat-faced trigger, and it would take a geometry major, which I am not, to be able to tell you how much of a difference that makes.
SIG specifies the trigger pull weight on this gun at 5.0 pounds, and does not specify on their website whether this measurement is taken from the center or toe of the trigger. While I for one am comfortable with five pounds cocked and locked, the test gun's pull is lighter than I'd choose to carry on a defense gun, having taken a bunch of folks at gunpoint over the years and been involved as an expert witness in more than a couple of cases where charges of manslaughter or lawsuits alleging wrongful death were brought on the theory that it was negligent to take someone at gunpoint with a gun that had a very light trigger pull.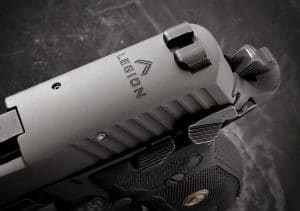 It's a helluva nice trigger pull for a target pistol, though. As the thumb snaps the safety lever down into the "fire" position and the index finger contacts the trigger there's a short, light take-up before the wall of resistance is met. Then—in slow fire, but unnoticed in rapid fire—there's a very brief "roll" of the trigger before the sear is tripped and the hammer falls. There is virtually no palpable further movement to the rear (backlash). The crisply-felt re-set of the trigger comes very quickly. The bottom line of all this? The clean, surprise trigger break marksmen appreciate, and shorter trigger movement both forward and back which takes proportionally less time, enhancing rapid fire capability.
Release of the thumb safety was "just right"—not too easy, not too hard. On-safing it, however, was something else. When it came out of the box, the thumb safety was so stiff going back up into "on safe" position sometimes required the support hand to help, particularly when firing left-handed. This, as we shall see, eased up in the course of several hundred rounds.
From the Bench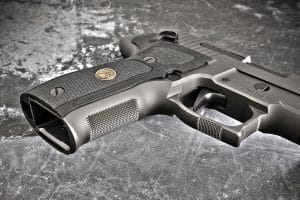 I "grouped" this gun with the usual protocol: Caldwell Matrix rest on concrete bench at a measured 25 yards. Each 5-shot group measured once overall (center to center from the farthest holes, to the nearest 0.05"), and then the same measurement applied to the tightest three of those. It reflects decades of observing that an experienced handgunner shooting two-handed from a rest with no "called flyers" will generally have a "best three" close to what the same gun/ammo combo will do for all five from a machine rest, and this protocol is easier for readers to duplicate with their own guns and ammo.
For a 115-grain load, I chose Federal's 9BPLE jacketed hollow point, which I've found to be perhaps the most accurate of the  9mm +P+ loads (1,300 foot-seconds nominal velocity) and also one of the most street-proven rounds to emerge from the 9mm's history in U.S. law enforcement. It put all five into 1.55", which if I recall correctly, exactly duplicated what that load did in my first SIG Legion, a P229. Four of those shots with the P226 SAO Legion were in seven-tenths of one inch, and the best three were in a tiny cluster 0.30" apart center to center.!
For a 124-grain, the natural choice was SIG's own V-Crown jacketed hollow point. These printed five in 2.40", but the best three in less than half of that: 1.05".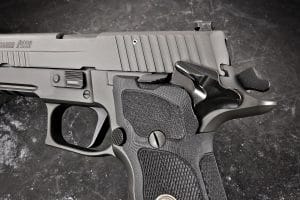 For a 147-grain subsonic, Remington's accurate, economical UMC full metal jacket got the nod. I've seen this load win pistol matches, and in the SIG Legion P226 SAO it plunked five into 3.55", with the best three again measuring 1.05".  For me, the 147-grain went high (that happens commonly) and center. With the other two loads, I found this SIG hitting a tad high left.
Windage differences are easily corrected by simply drifting the rear sight in the appropriate direction in its dovetail. The sights, by the way, are a cardinal feature of the Legion series. SIG calls them "X-Ray sights". The front sight is big and bright in daylight, and glows green with its Tritium in the dark. The rear sight appears plain black to the eye in daylight, but its small Tritium units show up clearly in darkness, giving you precision aim capability. (Yes, they're available separately: see the Brownell's catalog and website, or check with SIG.). Our testers unanimously loved these sights.
Impartial Voices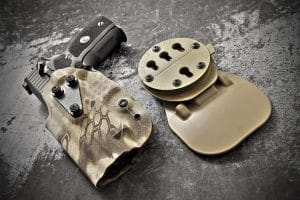 This was one of the test pistols I had with me while teaching a third-level class (MAG-120) and during a rare free period, the students had a chance to shoot them. Here's a sampling of the responses from the ones who got their hands on the Legion P226 SAO.
Phil, who shot the entire course with his own double action P226 and did great with it, even at "outer limits" speed: "WOW. I already own six SIG pistols. This will be #7 within the month."
Andrew, an accomplished shooter who works full time in an area of "threat management": "It has a somewhat high bore axis. Good accuracy."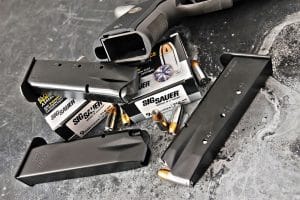 Richard, a competitive IDPA shooter who came to the class with a customized XD(M): "Great trigger; sights easy to pick up and very good accuracy. Excellent grips."
Steve, an instructor, said: "Trigger was very clean, good sights. Made it easy to get good groups. Grip feels good in the hand."
Robbie, a minister who carries to protect his flock and is also a firearms instructor with a large training resume: "Very good trigger, lighter by a third than my own stock SAO SIG. Flat trigger definitely improves feel. Very much improved by grips and higher cut under trigger. Sights were an improvement over stock."
That class finished on a Friday evening. The following Monday, Robbie e-mailed me to say that he had ordered a SIG Legion P226 SAO for himself as soon as he got home from the class.
In Action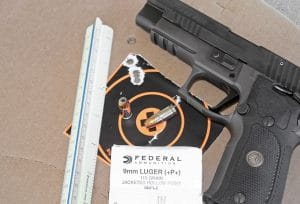 My buddy, John Strayer, a Five-Gun Master and state and regional champion in IDPA competition, is lately focusing on USPSA shooting and wanted to try the P226 Legion SAO in that arena. I passed along all the 20-round P226 9mm mags I had, and he spent a month bonding with the gun, including three weeks of daily concealed carry beneath an un-tucked shirt with sixteen rounds of 127-grain Winchester Ranger +P+ on board. His holsters were a Galco Tac-Slide, and a Kydex speed scabbard from Green Force Tactical (greenforcetactical.com).
John told On Target, "I absolutely loved it! Very easy to operate, dead nuts accurate. Reloads were smooth; even though I'm used to shooting guns with flared mag wells in USPSA, I never had a hang-up with it. I was shooting Limited Minor with a stock carry gun and still finished well. The thumb safety broke in to where I could work it with the dominant thumb, on as well as off. The sights tracked great—you could literally watch the front sight come to you, settle, and break the next shot. It was 'running flat.' Used the Green Force holster for the match, and found the Galco just a little more comfortable for all-day wear."
By the time John was done, our test sample had several hundred rounds through it. There were no mechanical malfunctions, though the occasional person firing right-handed with straight thumb riding the safety predictably over-rode the slide stop lever and kept the pistol from locking open when empty, as designed. That's a "user malfunction" in my opinion, not a "gun malfunction."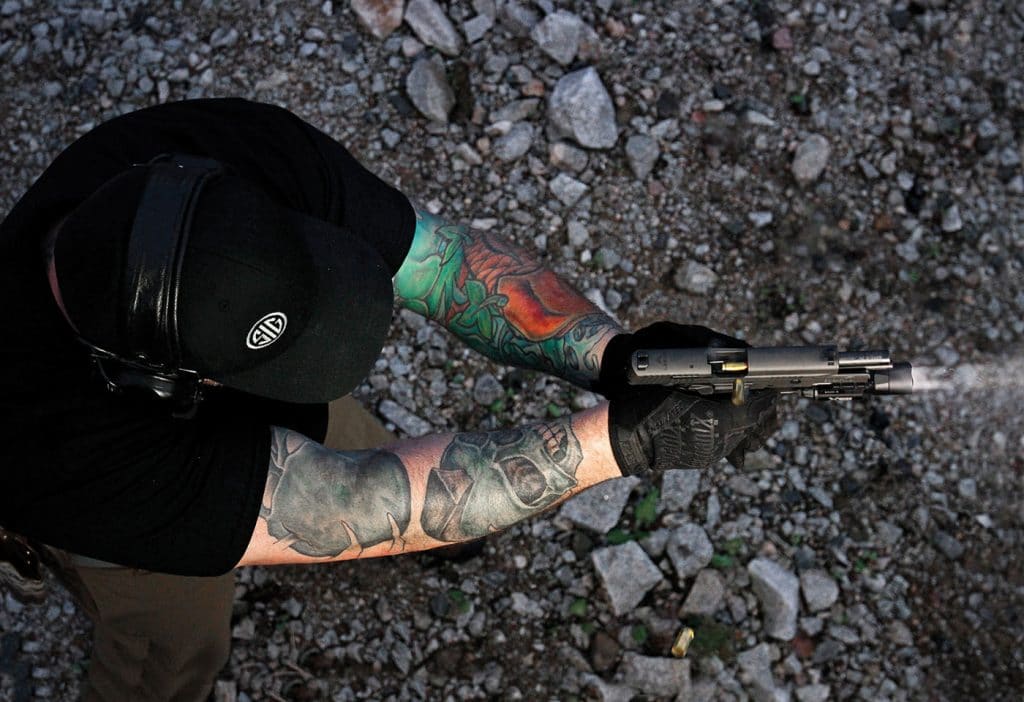 And, I should add, John joined Robbie and now has his own SIG Legion P226 SAO. When multiple knowledgeable, high-volume shooters who test-fire a pistol that carries a suggested retail of $1,428 wind up owning one, you KNOW it's delivering value! See it at your gun shop, or contact SIG SAUER, Dept. OT; Tel.: (603) 610-3000; Web: www.sigsauer.com
Source Article from http://ontargetmagazine.com/2016/09/sig-sauer-legion-p226-sao-9mm/