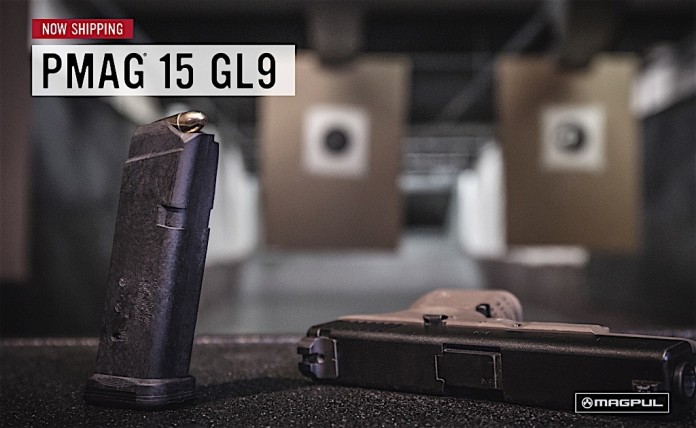 I received the below press release yesterday and it immediately put a smile on my face.
Today

Magpul Industries is shipping the much anticipated PMAG15 GL9 for compact and sub-compact 9mm Glock handguns.  Also, coming soon to dealers and distributors near you is the Magpul GL L-Plate for GL 9 series magazines. See below for all of the details.

The PMAG 15 GL9 is a 15-round Glock 9mm handgun magazine featuring a new proprietary all-polymer construction for flawless reliability and durability over thousands of rounds.

High visibility controlled-tilt follower, stainless steel spring, easily removable floorplate for cleaning, paint pen dot matrix for mag marking, ridged floorplate edges for better grip, and

15rd

indicator windows. Drops free loaded or unloaded. All with the same boring reliability you expect from an OEM magazine.

The PMAG 15 GL9 is compatible with Glock G19 handguns as well as sub-compact variants with some protrusion below the grip.

MSRP $15.95

Made in U.S.A.
You can buy these from your local retailer as well as direct from Magpul here: http://magpul.com/products/pmag-15-gl9
You may recall we did a full review on the G17 version they initally launched. If you missed that you can find it here: http://gatdaily.com/magpul-glock-mags-the-gl9-review/
There is no doubt they are my favorite non Glock mags on the market and the price is fantastic. If you held back from buying the G17's due to owning a G19 this is the announcement you have been waiting for.