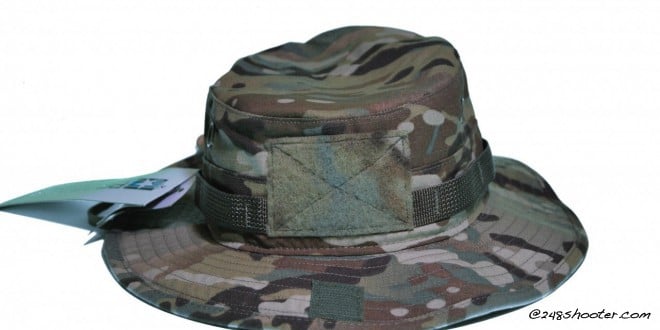 We recently got a chance to check out some of the work being done by Shadez of Gray Tactical. Shadez of Gray are retailers of everything tactical ninja including bags, clothing, morale patches, firearms, knives, survival gear and much more.
The team at 248shooter has a serious addiction to hats. Our hat addiction is on par with a balding 40-year-old male in a convertible corvette cruising around colleges. You may have noticed this during our previous review of the Mil-Spec Monkey hat that we reviewed a few weeks back. Interestingly enough Shadez of Gray sells hats and patches from Mil-Spec Monkey also.
We took a different approach to the hat addiction this time around, reviewing the TACTICAL MORALE GEAR (TMG) TOUGH GUY VELCRO MILLITARY BOONIE HAT. I love a well made boonie hat.  It might be the single most useful hat ever created.  Lighter weight then most baseball hats and a brim that will protect you for 360 degrees. In the field, at the range, or even just at your kids soccer game, this hat can keep you cool, shaded and looking awesome.
The TMG Tough Guy Boonie hat takes the typical boonie designs and upgrades the classic style for the modern shooter. A 2"x3" inch patch of hook and loop (Velcro) has been added to the front panel. This allows for morale or identification patches to be affixed to the Boonie.
There is also a small amount of Velcro added to the top of the brim so that the front brim panel can be folded up.  When shooting prone or working with a scoped rifle the ability to fold up the brim can come in handy.
There is a grommet with mesh at the 3 and 9 o'clock positions that allow the hat to vent out built up heat.
For windy or fast moving situations there is a chin strap to secure the hat to your body.
Sizing is done using standard hat measurements ranging from 7 to 7 ¾.  In colors that include Black, OD Green, Khaki and Multicam.  All of the Hook and loop colors match the hats including the multicam version.
The one thing I did not like about this hat is that there was no way to flip up the side panels. Ever since playing with the G.I Joe Recondo I have been a fan of the Boonie with one side flipped up.
Putting aside my child hood dreams of a green boonie hat and the most kick ass mustache on the planet ,this hat fills the bill for a shooter friendly versatile hat that can keep you cool and has the ability for customization.
In regards to the patches they make we can tell you they are top notch. Many of the patches are from Mil-Spec Monkey who we already reviewed and love.  Of the patches we have received from them the quality is very high and they are tough. You will not be tearing or ripping these patches anytime soon.
You can find the hat here: http://www.shadez-of-gray.com/clothing-apparel/headwear/tactical-morale-gear-tmg-tough-guy-velcro-millitary-boonie-hat/