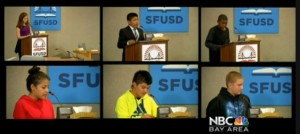 The school board of the San Francisco School District voted last week to expand programs aimed at educating students about guns and violence, and further inform parents about gun safety.
"Violence, and especially gun violence, is a public health issue that profoundly affects children and families in San Francisco," said school board member who authored the measure, Matt Haney. "Guns are one of the leading causes of death among children in San Francisco, and incidents of violence have deep and long lasting impacts on school communities, affecting students and staff socially, emotionally and academically."
The measure, which has 29 "whereas" clauses citing statistics on gun violence and 11 "be-it-resolved" clauses which give specific actions to take to reduce such violence, will require schools in the district to use curriculum centered around gun safety and to send home information, which takes the stance "the best way to reduce gun related injury in children is to remove guns from the home." In addition, the measure aims to educate parents on safe gun storage and Child Access Prevention Laws, which are in place to keep guns out of the hands of children, as well as safe means for disposing of unwanted firearms, like the city's gun buyback next month.
According to the San Francisco Gate, Haney requested that the school board's rules for committee meetings and a second reading be skipped so that the board could vote immediately on the measure, which was unanimously passed. Gun safety information will begin to circulate under the new measure as soon as early December.
"Many of our schools have been dealing with the aftereffects of these incidents in the past few months," Haney said. "As a school district, we have a responsibility to our kids and families to ensure that they are supported when these kinds of incidents occur."
The measure also included means of providing support to students who have been affected by violence. In fact, as part of a civics project, several eighth-grade students helped write the measure and attended the board meeting. The students were shocked and saddened that violence hit so close to home when a fellow student, 14-year-old Rashawn Williams, was fatally stabbed in September.
"It touches so many of them so personally," said Buena Vista Horace Mann social studies teacher Tara Kini. "Many of the students in my class, when they were talking about this issue … spoke about the impact of gangs in their community in particular, [and] gun violence in their community."
Mattie Scott, whose 24-year-old son was fatally shot in 1996, helped Haney write the measure and echoed his sentiment.
"Gun violence is a health epidemic in our nation, and it needs to be treated like that," Scott said.
Source Article from http://www.guns.com/2014/11/26/sf-school-board-unanimously-passes-measure-for-gun-safety-lessons-in-schools-video/