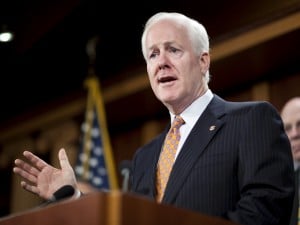 A bipartisan measure currently in the U.S. Senate would do away with the patchwork of state reciprocity laws and establish a uniform right to carry concealed firearms across all 50 states.
This bill, the Constitutional Concealed Carry Reciprocity Act of 2015, was introduced Thursday and would treat concealed carry permits like driver's licenses, allowing current permit holders to carry in any other state that issues permits.
"This bill strengthens two of our nation's fundamental rights – the right of law-abiding citizens to protect themselves and states' rights to adopt laws that are best suited for their residents," said Sen. John Cornyn, R-Texas, the sponsor of the legislation, in a statement.
Noting that, for example, a Texas concealed handgun license is only valid in 35 states, Cornyn explained, "This bill is an important affirmation of the Second Amendment, and has been a top priority of law-abiding gun owners in Texas for some time."
Cornyn's bill, entered as S.498, has 16 early co-sponsors to include West Virginia Democratic Sen. Joe Manchin. It would allow the holder of a valid permit to carry a concealed handgun in any state. Persons carrying as a non-resident in a state would otherwise be bound by whatever laws of the state they are visiting. This would end the confusing patchwork of reciprocity agreements that are currently in place across the country.
A companion bill, H.R.923, was introduced to the House by Rep. Marlin Stuzman, R-Indiana.
Some states, like Texas, have very flexible reciprocity, recognizing concealed carry permits from as many as 35 others. At the other end of the spectrum, some such as Illinois, recognize none but their own. This can lead to incidents where otherwise legally carrying permit holders can be ensnared in a legal catch-22 while traveling should they cross into a state that does not recognize their permit.
Last summer, Shaneen Allen, a 27-year-old single mother of two and legal Pennsylvania permit holder found herself facing felony gun charges after she brought her gun into New Jersey.
Tragically, cases like Allen's are not unique. Just weeks after her case broke, a 46-year-old teacher and Army veteran who had a permit issued by her local county sheriff in upstate New York was booked on charges of second degree criminal possession of a weapon – a felony that carries up to 15 years in prison – after she was found to be carrying in New York City while escorting a group of students.
Under the Constitutional Concealed Carry Reciprocity Act, this would all change.
Vocal gun control groups have long felt that a federally mandated concealed carry reciprocity law would undercut state's rights when it comes to their own local permit requirements. This month, former New York Mayor Michael Bloomberg's Everytown for Gun Safety group released a 24-page report focused on the topic in apparent anticipation of the move by Congress.
"Federally mandated concealed carry reciprocity would upend each state's carefully considered judgments about public safety," reads the report, citing concerns about federalism. "Under this scheme, even if a state has determined that public safety requires live-fire training for permit holders, the state would have to allow permit-holders from other states without any training requirement to carry guns on their streets."
The new legislation is far from the first time that the concept of nationwide concealed carry reciprocity has been on the table in Congress.
A similar 2009 attempt, the Thune-Vitter bill,  received 58 votes in a then-Democrat-run Senate – two shy of passage. In 2011, Rep. Clif Stearns, R-Florida, introduced HR 822 to the house with much the same wording. That bill passed the House with a wide measure of support on a 272-174 vote but was killed in the Senate under Harry Reid's watch.
Finally, a 2014 act, also supported by Cornyn, failed to gain traction although the House version had over 121 co-sponsors including a number of moderate Democrats.
This latest attempt, rolling the dice with a historic Republican majority control of both chambers of Congress and a lame duck president, has the early and important backing of national gun rights groups.
"The current patchwork of state and local laws is confusing for even the most conscientious and well-informed concealed carry permit holders," said Chris W. Cox, executive director of the National Rifle Association's Institute for Legislative Action. "This confusion often leads to law-abiding gun owners running afoul of the law when they exercise their right to self-protection while traveling or temporarily living away from home.
"Senator Cornyn's legislation provides a much needed solution to a real problem for law-abiding gun owners," concluded Cox.
The Constitutional Concealed Carry Reciprocity Act of 2015, in both its Senate and House versions, have been refereed to their respective committees on the judiciary.
Source Article from http://www.guns.com/2015/02/14/senate-bill-would-grant-universal-concealed-carry-reciprocity-in-all-50-states/