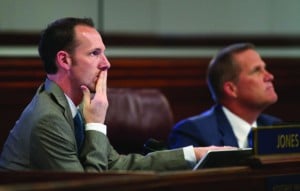 In a further effort to derail the Bloomberg-backed expanded background check referendum, Nevadans for State Gun Rights is disputing petition signatures turned in to election officials.
As reported by the Associated Press, the gun rights group is questioning some of the 246,674 signatures collected by former New York Mayor Michael Bloomberg's Everytown for Gun Safety and others and submitted to officials in November. Gun control advocates needed to obtain 101,667 validated signatures by Nov. 11, including at least 25,417 signatures from each of the four state Petition Districts.
The Request for Invalidation sent to Nevada Secretary of State Ross Miller by NSGR cites that some of the signatures for the background check initiative were filed a day late in addition to alleging other irregularities.
"Per Nevada law, there is a very strict procedure for submitting ballot initiative signatures, and the records show that the proponents of the initiative petition did not follow the requirements of the law," Don Turner, NSGR President, told This Is Reno.
In the group's letter to Ross, Turner points out that the petitioners had until Nov. 12 to submit their signatures for validation by county clerks in the state and in at least one county, they were not submitted until the day after. Further, the request details instances of missing affidavits and that signatures are dated in some cases after the affidavit was signed — all of which the group feels is sufficient to cause the invalidation of the petition.
The petition for the Background Check Act, would require that any person without a Federal Firearms License, not selling or transferring a gun to another unlicensed dealer, obtain a background check through an FFL holder. Violations would be counted as a gross misdemeanor, which in Nevada carries a penalty of up to one-year imprisonment, or a fine of up to $2,000, or both, following a jury trial.
The measure contains similar language to a bill sponsored by Sen. Justin Jones (D) in 2013 that passed the state legislature but was vetoed by Gov. Brian Sandoval (R). Jones is now a vocal champion for the ballot measure.
Soon after news broke that a legal challenge was afoot, the national gun control group behind the effort emailed an alert to its members.
"These gun lobbyists are trying to keep voters from having a say over stronger gun laws because they know when the people get to decide on background checks, they'll vote yes — just like they did in Washington State last month," reads an email from Bridget Lavington, the Nevada State Organizing Director for Everytown.
"Just like we did in Washington State, we're fighting for a background checks ballot initiative that would close the dangerous loopholes that give criminals easy access to guns. If we win, it'll save lives and open the door to opportunities for stronger gun laws across the country," said Lavington.
This is the second attempt by gun rights groups to throw a roadblock up against the ballot referendum. In August, Carson District Judge James Wilson refused to halt the petition drive in a suit brought by the Nevada Firearms Coalition, a state affiliate for the National Rifle Association.
The NRA has called the actions of the group to be "just another attempt by anti-gun extremists to push their radical beliefs on law-abiding gun owners in Nevada."
The gun rights group contends that extra background checks on private party transfers are unneeded, saying, "So-called 'universal' background checks are ineffective and unenforceable. They turn traditional innocent conduct into a criminal offense, and are ignored and circumvented by criminals."
The deadline for validation is Dec. 4. If this is accomplished, the measure would be forwarded to the state legislature and finally to the governor's office to either approve or deny. Should the petition be denied, it could then be placed on a ballot in a regular election, most likely in 2016.
Source Article from http://www.guns.com/2014/12/04/second-amendment-group-challenging-nevada-ballot-initiative/