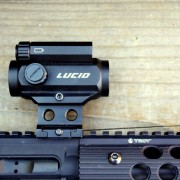 Thomas Gomez from the Firearms Blog does an in depth review of the Lucid M7.
By Thomas Gomez
Shooters are constantly looking for a red dot sight that: costs under $200; can be mounted on rifles, carbines and shotguns; weighs several ounces; is parallax free; is compatible with all night vision devices; is submersible to 80 feet; and that runs for 50,000 hours. Like unicorns, werewolves, wendigos, and mermaids such a sight is a mythical beast and simply does not exist for $200. Sights with such features usually start around $400 to $500 and have the word "Aimpoint" or "Eotech" written somewhere on the optic.  If you don't think you need the absolute rugged reliability of an Aimpoint or an Eotech, then there are several cheaper options on the market that may suit your needs. One such option is the Lucid M7 red dot sight.
Lucid, based out of Riverton, Wyoming was started in 2009 by Jason Wilson, formerly of Brunton Optics. Lucid engineers and designs red dot scopes, rifle scopes, and magnifiers. They also design accessories, such as scope mounts and kill flashes. Though the products are designed in Wyoming, Lucid optics are manufactured in Asia. Lucid's first product was the Lucid HD7, the bigger brother of the Lucid M7.
Key features of the Lucid M7 include:
Weight of 4.6 ounces
Battery Life: 1000 hours on highest setting
Battery Life: 5000 hours with Auto Brightness enabled.
21mm Objective and Ocular Lens
Built in rail mount that attaches to a MIL-STD 1913/Picatinny rail
The Optic is made of 6061 hard anodized aluminum
Water and Fog proof
Tested for ruggedness on a .458 SOCOM rifle. (This was done by Lucid. I tested ruggedness on a 30-06 rifle)
Reticle: 2MOA Dot within a 25 MOA circle
Auto Shut off after 2 hours of inactivity
Parallax Free
7 levels of brightness
Lucid M7 runs on 1, AAA battery
Auto brightness sensor
½ MOA Adjustments
Capped and Leashed Turrets
Available 2x Magnifier
Available 1/3 Rail Riser
Limited Lifetime Warrant
– See more at: http://www.thefirearmblog.com/blog/2014/08/08/scope-review-lucid-m7-sight/#sthash.9LULPAhd.dpuf
The post Scope Review: Lucid M7 Sight appeared first on The Firearm Blog.
Via: The Firearm Blog