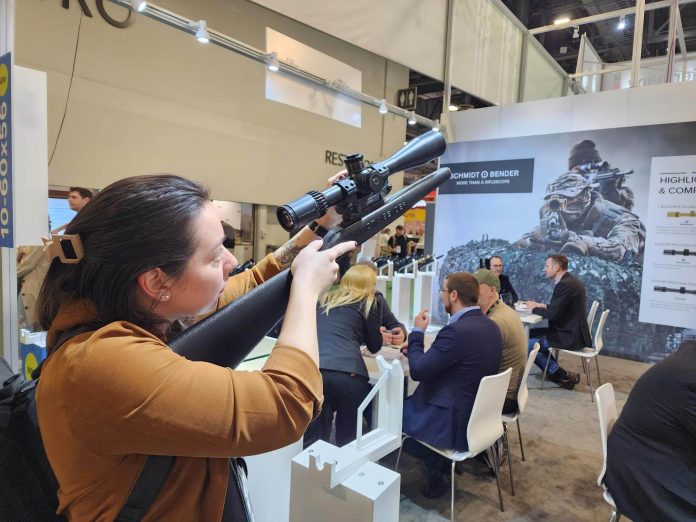 Before SHOT Show 2023 the internet was a ablaze mentioning a 10-60x scope. Most actually thought it was a joke. Turns out, it's not. It also comes from one of the top Optic manufactures out there, Schmidt and Bender.
Schmidt and Bender gives us a First Focal Plane (FFP) 10-60×56 Mil-Radian scope. This was built with the long range competition shooter in mind such as Extreme Long Range, F-Class, and bench rest. When talking to Schmidt about what pushed them to create a scope with a 60x magnification range they immediately said ELR. It has now since been used by professional ELR shooters on the range during competitions.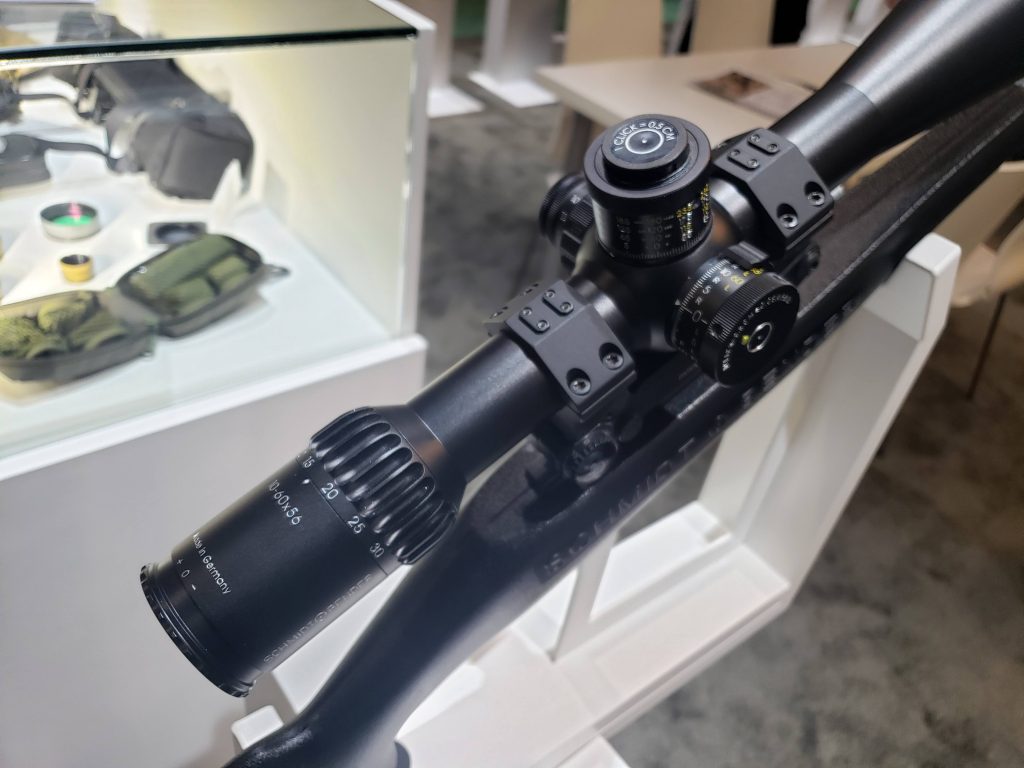 ELR is a match in which shooters can be pushing about to 2 miles. Even at that distance, ELR shooters are still using the standard precision rifle scopes that can get 20-30x magnification. Imagine now added 30x to that and what you will be able to see.
Now with all of that magnification, how's the eye box at full power?
The 56 mm objective lens diameter with a light transmission of over 90 % provides a clear, bright and high contrast image even at extreme magnification.-Schmidt and Bender
The Scope and Specs
Features
ILLUMINATION PARALLAX INTEGRATED
NEW M1FL RETICLE (FFP)
MTC = More Tactile Clicks. MTC features a more pronounced click at every tenth click.
Specs
Length (mm/in): 442/17.40
Main tube diameter (mm/in): 34/1.34
Weight (g/oz): 980–995/34.57–35.10
Magnification: 10–60
Objective diameter (mm)/(in): 56/2.20
Field-of-view (m/100 m)/(ft/100 yd): 4.4–0.8/13.3–2.3*
Internal travel elevation: 25 MRAD
Internal travel windage: 15,5 MRAD
Illumination: 11 settings
Battery type: CR2032
Other Optical Data
Field-of-view (°): 2.5–0.4**
Exit pupil diameter (mm/in): 5.6–1.0/0.22–0.04
Eyerelief distance (mm)/(in): 90/3.54
Twilight factor: 23.7–58.0
Transmission (%): > 90
Focal Plane: 1
Diopter adjustment (dpt): –3 to +2
Parallax adjustment (m/yd): 20 to ∞/21.87 to ∞
The Reticle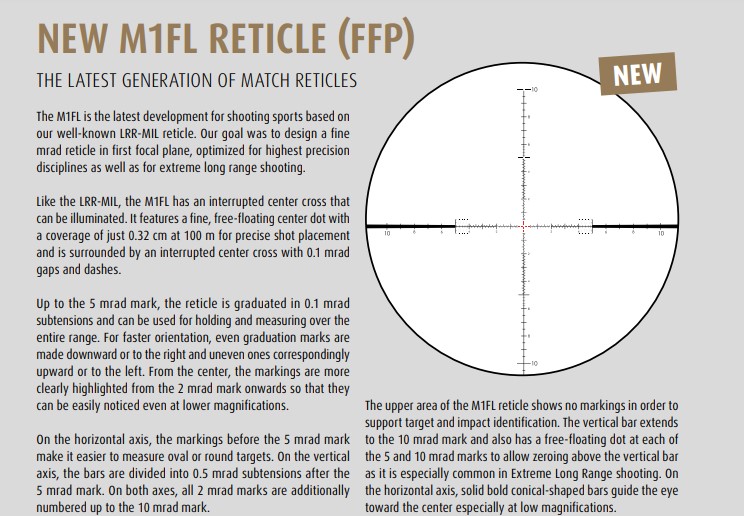 To Purchase
While it is being listed on EuroOptic for $5,940. EuroOptic is showing that the product is not yet available.
The best bet is to subscribe to their newsletter to see when the product is going to be going on sale with their dealers.
Minute of Angle Coming Soon
MOA shooters take note: Soon, the 10-60×56 will be offered with
a second focal plane MOA-based reticle and corresponding turret
configurations with click values of ¼ or ⅛ MOA. So stay tuned.-Schmidt and Bender