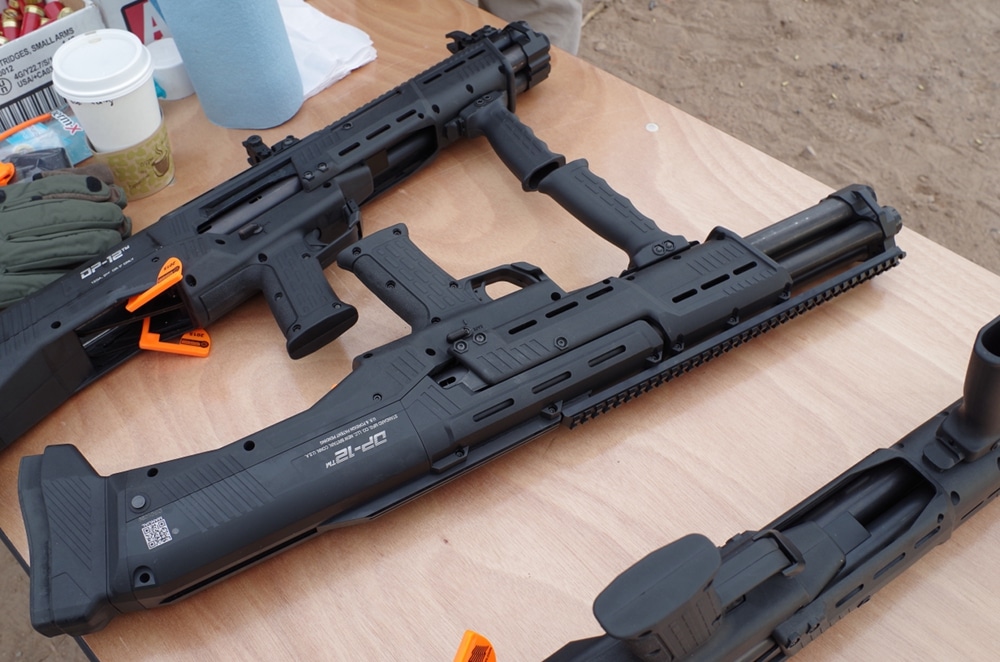 It's heavy at around 9 pounds empty. It's expensive for a pump, with a retail price over $1,300. It's got an awkward cheekpiece and a fairly unforgiving buttstock. It's a Cheaper than Dirt exclusive. And it has a trigger pull that's hard enough to make you think the safety is still on for a second.
But it's hard not to want. Meet the DP-12 by Standard Manufacturing. It's a double-barreled, twin magazine-fed pump-action bullpup shotgun.
Here's the treat: with two round chambered, the shotgun alternates between barrels giving the user double the payload for every shuck of the forend. It's not a volley gun, it fires one barrel with each pull of the trigger, but it gives you two rounds for every cycle of the action.
It's a pump-action side-by-side shotgun, and it's pretty cool.
Time will tell how it plays out once the gun hits the market. Sometimes designs as unusual as the DP-12 face challenges that don't affect more traditional guns. Sometimes it takes a while for manufacturers to get production down where they deliver a consistent, flawless product.
None of that will change the fact that this is a real eye-catcher. Check it out.
Source Article from http://www.guns.com/2015/01/21/say-hello-to-the-double-double-dp-12-shotgun-video/