By Frank Melloni
---
Up until the early 21st century, the rimfire community was limited to virtually two choices: the .22LR. and its bigger brother, the .22WRM. Both the .22 Long Rifle and .22 Winchester Rimfire Magnum satisfied most smallbore shooters and hunters when it came to accuracy and effectiveness within 200 yards. The idea of punching out further generally involved moving up to a centerfire cartridge and enduring the punch to your shoulder and equally painful punch to your wallet.
In 2002 that all changed when Hornady released the .17HMR or Hornady Magnum Rimfire. Boasting speeds of over 2,500 f.p.s. they had produced the fastest and flattest shooting rimfire cartridge on the market at the time. Overnight the sport of varmint hunting was changed and hunters rejoiced. For those guys, life was good . . . just as long as they were content with firing this round through a bolt gun.
While working exactly as intended in bolt configurations, this round had a hard time making the crossover to semi-autos. Taking the standard approach to automating the loading process simply wasn't the answer. In the past a simple blowback system was all it took to keep a rimfire gun running reliably and safely. However, this new round delivered a substantial pressure increase over its .22 WMR parent cartridge. Upon firing, the pressure would spike so quickly that the bolt would retract before chamber pressure had a change to drop to a safe level. This resulted in early extraction, leaving the rear of the cartridge unsupported and, in some cases, catastrophic failure. This failure came in the form of case head separation, and venting of burning gasses toward the shooter, down the magazine well and out of the ejection port. Not a good day on the range.
As other companies struggled with recalls and modifications, Savage Arms was in the process of building a semi automatic .17HMR from the ground up. Their creation would change the shooting world forever and leave just a couple of legitimate autoloaders chambered in this cartridge. Enter the new A17 ($465).
The A17 is like no other rimfire. It utilizes a simplified locking lug to keep the bolt closed until the pressure drops to a safe level. The locking lug (referred to as the interrupter lug) falls into a notch in the top of the receiver, locking the bolt forward once it is in battery. This lug halts the bolt when pressure is applied to it, just long enough for the round to leave the barrel before it blows open and cycles a fresh round into the chamber.
The rifle has a few other notable features that I noticed and enjoyed: a free floating, carbon steel barrel and the adjustable AccuTrigger just to name a couple. The trigger broke at an average of 2 lbs. 15.5 oz. on our Lyman trigger pull scale. Unlike the older models of the AccuTrigger, this one can be adjusted without having to take the stock off; I guess they got our letters.
Disassembly was simple, especially if you are familiar with the AK platform. The recoil spring's tension keeps the receiver dust cover attached. Depressing the take-down button with a small punch allows you to remove it. Once it is off the gun you simply press the recoil spring forward and it will clear the notch where it sits and can then be removed. After the spring is out, the charging handle can be removed and the bolt slides out of the rear. Reassembly is as easy as reversing the steps.
Other features include a 10-round detachable rotary magazine, hard-chrome plated bolt with dual controlled-round feed, case hardened receiver, bright blue barrel and receiver finish and a black synthetic stock with sling-swivel studs fore and aft and a soft rubber butt pad.
For testing we topped our A17 with Weaver's new Kaspa 3-9 x 40 rimfire scope sitting in an easy to find pair of Weaver quad-lock rings. Excited to put it through its paces, I hit the range with former Marine Marksmanship Instructor Cpl. Sean Krecko. With nearly 900 rounds of ammunition (courtesy of Hornady and CCI) we started with a simple accuracy test, noting reliability. Hornady sent us their 20-gr. XTP and 17-gr. VMAX rounds, while CCI allowed us to try their new 17-gr. A17 round, designed and loaded specifically for this rifle. All rounds cycled flawlessly as long as the magazine was seated properly, a problem solved with just a bit of experience lining it up correctly with its guide during insertion. The 20-gr. Hornady XTP rounds gave us the most consistent accuracy, with my best group coming in at just under an inch at 100 yards. Although MOA accuracy out of a thin-barreled, semi-auto rimfire is impressive, it is to be expected for the .17HMR cartridge.
This package is meant to exceed expectations of the .22LR and .22 Magnum, so backing out our firing point another 200 yards we conducted a true test for this rifle at 300 yards. When installed, the Kaspa Optic was fitted with its .17HMR specific turrets, making elevation adjustments as simple as turning the turret to your target distance and pulling the trigger.
Resting in a Caldwell Bipod and using the 20-gr. Hornady XTP rounds, Cpl. Krecko shot a group that measured just a tick inside of three Inches. The group also centered just 1 MOA (three inches) over the bulls-eye: impressive performance by the rifle, ammo and optic, and exactly what one would expect in the hands of a Marine.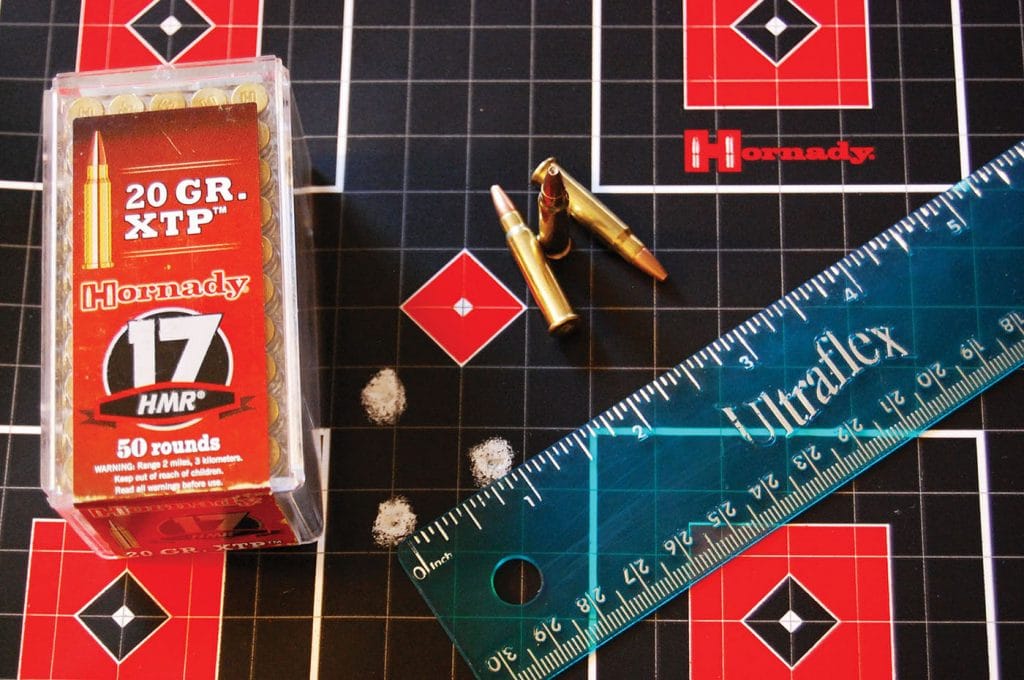 Accuracy out to this distance is a varmint's worst nightmare. With its semi-auto action and little to no recoil, follow-up shots are fast. Working a Champion triple varmint prairie dog spinner target proved to be a good test of this capability, as keeping all three moving together proved to be a very obtainable goal.
Overall I enjoyed this rifle and it certainly exceeded my expectations. It is an excellent choice for introducing new shooters to longer distance shooting, and as the bolt does not lock open after the last shot, it gives an instructor a chance to spot flinch. The hardest part about this gun is putting it down!
See the A17 at your nearest dealer, or contact Savage Arms; Tel.: (413) 568-3301; Web: savagearms.com
Source Article from http://ontargetmagazine.com/2016/05/savage-arms-a17-semi-auto-17-hmr/