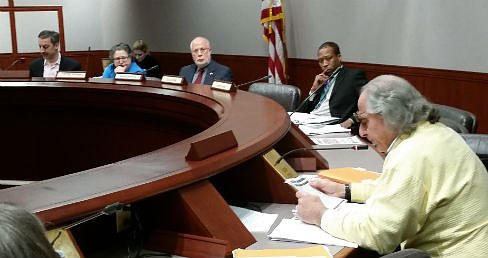 The special commission set up by Connecticut Gov. Dannel P. Malloy after the Newtown shooting is ready to recommend a total ban on the sale and possession of guns capable of holding 10 rounds or more.
The 16-member Sandy Hook Advisory Commission, established two years ago following the December 2012 event in Newtown in which 20 children and six adults were killed, made its decision to call for the ban at its meeting Friday.
Specifically it would prohibit both the sale and possession of any firearm capable of holding 10 rounds of more without the provision to grandfather guns that are currently registered under Connecticut's already strict Assault Weapon's Ban. This would effect a defacto ban on many guns that escaped registration after owners changed cosmetic features of their firearms. Law enforcement and military would be exempt from this ban.
"Accessibility to this kind of weaponry is the single most important factor in mass shootings," said commission member Dr. Harold Schwartz, psychiatrist-in-chief at Hartford Hospital's Institute of Living, to Reuters.
"While we've spent two years looking at the mental health aspects relating to this horrible event, mental health issues pale in relationship to these kinds of weapons in mass shootings" Schwartz said.
The commission's initial report, issued in March 2014, called for a similar moratorium. In addition, it advised a ban on magazines capable of holding in excess of 10 rounds, citing that "the spirit of sportsmanship can be maintained with lower capacity magazines."
Besides these recommendations, the panel advocated a prohibition on possessing incendiary or armor-piercing bullets, registering all firearms, placing limits on the amounts of ammo that can be purchased at one time, and restricting ammo purchases to calibers for registered firearms only.
Deciding to include handguns in their recommendation when the shooter in the Newtown event used a rifle came from the fact that just two of the 94 firearm-related homicides in the state in 2011 were committed with a rifle or a shotgun.
Besides its gun law recommendations, the panel is also set to address concerns about law enforcement and emergency response, safe school design, and mental health before concluding its final meeting at the end of the month. Their findings, when delivered to the state governor, are not binding.
According to the Associated Press, while focused on events in Connecticut, Hamden Mayor Scott Jackson, the commission's chair, expressed the hope that their findings would be widely disseminated, saying, "We're hoping that some of our recommendations will go far beyond the borders of the state of Connecticut."
Gun rights advocates in the state believe that the proposed changes to the Constitution State's already draconian firearms code have a slim chance at success.
"There's no way the state legislature is going to ever approve banning all guns with 10 or more rounds," said Scott Wilson, president of the Connecticut Citizens Defense League, to Reuters. "Anyone who wants to carry out a mass murder can easily get such a weapon illegally or by going to another state."
The Commission's final report is expected Feb. 14.
Source Article from http://www.guns.com/2015/01/17/sandy-hook-commission-ban-guns-holding-more-than-10-rounds-no-grandfathering-video/