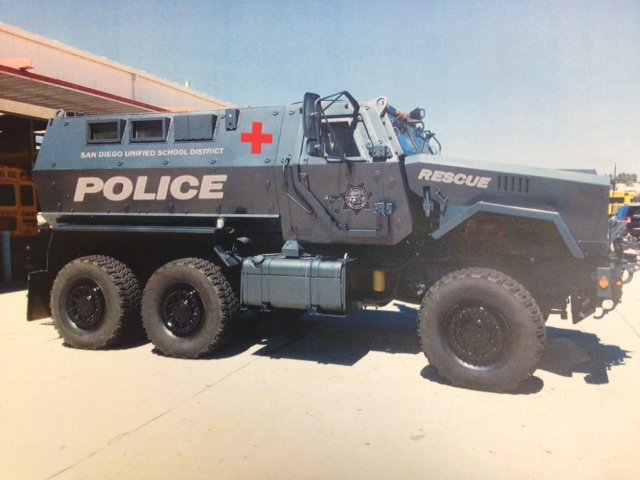 The San Diego Unified School District just picked up an armored MRAP through the so-called "1033 Program," the 1997 that granted permanent authority to the Secretary of Defense to transfer defense material to federal and state agencies for use in law enforcement, particularly those associated with counter-drug and counter-terrorism activities.
Police departments all across the country have been picking up these vehicles, designed to withstand IEDs and ambushes in Iraq and Afghanistan.
The DLA Disposition Services has the ability to give and loan military property to local law enforcement through the DoD Excess Property Program and is a big part of how the police have donned their military style.
These MRAPs are hot commodities for SWAT and similar high-risk police units. The question on everyone's mind is, why does a school district need this?
The district intends to use the MRAP as a rescue vehicle.
"When we have an emergency at a school, we've got to get in and save kids," said department Captain Joe Florentino told inewsource.
"Our idea is 'How can we get in and pull out a classroom at a time of kids if there's an active shooter?' said Florentino. "'If there's a fire [or] if there's an earthquake, can we rip down a wall?' Stuff like that."
The MRAP is being repainted to look less militarist at the local Morse High School. It is the district's single most expensive piece of property, valued at around $730,000, but it's not the only property San Diego-area police have been given through the 1033 Program.
"I can totally see people thinking, 'Oh, my God. Are they going to be rolling armored vehicles into our schools, and what the hell's going on?'" Florentino said. "Hopefully, we'll never have to use it for the real deal."
KBPS is quick to point out that many local agencies have adopted military hardware through the Excess Property Program, including:
The San Diego Police Department: 77 M-16A1 assault rifles and an armored truck,
The San Diego County Sheriff's Department: 10 M14 battle rifles,
The San Diego Unified Port District Harbor Police: one infrared illuminator,
The El Cajon Police Department: 10 M-16A1: rifles,
The Escondido Police Department: 25 M-16A1 assault rifles, four M14 battle rifles and an armored truck,
And the National City Police Department: 17 M14 battle rifles.
inewsource has a complete list of property issued to San Diego County agencies.
Source Article from http://www.guns.com/2014/09/12/san-diego-school-district-gets-hands-on-mrap/?utm_source=rss&utm_medium=rss&utm_campaign=san-diego-school-district-gets-hands-on-mrap