From our friends at DRGO
[Ed: This is the third of the talks that the DRGO leadership team gave September 20 online for the Second Amendment Foundation's 35th annual Gun Rights Policy Conference. In Dr. Edeen's talk below, additional material has been added in brackets which he had too little time to include live. See each of our talks on the DRGO YouTube channel or at 2:17:23 here. The entire schedule of talks is here, divided into 4 parts on the SAF channel.]
In previous GRPCs, I have spoken about active killers and hospitals and the terrorist threat against hospitals. In "The Unthinkable-An Active Shooter in a Hospital", I discussed the 5 stages that an active killer goes through before an attack. [They are Fantasy, Planning, Preparation, Approach and Implementation.] I also discussed the "Stopwatch of Death", the fact that time is the key element in preventing the death of innocents. If the response comes from inside the building, there are only 2 or 3 killed. If the response needs to come from outside, the death toll rises to 12-15. Most hospitals are gun free zones and thus fall into the second category.
[The Department of Homeland Security tells us to "Run, Hide, Fight". But] many in the hospital cannot run hide or fight. They are incapacitated in a hospital bed. It is immoral to keep those who are not inclined to do harm in a disarmed state, making everyone in the hospital an easy target.
In "In the Crosshairs: Are Our Hospitals Targets for Terrorist Attack", I described the history and rationale behind terrorism against hospitals.  [John Giduck , in his book When Terror Returns, described four different types of terrorist attacks: Decimation Assault, Mass Hostage Siege, Synergistic and Symphonic Attacks.] The International Institute for Counter Terrorism did a paper titled "Terrorist Attacks Against Hospitals". They found nearly 100 attacks against hospitals in 43 countries with approximately 775 people killed between 1981 and 2013. There were 1,217 wounded in these attacks. [If a terrorist attack happens in your location, it would be better if there were trained and armed people present to disrupt the initial stages of an attack. This would allow police and SWAT officers to arrive on scene before the death toll is too high.]
There have been several major attacks against medical facilities since 2013. On December 5, 2013, al Qaeda of the Arabian Peninsula attacked a Defense Ministry hospital in Sana'a, Yemen.  [Terrorists killed 4 guards and opened the gate to the ministry. A suicide car-bomb was then detonated inside the compound. A second car entered the compound and] the Al-Oradi Hospital was attacked with guns and grenades. Overall, 56 were killed and 200+ injured. [At least 6 of the casualties were doctors. Many of the killed were foreign medical workers including Filipinos, Germans, Vietnamese and an Indian.]
On February 23, 2014, a suicide car bomb was detonated outside of a field hospital in Atmeh, Syria near the border with Turkey.  There were 14 killed and 70 wounded. The town served as a main supply line for rebels fighting President Bashar al-Assad.  ISIS had been driven from the town two months prior to the attack.
The next major hospital attack happened on March 8, 2017, at the Sardar Mohammad Dawd Khan Military Hospital in the secure area of Kabul, Afghanistan.  A suicide bomber blew himself up at the back gate allowing 3-4 terrorists dressed as doctors to gain entrance to the hospital.  Later, it was found that two interns were insiders and participated in the carnage. The killers were systematic in their murdering, throwing grenades into the wards and shooting survivors in the head. The attackers had seven hours to do their killing before Afghan security and special forces were able to take back the hospital. Over 100 were killed.
The International Committee of the Red Cross reported 240 attacks in 2014-2015 that killed or injured medical personnel and closed, damaged or destroyed medical facilities in Afghanistan. The United Nations Assistance Mission in Afghanistan documented 119 incidents where health care facilities were targeted in 2016.
Although it was not an attack on a hospital, on January 27, 2018, a Taliban suicide bomber drove an explosive-laden ambulance past one checkpoint claiming that he was taking a patient to the Jamhuriat Hospital. He was stopped at a second checkpoint in a crowded shopping district near the hospital when he detonated the bomb. The death toll was initially reported at 103 with 235 wounded.
On May 12, 2020, the men dressed as police entered the Dasht-e-Barchi Hospital run by Doctors Without Borders and opened fire in the maternity ward killing at least 2 dozen people including newborns. Afghan security forces entered the hospital grounds and a gun battle lasting 4 hours resulted in the deaths of the terrorists. [No group claimed responsibility. Later] the US blame the group ISIS-K (Khorzan Province). [The attack resulted in Doctors Without Borders leaving the hospital.]
In the United States, a man who was planning to bomb a hospital in Belton, Missouri, shot himself after being shot by FBI agents trying to arrest him.  [The domestic terrorism investigation started in 2019.] It was determined that the attack was motivated by anger over the government's response to the coronavirus pandemic and motivated by racial, religious and anti-government animus. [The bomber was caught in an under-cover investigation after the suspect contacted an Army infantry soldier who gave him bomb-making information. The plot ended on March 24, 2020.]
Since the coronavirus pandemic has hit the US, people are no longer gathering in large groups. There are no sporting events, no theater productions, schools are closed and for the most part streets are empty. Terrorists are looking for places with large numbers of potential victims. Hospitals are still open and often terribly busy because of the viral crisis. They make tempting targets for those looking to make a political statement.
With the recent outbreak of anarchist violence and rioting by ANTIFA and Black Lives Matter (BLM) in large, Democrat-controlled cities, hospitals may become convenient points of attack. Even Ronald McDonald Houses are not safe. On August 10, 2020, rioters smashed window and attempted to enter the building where 30 families, many with sick children, cowered in fear in downtown Chicago. Fortunately, nobody was injured.
With the Presidential election coming in November, we may not have seen the end of the anarchist terrorism. We must realize that hospital terrorism may be coming to your town. Be ready!
.
.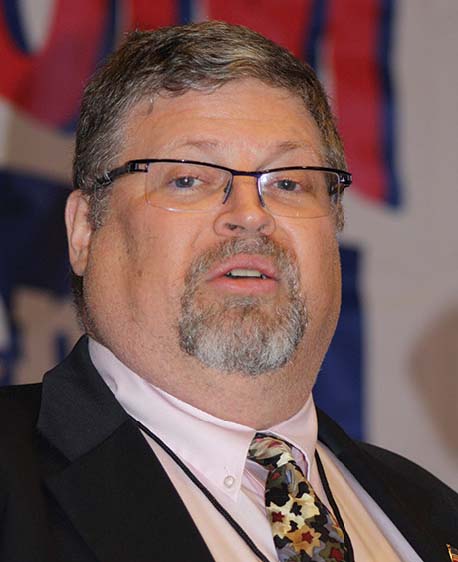 —Dr. John Edeen is a pediatric orthopedic surgeon in San Antonio, TX and is active in seeking the right to carry for qualified hospital staff. He is DRGO's Membership Director.
All DRGO articles by John Edeen, MD