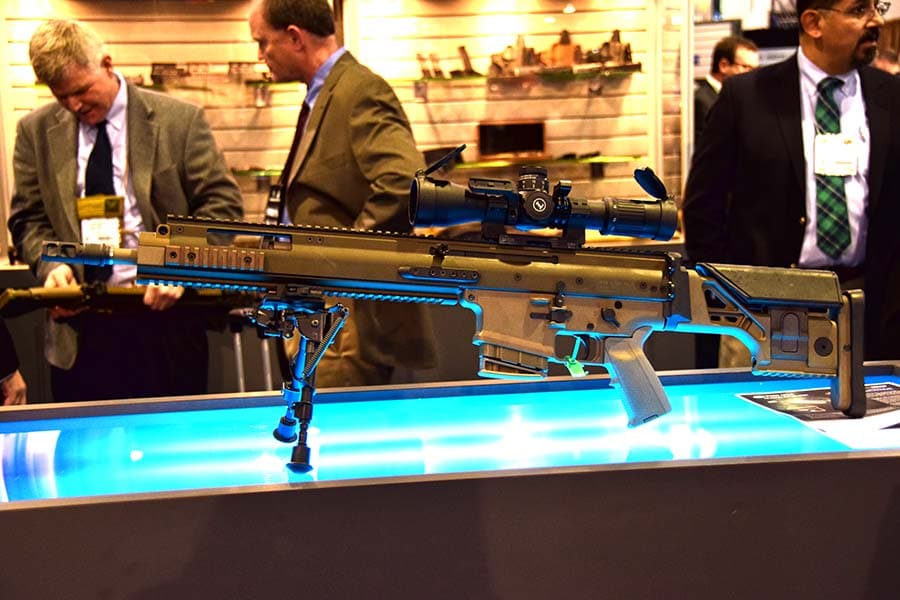 Fabrique Nationale finally released the sniper variant of the SCAR 17s, the SSR MK20, after years of teasing it. Long since available to military and law enforcement clients, photos of the new SCAR have taunted civilians looking for a long-range version of the advanced SCAR rifle.
It wasn't until the 2015 Shooting Hunting Outdoor Trade Show that fans finally got a glimpse of longer-barreled SCAR 17 variant.
Chambered in 7.62×51, the SCAR 20 uses the same recoil-damping action of its 16-inch little brother but includes a free-floated full-length rail and bipod.
Other big upgrades include a folding stock adjustable for length of pull and comb, allowing shooters to get the perfect cheek weld while using optics.
The full-length rail has a cut out to allow access to the SCAR 20's adjustable gas system and the whole package didn't feel much heavier than the carbine-length SCAR 17s.
If you're still wondering why you should care, let me add that FNH claims that the weapon shoots sub-MOA even out to 1,000 yards.
The other important note is that the new SCAR 20 is made entirely at FNH's South Carolina plant and thus doesn't have to deal with the 922r nonsense their other SCAR weapons do.
No release date or MSRP was announced at SHOT.
Source Article from http://www.guns.com/2015/01/29/rumored-scar-20-dmr-rifle-makes-appearance-at-shot/