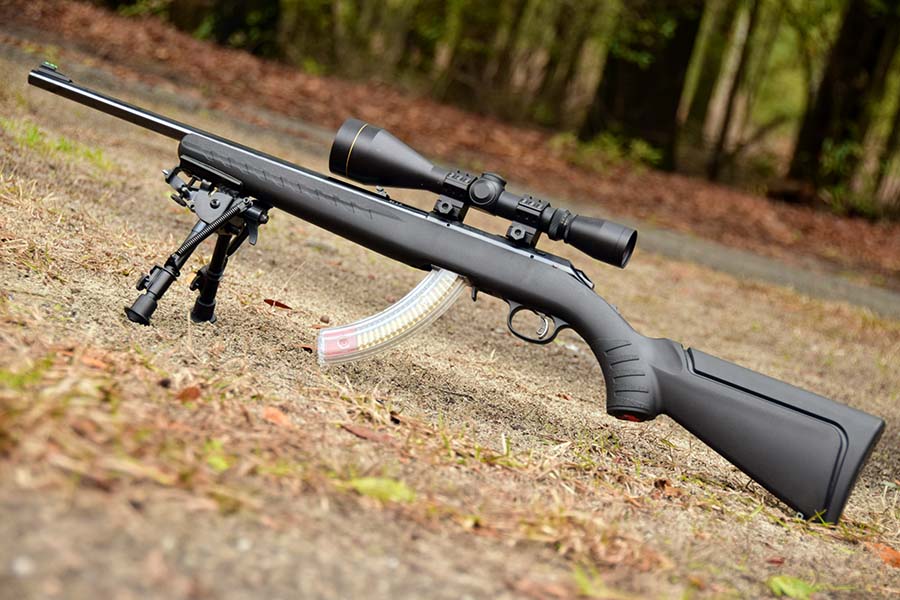 For over half a century, Ruger has dominated the rimfire market with their ubiquitous 10/22, semi-auto rifle. Go on any shooting forum and inquire which .22 a shooter should buy first, and 95 percent of the time the answer is, "Get a Ruger 10/22!"  What about shooters who don't want, or can't buy a semi-automatic rifle? Their options are child-sized, cheaply-built Wal Mart specials, antique target rifles or pricey rimfire clones of full-sized guns. At Least that was true, until Ruger introduced their American Rimfire Rifle, available in .22LR, Magnum and .17 HMR.
Machined from steel billet, the American Rimfire separates itself from competitors the second a shooter picks it up. Where most budget-priced bolt-actions feel like over-built Red Ryder BB Guns, the Ruger looks and handles like a serious weapon.Not just due to weight, but also because of its robust construction. For example, the bolt is built from a single piece of machined steel, and the tang-mounted safety is positive in its operation. Additionally, it features a 22-inch, free-floated barrel, modular stock system  and fully adjustable trigger. Features rarely found on any budget-priced gun, let alone a rimfire one.
My favorite feature of Ruger's bolt-gun is the interchangeability of magazines between it and the Ruger 10/22. Tracking down magazines for the gun is simple, since the vast majority of shops that sell any gun parts, sell 10/22 magazines of some variety.
This is especially important for shooters living in locations that still adhere to the original Assault Weapons Ban, since they'll be able to find pre-ban, so-called hi-cap magazines. Though this isn't the only 10/22-influenced portion of the American Rimfire design, it also includes one of the most popular 10/22 aftermarket upgrades, an extended magazine release.
Two aspects that I didn't love about the design are the sights and the machined scope mount. Whereas the 10/22 includes a weaver rail segment for mounting optics, the American Rimfire's receiver has a built-in dovetail that is drilled and tapped to accept a Weaver rail. The difference being that the 10/22 includes this segment, while the American Rimfire does not. A small issue remedied for less than ten dollars, but an annoyance to be sure.
The larger concern are the sights. Utilizing the same, near-useless adjustable rear sight as the 10/22 rifle, the American Rimfire attempts to remedy this with a high visibility Williams green fiber optic front sight post. While this makes the front sight substantially easier to find in low-light conditions, it doesn't totally make up for the miniscule rear sight notch. That said, they are perfectly functional and very accurate, just not easy to use on small targets, moving targets or cluttered backgrounds where the eye changes focus rapidly.
After a few near-misses on running squirrels as close as 15 yards, I promptly replaced them with aperture type Tech Sights – though these require some modification to properly zero. I used a set if Tech Sights designed for use with Marlin 900 series of rifles, but couldn't raise the front sight enough to zero. Shimming the front post fixed this, but be warned  that depending on how the rifle groups, shooters may have to modify the sights.
However, where this rifle truly shines is with an optic. Using a Leupold VX-1 50mm scope, the American Rimfire achieved .5 MOA groups with Federal target ammunition. Aguila SSS 60 grain ammo produced 1.3 MOA groups, and CCI Stingers were less accurate at 1.5 MOA. To put this in perspective, the rifle is easily capable of headshots on rodents at 50 yards. If a shooter misses, they can't blame the rifle.
With an MSRP of $339, the American Rimfire is often found in the wild closer to the $250 mark. Making it affordable to even the thriftiest of shooters. Ruger's five plus decades of experience building and designing .22 rifles shows in the American Rimfire smart design and attention to detail – though a few aspects aren't perfect. Most shooters will find these issues trivial at worst, and they shouldn't dissuade one from buying this rifle if a tack-driving, affordable plinker.
Source Article from http://www.guns.com/review/2015/01/14/rugers-american-rimfire-is-almost-plinking-perfection-video/