Introduced spang in the middle of the 20th Century, the first pistol to be produced with a lightweight aluminum frame—Colt's Commander 1911—has been an icon among handgun enthusiasts ever since. When Colt later introduced its steel frame Combat Commander version, the aluminum frame version became known as the Lightweight Commander. Barrel and slide were three quarters of an inch shorter than the classic Government Model. There have been even smaller and lighter 1911s introduced in the years since, but the Lightweight Commander remains an excellent balance between "shootability" and carry comfort, weighing a good ten ounces less than its all-steel sibling.
When Ruger recently produced their SR1911 in this same format, they boldly called it the Lightweight Commander too. They were not the only manufacturer to copy the name as well as the design; witness the recent introduction of the finely made, high-priced, all-steel Turnbull Heritage Edition Commander. It seems that "Commander" has become a generic term for a 4.25" barreled 1911.
This was the second of these guns I've tested, the first having been for GUNS magazine. I liked that one enough that instead of sending the gun back, I mailed Ruger a check. Given the consistency of Ruger's manufacturing process, it was no surprise that the two specimens were much alike. Ruger, like many others including Colt itself, learned that the stubby grip tang safety of the original Commander bit hell out of shooters' hands and gave it more of a reputation than it deserved for being difficult to shoot. Accordingly, the Ruger iteration has a good beavertail grip safety that cushions the web of the hand, and also has no sharp edges to "bite the hand that feeds it." Ruger has also chosen to go with slim-line grip panels, which are not only attractive but seem to let a bit more hand get around the circumference of the grip frame, aiding control.
The fixed sights are big and blocky with white dots fore and aft. They give an excellent sight picture and a snag-free draw, and my only complaint with them is that they don't glow in the dark. The single-side (right-hander only) thumb safety is just the right size for fast and positive operation, without getting in the shooter's way. It was perfectly adjusted out of the box on the On Target test sample.
Also like my previous sample, this one came out of the box bone-dry. I had run the first one without lube to see how long it would go, and about a box and a half of ammo into things, started getting 12 o'clock misfeeds. Lubrication cured the problem with the first gun and it ran fine thereafter, not counting a bad aftermarket magazine that was eliminated during the test. (The test gun came with two Checkmate magazines, flat-bottom 7-rounders for concealed carry.)
The late Col. Jeff Cooper, "the high priest of the 1911 .45," loved the Commander but felt it was designed to be "carried much and shot seldom." On 1911s, the frame is part of the feedway, and the aluminum Colt got a reputation for its frame being chewed up at that point by sharp-edged hollow points and some hard semi-wadcutter loads, roughening the feed path and causing malfunctions. My old friend, Bill Laughridge, at Cylinder & Slide came up with a steel insert to prevent that, and Ruger picked up on it, with a slightly different-shaped insert made of Titanium. It seems to work: JHPs fed fine through the Ruger LW Commander. Having learned my lesson with the first test, I lubed the On Target test gun early, and it ran with no malfunctions at all.
From the bench at 25 yards, I tried one practice load and two duty rounds. Colt's new ammo line, with a 230-grain FMJ "bimetal" bullet in a zinc-plated steel case, produced for Colt by the CJSC Barnaul Cartridge Plant in Barnaul, Russia, put five holes 3.15" apart. Remington's 185-grain jacketed hollow point, which has been dropping bad guys for decades now, put its quintet of shots into 3.65". One of my favorite current carry loads, Winchester's 230-grain Ranger-T high-tech hollow point, delivered a 3.35" 5-shot group.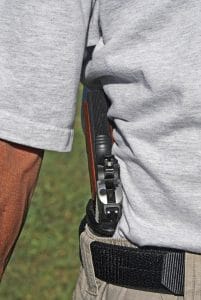 Seems pretty consistent to me. I've found over the decades that the best three hits in a 5-shot group, fired hand-held from the bench, eliminate enough unnoticed error to be a good predictor of what the same gun and ammo would have done for all five shots from a Ransom machine rest. The best three measurements were 1.45" for the Colt/Bernaul 230-grain FMJ; 1.55" for the 230-grain Winchester Ranger; and a most pleasing 0.95" for the Remington 185-grain JHP.
Trigger pull weight averaged 6 lbs., 6.2 oz. on the Lyman trigger pull gauge. There was a slight take-up, a "tick," palpable in slow fire before reaching sear-break, at which time the trigger broke cleanly. I did notice a sharp edge on the bottom face of the trigger that would bite the trigger finger a little in the necessarily bent-wrist position on the Matrix rest, but that and the pre-shot "tick" both seemed to disappear in rapid fire from conventional shooting stances.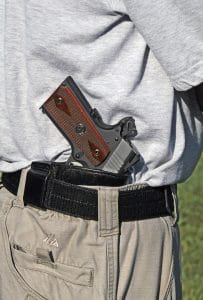 The lighter gun kicks more, of course, but a firm grasp and strong stance control that well enough. The well-designed beavertail grip safety and slim stocks help with this.
At an MSRP of $979, it's in the ballpark with Colt's own original Lightweight Commander, and Colt 1911s are actually coming through quite nice these days despite that company's highly publicized financial woes. The Ruger is more likely to be available at more gun shops, is more likely to be discounted from suggested retail, and has Ruger's famously good customer service behind it.
Beautifully balanced, the Lightweight Commander really is noticeably more comfortable in a good holster than its more popular all-steel brethren. I'm hearing only satisfaction from folks I know who've bought and shot the Ruger SR1911 Lightweight Commander. Ace firearms instructor, Marty Hayes, is about to take a busman's holiday at the school Jeff Cooper founded, Gunsite, and plans to do it southpaw (even though he's right-handed) with his own Ruger Lightweight Commander. Yes, he'll have to install an ambidextrous thumb safety, but that's high homage to the Ruger indeed from a well-known 1911 expert.
See the SR1911 Lightweight Commander at your gun shop, or contact Sturm, Ruger & Co., Dept. OT; Tel.: (336) 949-5200; Web: www.ruger.com
Source Article from http://ontargetmagazine.com/2016/06/ruger-sr1911-lightweight-commander/